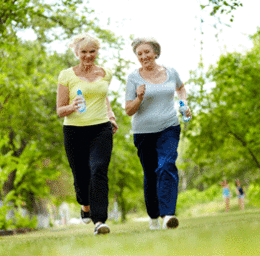 A Field of Possibilities
As the orthopedic specialty continues to grow and evolve, so too will the opportunity for a longer, more fruitful life.
As the life expectancy of the average American continues to climb—roughly 79 years old today, a four-year jump in the last two decades—people's perceptions about what constitutes "old age" have changed.
They've become more informed and proactive about their health, and more and more people are remaining active—see: "weekend warriors"—well into their 60s, 70s, and even 80s and 90s.
One of the byproducts of this movement is that orthopedic surgeons are busier than ever, as their chosen field—a branch of medicine concerned with conditions involving the musculoskeletal system—has become one of the fastest-growing segments in health care.
"There's such a drive in our society toward longevity and staying active as long as possible. We've gotten more aggressive with our exercise," says Dr. Elena Wellens, a podiatrist at Comprehensive Foot & Ankle Center in Atco. "In the past, a lot of patients would just write things off to arthritis or age. But I believe now patients are being much more proactive about their health."
An increasing need
Millions of patients each year seek out orthopedic surgeons for a variety of afflictions in a wide array of subspecialties, covering the entire body from the neck down to the toes. According to the American Association of Orthopaedic Surgeons, Americans went to the doctor nearly 100 million times in 2010 for musculoskeletal-related symptoms and complaints.
Dr. Rajesh Jain, of South Jersey-based Reconstructive Orthopedics—whose own practice had roughly 95,000 visits just last year—breaks down the types of care orthopedists provide into two broad categories: urgent care, which typically involves injuries, particularly those that are sports-related (strains, fractures); and chronic problems, such as arthritis.
Visits for lingering issues like arthritis—the result of years of wear and tear on the joints—account for much of the traffic orthopedic surgeons see, and have contributed to much of the growth in the field as the population ages.
"As baby boomers get into that age … that's putting much more of a demand on that type of service," explains Dr. Alan Hilibrand, a spine surgeon at the Rothman Institute.
And because the field is so broad—covering hips and knees, hands and arms, and spines, as well as pediatrics—and affects such a large segment of the population, orthopedics has become a routine part of medical care for many Americans.
According to Jain, this has to do with "the whole idea of the fact that quality of life used to be something very different. It's not just having a lot of money or driving a nice car. … It's also being healthy, staying active, exercising, having hobbies." As a result of this pursuit of corporeal happiness, visits to the orthopedist have become a fact of life for more and more Americans.
"The public is more aware of the specialty, what it offers, and I think they seek us out for our expertise," says Jain. "Kind of on all fronts, it's more on everybody's mind."
Advancements in care
Advancements in treatment have accompanied—and likely contributed to—the rise of orthopedics as a specialty.
These days, the focus is on non-invasive or minimally invasive treatments. Physicians are now able to perform many procedures with relatively minimal fuss, from knee reconstruction to spinal surgery, says Jain.
"Let's say somebody has a herniated disc," he explains. "It used to be you'd make an incision in the back and you'd have to go down to the bone, get to the disc itself, remove it, repair everything. They'd spend a day or two in the hospital. … Many of these spine procedures can [now] be done in a minimally invasive fashion, with very small incisions, minimal bone removal. People have this done as an outpatient [procedure]. It feels better in a matter of weeks, not months."
Essentially, Jain says, "You're trying to minimize the damage to the things you are not trying to fix or correct, in order to get to the parts that do need fixing to improve the person's function."
Sometimes, opting for non-operative care is more than just a matter of comfort or convenience for patients—it's a safety issue.
"Patients who are much older generally have more chronic conditions but really are much better candidates for non-operative care, because the risks of surgical treatment become much greater," says Hilibrand. "Not only because their medical status is not as good, but because they often have problems associated with their surgical treatment. … The risks of surgery outweigh the potential benefits.
"That's a tough discussion to have with a patient, because no one wants to be told surgery's not an option for them."
Other treatment options include cortisone injections and viscosupplementation, a procedure in which gel-like fluid—called hyaluronic acid, a naturally occurring substance that acts as a lubricant for the joints—is injected into the knee. Jain says he's very hopeful that the latest research will soon be put into practice to elevate orthopedic treatment to new heights.
"Things like stem cell research. A better way to put it might be regenerative properties," he explains. "Some of the things that go on within the musculoskeletal system, when things are damaged, the body can't always repair them. For example, arthritis is a wear-and-tear problem. Your body can't [regrow] cartilage.
"Patients ask me, 'Do you think in another 10 years … ?' I say, 'I really hope so.' That's definitely a really exciting area for the future. I think anything's possible." 'Prevention is important'
Of course, as with most physical ailments, catching musculoskeletal problems early in the degenerative process is the key to effective treatment.
Wellens describes herself as an "advocate of prevention."
"If you can prevent injuries, if you can prevent the need for surgery, that in itself is important," she says. "From an innovative standpoint, it's whatever we can do to improve our surgical techniques where it's least invasive with the maximum result."
"We're always going to be fixing people that have broken something or need something repaired," adds Jain. "But some of it is, I have people who come in. They have knee pain. They might not need surgery. But they're seeking ideas to avoid needing me to operate on them. Prevention is important."
However the field evolves, one thing is certain: Future patients will benefit from better, more comprehensive care.
"We can give patients, at this point in time, a level of care and a number of treatment options that weren't available up to a few years ago," says Wellens. "And I think there's more to come."
Resources
Comprehensive Foot & Ankle Center
277 White Horse Pike
Atco
(856) 768-7850
Reconstructive Orthopedics
Locations in Cherry Hill, Lumberton, Marlton, Moorestown, Sewell, Somerdale, Vineland and Voorhees
(800) 896-RECON (7326)
ReconstructiveOrtho.com
Rothman Institute
Serving South Jersey
(800) 321-9999
RothmanInstitute.com
Published (and copyrighted) in the Art of Living Well pull-out section of Suburban Family Magazine, Volume 5, Issue 1 (March, 2014).
For more info on Suburban Family Magazine, click here.
For information about advertising in Suburban Family Magazine, click here.
To find out where to pick up your copy of Suburban Family Magazine, click here.