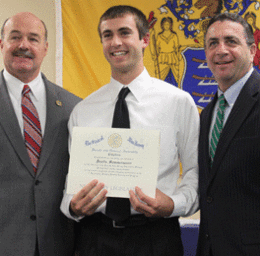 Star Students
Justin Sommermann (pictured)
Washington Township
Sommermann, a senior at Washington Township High School, was recognized by Sen. Fred Madden and Assemblyman Paul Moriarty for his completion of the 4th District Legislative Student Enrichment Program. Sommermann was nominated by his principal to participate in the program, and then spent six weeks gaining hands-on government experience in the offices of Madden, Moriarty and Assemblywoman Gabriela Mosquerato.
Carl Durkow
Moorestown
Moorestown Friends School senior Durkow was recently named one of 125 finalists in Drexel University's High School Photography Contest. The contest highlights the work of high school students across the United States and provides a showcase to honor these young photographers. Durkow's work was selected from 1,350 photograph submissions and is exhibited at the Drexel University Photography Gallery through March 10.
Lenape DECA students
Mount Laurel
Lenape's DECA program, which promotes future leaders in business, performed exceptionally well at the DECA Regional Career Development Conference in Cherry Hill in January. In all, 37 students competed, with 21 qualifying to compete at the State Career Development Conference, which will be held in March.
Sreeta Basu
Washington Township
Basu, a sixth-grader at Chestnut Ridge Middle School, won first place at the South Jersey Regional MATHCOUNTS competition. Basu won the top spot from among a pool of sixth- through eighth-grade competitors from 14 schools throughout six counties. She will go on to compete in the statewide competition in hopes of winning a spot in the national MATHCOUNTS competition held later in 2014.
Grace Bischoff and Victoria Figon
Moorestown
Moorestown Upper Elementary School students Bischoff and Figon recently raised more than $700 by selling breast cancer awareness bracelets during their self-organized "Pink and Proud" spirit day at school. During "Pink and Proud," the sixth-graders also rallied 935 students and 140 staff members to proudly wear pink in support of breast cancer research and awareness. After the success, the two girls were able to present The Cooper Foundation with their $700.
Students of Bell Oaks Upper Elementary School
Bellmawr
A charity fashion show and dinner event, scheduled for March 19, is 100 percent organized by the student body of Bell Oaks. Students are split into teams representing nine local charities—chosen by them—and for eight weeks leading up to the event, students have been raising money, making decorations, designing outfits and planning meals. Guests at the event will be served meals made by the students at this unique event, which is teaching the children about how they can make a positive impact in their community.
Cherokee High School's Students' Movement Against Cancer Club
Marlton
A team of 60 students and staff from Cherokee, representing the school's SMAC club, participated in the annual Making Strides Against Breast Cancer Walk at Cooper River Park, raising $4,008 for the American Cancer Society.
Trevor Gaynor, Andrew Madwell, Matt Unger and Tom Tessitore
Medford
Shawnee High School students Gaynor, Madwell, Unger and Tessitore founded Shawnee's first-ever Live Action Role Playing club. Live Action Role Playing, or LARPing, is an activity where participants fabricate mystical characters and interact with one another in an imagined setting. More than 100 members attended the first meeting of the club, which is designed to help students develop communication and public speaking skills, as well as encourage them to think in new ways.
Rebecca Cohen and Thomas Hudson
Cherry Hill
Cohen and Hudson, both students at Cherry Hill High School East, were recent winners in a national write-off competition, held at the National High School Journalism Convention in Boston. Cohen won the distinction of Excellent in the Review Writing category, while Hudson also won a distinction in the Broadcast Commercial category.
Dante Taormina
Voorhees
Taormina, a fourth-grade student at Osage Elementary School, won the national Macy's "I Believe" poster contest of 2013. Taormina's poster was chosen out of thousands of submissions from around the United States. His poster became the face of Macy's holiday card, which was distributed throughout the country during the holiday season.
Danny Nolan
Haddonfield
Elizabeth Haddon Elementary School fifth-grader Nolan placed third in the Haddonfield Junior Women's Club's Annual Regional Spelling Bee. Placing third qualified him for the Southern Regional Bee, which will be held at the end of the month.
Demogorgon Literary Magazine Staff
Cherry Hill
Cherry Hill High School East's student-produced literary and art magazine, the Demogorgon, was recently awarded first place with special merit by the American Scholastic Press Association for their 2013 issue. The award-winning magazine features artwork and literary pieces created by the students of the school.
Published (and copyrighted) in Suburban Family Magazine, Volume 4, Issue 12 (February, 2014).
For more info on Suburban Family Magazine, click here.
For information about advertising in Suburban Family Magazine, click here.
To find out where to pick up your copy of Suburban Family Magazine, click here.