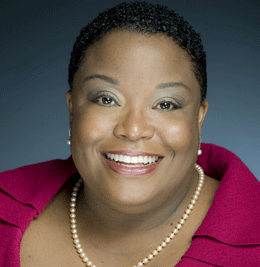 Star Citizens
Stacy Holland (pictured)
Mount Laurel
Holland was honored by The White House as a Champion of Change for her work connecting young people in Philadelphia with jobs through the WorkReady program, a nonprofit she founded 10 years ago. The WorkReady program helps young adults between 14 and 21 find careers in education, child care, banking and health care. The Champion of Change award was created by the Obama Administration for individuals and businesses doing extraordinary things in their community.
Joseph Poliafico
Haddonfield
Poliafico, 8, was honored with an award from Haddon Fire Co. No.1 after helping to report a fire in a neighbor's home. He noticed smoke coming from the front porch of the home while out in his front yard and promptly alerted his father, who notified the family and the local fire company. Thanks to Poliafico's diligence, the neighboring family, including their pet, was able to escape the burning house unharmed.
Cameron Huber
Cherry Hill
St. Rose of Lima School fifth-grader Huber recently had her book Where's My Stick? published by KidPub Press. The book, which follows the character Kira as she searches for her missing lacrosse stick, was inspired by Cameron's own personal love for lacrosse and an illness she had during her second season playing.
Veronica Applebaum
Marlton
This 10-year-old Jaggard Elementary student recently won the Belle of the Ball pageant held in Pitman and organized by Tiaras Loving Children, a nonprofit for children with special needs co-founded by Marlton resident Julianna Furfari and West Deptford resident Sammi-Jo Danze. Newly crowned, Applebaum will attend parades and make appeareances at local schools to serve as an inspiration for her peers.
Clarke Horowitz
Haddonfield
Horowitz, a 13-year-old Voorhees Middle School student, recently raised more than $1,200 for Samaritan Healthcare and Hospice of Marlton's sister location in Uganda. By selling hand-crafted African beads made of recycled newspaper and other products, Horowitz raised the funds to support a school overseen by the Kampala hospice for children whose parents suffer from HIV and other debilitating diseases. Though it was part of his Bar Mitzvah community project, Horowitz plans to continue with the endeavor.
Conrad Kramer
Cherry Hill
Kramer, 16, was part of a team that won the $10,000 grand prize in the University of Pennsylvania's "Hackathon" app contest. Kramer and his teammates developed an app called "Swap," which allows quick and simple updating to smartphone apps after they have already been installed onto a user's software.
Kacie and Alexandra Liebman
Moorestown
William Allen seventh-grader Kacie Liebman and her older sister, Alexandra, recently organized the first Paige's Green Dream, a 5/10K event at Moorestown High School in honor of their friend, Paige Holland, who died from complications from epilepsy at age 17. To help fulfill her dream of finding a cure, the sisters raised more than $5,000 for the Epilepsy Foundation through the event.
Team Evesham
Marlton
The Team Evesham Cycling Club was presented with an award from the state legislature in the fall for its outstanding volunteerism. The award was presented by Sen. Dawn Addiego in recognition of the team's efforts to raise more than $350,000 for charities since its formation. The team's work for the National MS City to Shore Ride was specifically noted.
Stephanie Masapollo
Washington Township
Sixth-grader Masapollo collected Halloween costumes for children who were affected by the Colorado floods and Oklahoma tornadoes. After collecting more than $1,000 worth of costumes last year for Hurricane Sandy victims, and with the help of a donation bin at SolarWorks in Turnersville, her goal was to reach $5,000 worth this year.
Pink Panther Breast Cancer Team
Voorhees
Eastern High School's Pink Panther Breast Cancer Team was honored by the Susan G. Komen Foundation at its Pink Carpet Party in Philadelphia after earning the 2013 Bernie Ashner Award. The Pink Panthers earned the award as a result of their fundraising efforts for the 2013 Susan G. Komen Race for the Cure, during which they raised more than $2,000, more than any other high school in the Philadelphia area. The team has been participating in events for the past five years and raised more than $10,000 total.
Abby Byrne
Medford Lakes
Ten-year-old Abby Byrne made it to the Top 10 in the 2013 Kidz Star USA talent search contest, sponsored by Kidz Bop. With voting open on the company's website, Byrne didn't progress to the top four, but she proved her singing ability was worth the coveted consideration. Byrne, who has been singing since age 5, began performing on stage when she sang in a talent show at age 7.
Emily Safko
Medford
Emily Safko, 11, won first place in the All-Ireland Festival of Music in the under-12 age category for Irish Harp Slow Airs. Safko competed against musicians in her age group from all over Ireland and the U.K. in her bid for the top prize. Safko won first place in the New York Festival of Irish music before heading to the All-Ireland Festival of Music, which was held in Derry, Ireland. She has been studying Irish Celtic harp since the age of 6.
Published (and copyrighted) in Suburban Family Magazine, Volume 4, Issue 12 (February, 2014).
For more info on Suburban Family Magazine, click here.
For information about advertising in Suburban Family Magazine, click here.
To find out where to pick up your copy of Suburban Family Magazine, click here.