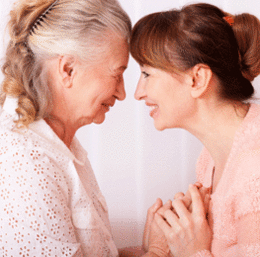 Caught in the Middle
It's a position more and more caregivers find themselves in, but help is out there.
It seems like every generation has its share of the pressures of an ever-changing world, but it has been increasingly more difficult for those who have been labeled the "Sandwich Generation." Since 1981, this seemingly playful yet serious term has been used to describe a growing population of people who are caring for aging parents while still taking care of their own children.
Despite the fact that this term has been extremely popular in identifying the group of people who are thrust into the caregiving role, adult children are not the only ones who are filling the caregiving shoes. "There are all kinds of caregiving arrangements in today's world," says Nancy Alterman, LCSW, of the Rowan University Institute for Successful Aging. Alterman explains there are different types of caregivers—family members taking care of relatives (whether adults or children), grandparents taking care of grandchildren, or maybe neighbors helping out a family when there is no one available during the day or evening when someone is working.
"Life is overwhelming where you have people above or below you and more is on people's plates," says Alterman.
A full house
Families often assume the role of caregivers when an adult becomes unable to take care of him or herself. When Nick and Lisa Iatarola of Washington Township could not reach his Aunt Catherine at her apartment in Camden, he called a family member to check in on her and then headed off to see her himself. Unfortunately, she was unable to get out of the bathroom and was severely dehydrated. After a brief stay in rehab, the Iatarolas realized she could no longer live on her own. Coming from a large Italian family in which everyone took care of each other, the Iatarola family—Nick, Lisa and their three children—welcomed her into their home. "It has been a huge impact on our family," says Lisa Iatarola. While working outside the home as well as taking care of three active children, the couple has felt the strain of making sure someone is there to take care of Catherine. During the day, she goes to what she refers to as work (senior care). However, the weekends and special family times are often affected because she can't be left alone.
"On the weekends, we have to make sure in all the running around that somebody is checking in and feeding her. Also, we can't take vacations very easily; we have to find somebody willing to stay here and help the whole time," Iatarola says. Some other challenges they have faced are dealing with getting their aunt on Medicaid and realizing her finances are being depleted with the increasing care costs.
Although the impact on their family has been overwhelming, they have taken their caregiving roles in stride. "We feel that we are setting a good example for the kids. It is important to Nick because his parents who passed away would have been proud of what he has done for Aunt Catherine," Iatarola says.
Accepting what's best
Though the Iatarolas have been able to make an in-home arrangement work, it's not something every family has the means to do. Fortunately, many are discovering that the comforts of home can be found elsewhere, and without the guilt that was once associated with it.
When Patti Venuto walks through the doors at Collingswood Manor, for example, she has no doubt that her active 86-year-old father, Jack Geigelman, is being well cared for. A resident there for three and a half years, Geigelman and his wife, Dolores, came to live at Collingswood Manor because Dolores was getting sick and Geigelman could no longer take care of her.
"He did not want to move," says Venuto about her father wanting to stay put in his home. "He felt he should be able to take care of his wife."
Looking back, she says she initially had reservations about the decision. "It was difficult but it had to be done because my dad could no longer care for both of them," she says, adding she credits the staff at Collingswood Manor for helping them getting settled in their new "home."
Then when her stepmother's condition deteriorated and she passed away, Venuto was grateful for the compassion they gave to her father and her family. "The staff was extremely supportive," she recalls. As a nurse, Venuto herself strives for quality care and believes Collingswood Manor does just that. "The safety of the patients, the level of lifestyle … we found it at Collingswood Manor."
Helping families find relief and comfort in their decision is a top priority among the staff, explains Marketing Director Barbara Wrzeszcz. "Caregivers are reluctant because they feel they should take care of mom or dad. Also, the parents feel they should not be a burden on their children," she says. According to Wrzeszcz, there is a welcoming committee that meets with the residents to make them feel at home and introduce them to staff and residents. "It helps the new residents to not feel so alone."
The same priorities can be found at Spring Hills Assisted Living in Cherry Hill, where the staff strives to alleviate the stress of taking care of loved ones, whether it's through assisted living or home care. "The role reversal of caregiving becomes stressful and overwhelming. We try to help them make a decision where the residents feels they have control too," says Christina O'Leary, director of branding and project management. "Caregivers can go back to the role of being a daughter or son and not just a caregiver."
According to O'Leary, Spring Hills has home care services as well for individuals who are living alone or with a caregiver. From meal prep to basic care needs to transportation to doctor's appointments, Spring Hills Home Services gives individuals a safe experience in their own home.
Where to turn
As the so-called "sandwich generation" continues to grow, individuals who sacrifice their time and energy to making a difference in the lives of others should have access to resources to make their caregiving journey easier. "We need to educate everyone about approaching the change from an independent to a dependent lifestyle," stresses Alterman.
Education for caregivers can include planning and preparation for considering home care or assisted living. "It is recommended that families should speak to an elder law attorney for planning long-term care," says attorney Dana Bookbinder, from Begley Law Group in Moorestown. According to Bookbinder, caregivers can work with an attorney who can direct families to financial services and social work providers that can help seniors to maximize control over their lives.
"There are so many resources out there for help," agrees Iatarola. "Especially when it comes to Medicaid, start the process early."
Published (and copyrighted) in Suburban Family Magazine, Volume 4, Issue 12 (February, 2014).
For more info on Suburban Family Magazine, click here.
For information about advertising in Suburban Family Magazine, click here.
To find out where to pick up your copy of Suburban Family Magazine, click here.