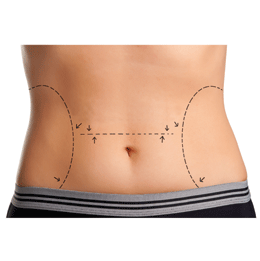 Body Transformations
New treatments in body sculpting help target those stubborn fat zones.
You eat a healthy diet, count calories and log hours at the gym. But despite doing everything right, there are still stubborn areas that just don't seem to improve. Whether it's "love handles," "muffin tops," "saddlebags," a double chin, bra fat or belly fat, most of us have at least one persistent bump or bulge that prevents us from looking and feeling our best.
"These are very common complaints," says Dr. Steven Davis, a board-certified plastic surgeon and executive director of Davis Cosmetic Plastic Surgery in Cherry Hill. "Even personal trainers have problem zones resistant to diet and exercise. But when you look in the mirror and don't see the changes you expect, it can feel defeating and frustrating."
Fortunately, today there are a number of FDA-approved, non-invasive and minimally invasive procedures that can improve these problem areas right in an office setting with little to no recovery time. Called body sculpting or body contouring, these techniques remove unwanted pockets of fat, and in some cases also tighten skin to create a smoother, slimmer appearance. Some of the new procedures are permanent; others require occasional follow-up treatments, but virtually all are done with little to no discomfort. Side effects are usually minimal, but might include some temporary bruising, redness, numbness or tingling at the treatment site.
"The use of these non-invasive procedures has quadrupled in the last four years in our practice," notes Dr. Bryan Levey, medical director of LipoLaser of South Jersey in Marlton. "Our patients like body contouring because it can target specific areas and achieve noticeable results with no down time, and it costs a quarter of traditional liposuction."
The options available
As medical director of Mullica Hill Skincare, Dr. Pooja Malik, a board-certified family physician who specializes in medical aesthetics, says these cutting-edge treatments mold the body into a desired shape, much like a sculptor would create a piece of art.
One of the most popular treatments at her offices in Mullica Hill and Vineland is Laser Lipolysis, a minimally invasive procedure in which a laser is used to heat and melt fat under the skin, and the liquefied fat is suctioned away. The procedure is combined with four to six follow-up radio-frequency treatments applied externally to tighten any loose skin. Laser Lipolysis is well-suited to treating fat in the neck, arms, bra area, inner and outer thighs, and abdomen.
For cellulite—those hard-to-eliminate dimples in the thighs and buttocks—Malik offers some effective options. Smooth Shapes reduces mild cellulite by treating the area with a noninvasive laser. The treatment is not permanent, but lasts 16 to 18 months. "Many people come every year before the summer bathing suit season," she says. Another option, CelluSmooth, is a minimally invasive laser procedure that can permanently reduce mild to moderate cellulite 40 to 70 percent by breaking up fibrous tissue, emulsifying fat and tightening skin in the area.
Davis says cutting-edge body sculpting technology is the most exciting and fastest-growing area of his practice. One of the new options he offers is Syringe Liposuction, a minimally invasive procedure in which a syringe is inserted and the fat is permanently aspirated through a small incision. "This is good for small pockets of fat on the abdomen or thighs," explains Davis. "And you leave the office with just a Band-Aid."
To treat fatty bulges below the belly button that commonly occur after childbirth, Davis suggests what he calls a "Mommy Makeover" procedure in which heat is applied externally and internally through a tiny probe inserted under the skin. The heat melts away the fat while simultaneously shrinking and tightening the skin. Another technique, CoolSculpting, is a non-surgical approach particularly effective in treating the abdomen and love handles. "CoolSculpting is a revolutionary non-surgical contouring treatment that freezes stubborn fat, which is then naturally eliminated from your body," says Dr. Sandra Elder of Aesthetic Dermatology in Marlton. "No needles, no surgery, and most importantly, no downtime."
According to Elder, each treatment results in 10-15 percent reduction in fat within the area treated, and the ease and effectiveness of treatment have resulted in an increasing amount of people requesting it—from ages 18-84 in her office. "I think this is in large part due to the fact that people strive to be more fit today, and despite their healthy lifestyles, most people have a little or a lot of extra fat that doesn't seem to budge. This could be leftover belly fat from pregnancies, or stubborn flank fat despite a decent exercise regimen. I find that CoolSculpting gives such quick and rewarding results that it motivates people to continue with and enhance a healthy lifestyle, including good nutrition and regular exercise."
Levey says his patients lose inches—often slimming from a 38-inch waist to a 34 or 36—after nine treatments with a Zerona Laser. Each painless, 40-minute procedure involves applying a laser externally over the targeted area. The emulsified fat is eliminated from the body through the lymphatic tissue. Combining these treatments with another treatment called ultrasonic cavitation significantly improves results, according to Levey. Laser-Cavitation involves 20 minutes of laser application targeting fat close to the skin surface, followed by 20 minutes of ultrasound, which uses soundwaves to penetrate and destroy fat cells deeper in the body while also tightening skin.
The new VelaShape III is a three-part technique that noticeably reduces circumference, treats cellulite and smoothes skin. The non-invasive treatment includes an LED light application to open and destroy fat cells, suction to break up fibrous tissue in cellulite, and radio frequency waves of heat penetrating 15 millimeters deep to improve circulation, contract collagen and tighten skin. While Levey says patients see significant changes in one session, it can take up to six sessions for the greatest improvement on cellulite.
New advancements are also helping patients tighten up the skin on their face and chin in a non-invasive manner. Elder offers Ultherapy, just FDA approved in 2012, which lifts the skin on the brow, neck and under the chin. The procedure delivers micro-focused ultrasound energy that stimulates the production of new collagen and elastin tissue deep within the skin.
The fine print
Patients can expect to pay anywhere from $400 to $800 for a single, non-invasive treatment covering a small area, to tens of thousands of dollars for more extensive, minimally invasive procedures on multiple areas. Typically, body sculpting treatments are not covered by insurance.
Body sculpting procedures permanently destroy and remove fat cells from the treated zone. However, if a patient gains weight down the road, although fat would not collect in the treated areas, it would be deposited in other areas of the body. Body sculpting procedures are best suited for generally fit and healthy people who are committed to a healthy lifestyle and have a body mass index in the normal range, according to Malik. Because body sculpting is not a weight-loss procedure, the treatments are not designed for someone who is obese. Likewise, those with chronic illnesses such as heart disease, diabetes and kidney disease, or who have implanted pacemakers or other devices, are not good candidates.
While women often request body sculpting to treat hormonal weight gain after menopause, or get rid of fat and flabby skin on the lower abdomen after childbirth, it is equally effective in men. Doctors report a growing number of men are turning to these procedures to treat "love handles," belly fat, a double chin and gynecomastia (male breasts).
"I think most people like to look and feel their best," Elder says. "They don't necessarily want to look like they are in their 20s; they just want to have a fresher, brighter, healthier appearance, and that makes them feel good about themselves." Adds Levey, "The confidence people gain after these procedures can be life-changing."
Resources
Aesthetic Dermatology
771 Route 70 E., Suite D-150
Marlton
(856) 596-3393
ElderDermatology.com
Davis Cosmetic Plastic Surgery
1916 Route 70 E., Suite 1
Cherry Hill
(856) 424-1700
DavisCPS.com
LipoLaser of South Jersey
100 W. Old Marlton Pike
Marlton
(856) 596-3000
LipoLaserFat.com
Mullica Hill Skincare
Locations in Mullica Hill and Vineland
(856) 478-4700
MullicaHillSkincare.com
Published (and copyrighted) in the Art of Living Well pull-out section of Suburban Family Magazine, Volume 4, Issue 12 (February, 2014).
For more info on Suburban Family Magazine, click here.
For information about advertising in Suburban Family Magazine, click here.
To find out where to pick up your copy of Suburban Family Magazine, click here.