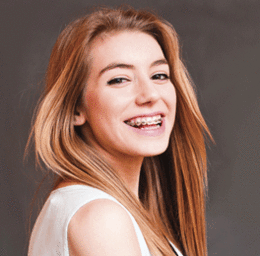 A Healthy Smile
Getting the right orthodontic care does a lot more than simply give you straight teeth.
Orthodontic treatment has come a long way from our childhood memories of "metal mouths," ugly retainers and unsightly headgear. Today, many kids refer to their braces as "cool," and the variety of appliances available has expanded exponentially.
From braces that are nearly invisible to traditional stainless steel braces using brackets with different shapes and themes, along with brightly colored elastics that allow kids to put their own artistic touch on their smile, braces have shed their stigma of the past and become more accepted by children, teens and their parents.
That's why we decided, in recognition of February being National Children's Dental Health Month, to take a look at the advancements in orthodontic care and how much the field impacts overall dental hygiene.
A more comfortable fit
"Today's braces are smaller and gentler than in the past," says Dr. Susan M. Lempert, who maintains a private practice in Logan. "Improved materials have made tooth movement easier, quicker and with less discomfort. In addition, there are many aesthetic options such as clear aligner systems or clear fixed braces. The wires that move the teeth can also be customized to provide more precise, individualized movements."
Dr. Frank Batastini, of Batastini Orthodontics in Moorestown and Turnersville, explains that while they typically still treat in phases, they're using technology that's been significantly improved upon. "These advancements make it easier for kids to maintain good oral hygiene while in treatment and cooperate with their plan of care."
When it comes to orthodontic treatment, no matter what type of braces you choose, hygiene is a No. 1 priority.
"It doesn't matter how straight your teeth are if they don't look clean and beautiful," says Dr. Tom Kadar, of Kadar Orthodontics in Sewell. "There are many new tools available today to help keep teeth clean and healthy, including special toothbrushes for use during orthodontic care and oral rinse products, and the braces themselves are smaller and easier to clean around. When teeth are properly aligned, they're easier to clean, and when teeth are clean and plaque free, they're less susceptible to tooth decay and gum disease."
To help patients comply with their treatment plans, Kadar's office has implemented a hygiene class piloted by his team of hygienists. This one-on-one class helps keep patients' hygiene at its best throughout treatment to ensure they receive the best smile when the treatment is complete. Kadar's team also monitors patients' care at each visit to maintain optimum health of the teeth and smile.
Aside from their aesthetic value, braces serve a functional role, as well.
"Cosmetically, braces can make all the difference in the world in an individual's self-esteem, especially when it comes to teens," says Dr. Dale Kushner, of Voorhees Orthodontic Associates. "When teeth are properly aligned, they're less prone to wear over time and less susceptible to fracture or injury. The use of removable clear aligners such as Invisalign Teen makes oral hygiene even easier, as almost nothing is bonded to the teeth and there are no obstacles to keeping the teeth clean. In addition, this course of treatment is great psychosocially for teens, who are often worried about their image and their smile when it's time for prom, senior pictures and the like."
Another advancement in the field of orthodontics has been the use of "temporary anchorage devices," or TADs. "These TADs are miniature, removable implants that orthodontists can use for more challenging types of tooth movement," says Lempert. "In the past, without these devices, certain movements would have been difficult or impossible."
In addition, self-ligating braces are being used more frequently, which are made from the same materials as traditional braces but do not require the use of elastics, resulting in less friction being placed on the tooth and the need for fewer adjustments.
"Self-ligating braces are able to achieve the same results as traditional braces without all of those additional rubber bands and apparatus in the mouth," says Dr. Monisha Iyer, of Segal and Iyer Orthodontics in Marlton. "These braces come with traditional metal or clear brackets and are the same size as metal braces, but with more options they can provide a more aesthetic appearance. When teeth are straight and they look good, patients' self-esteem and morale goes up, and they're more likely to be compliant with their treatment plan."
How and when to start
One of the main questions parents have, regardless of the type of braces an orthodontist recommends, is when to begin treatment. "Although many people associate orthodontic treatment with adolescence, orthodontists can spot subtle problems with jaw growth or with the teeth much earlier, while the primary or baby teeth are present," says Lempert.
According to Lempert, parents may incorrectly assume they must wait until a child has all of his or her permanent teeth before braces are considered. However, the American Association of Orthodontists (AAO) recommends that every child receive an orthodontic screening by age 7. By then, enough permanent teeth have arrived for an orthodontist to evaluate relationships developing between teeth, jaw and bite. "Orthodontists can then determine what, if anything, is awry," she stresses.
"There is still a lot of controversy among professionals and lay people alike as to when is the right time to begin orthodontic treatment," says Batastini. "When making that determination, there are three fundamentals to evaluate: chronological age, dental age and skeletal age. A child's chronological age corresponds the least with the other two fundamentals. Dental age corresponds with how many teeth are in the mouth, while skeletal age looks at the development of the bones in the mouth. We're most likely to consider early intervention or what's called interceptive orthodontic treatment if there are skeletal concerns early on."
Reasons for early intervention typically include overbite, underbite, crossbites, crowded teeth or jaw growth discrepancies.
"We're huge proponents of examining a child early, which puts us in a better position to determine the best course of action," says Dr. Joel Elfman, of Elfman Orthodontics in Voorhees. "Our goal is to harmonize the growth of the upper and lower jaws and eliminate harmful habits, such as thumb sucking and tongue thrusting, early on. Orthodontic intervention can also improve speech development, ease difficulty in chewing or biting, aid in proper breathing and swallowing patterns, and address facial imbalance, all of which help improve a child's self-esteem and encourage compliance."
Interceptive orthodontic treatment can help guide teeth into better positions and take advantage of the fact that a child's jaw is still growing. However, children who receive early intervention typically require a second phase of treatment, including braces or other orthodontic appliances later on. Early treatment can also shorten and simplify future treatment, in many cases.
"Ongoing evaluation by an orthodontic growth and development program can best assess a child's need for treatment and help determine the best time to start," says Batastini. "Whether a patient requires one or two phases of treatment, our goal is to treat occlusion until it's corrected. We don't use one practice technique that says all cases will be completed in 18 months. Each patient is different, and we strive to treat him or her to perfection, not just on a time schedule. When you get your appliances off, you should end up with a dental occlusion that fits like a glove and creates a good aesthetic smile."
Resources
Batastini Orthodontics
188 Fries Mill Road
Suite F-3, Turnersville
(856) 262-0500
BracesBraces.com
Elfman Orthodontics
302 Haddonfield-Berlin Road
Voorhees
(856) 429-1900
ElfmanOrtho.com
Kadar Orthodontics
485 Hurffville-Cross Keys Road
Sewell
(856) 582-1400
GoKadar.com
Segal & Iyer Orthodontics
501 Route 73 S.,
Suite 202, Marlton
(856) 810-1006
SegalAndIyer.com
Susan M. Lempert, DMD, MS
553 Beckett Road,
Suite 404, Logan
(856) 241-8400
LempertSmile.com
Voorhees Orthodontic Associates
2301 E. Evesham Road
Suite 301, Voorhees
(856) 770-9200
VoorheesOA.com
Published (and copyrighted) in the Art of Living Well pull-out section of Suburban Family Magazine, Volume 4, Issue 12 (February, 2014).
For more info on Suburban Family Magazine, click here.
For information about advertising in Suburban Family Magazine, click here.
To find out where to pick up your copy of Suburban Family Magazine, click here.