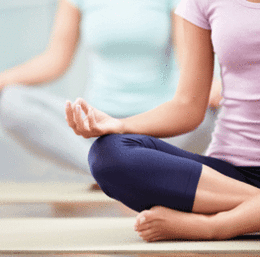 Holistic Health Methods
There are alternative treatments worth considering when traditional health care can't cure what ails you.
Cold crackles through the air and snowflakes dance, whipped up by freezing winds. But inside the studio at Bikram Yoga Voorhees, it's a steamy 105 degrees.
Men and women ranging from college age to retirement age sit calmly on yoga mats in the sweltering room and receive a gentle pep talk from studio owner and class leader Jessica Gardner. She lets them know that it's fine to take breaks, but they should stay in the room even if the heat becomes oppressive. "Over time, over time," she promises, they will build strength, balance and flexibility, and will come to enjoy the rigorous, 90-minute yoga classes.
Bikram Yoga Voorhees is one of a growing number of studios offering "hot yoga." Proponents say it helps flush out toxins through sweat, boosts flexibility as muscles grow warm, and, like all yoga, can help improve balance, strength and stress management.
Yoga is just one of several holistic health care strategies that are enjoying a surge in popularity. Some people turn to alternative methods like yoga, massage, acupuncture, or chiropractic care after they've been disappointed by traditional medicine. Others are merely curious and work to integrate some holistic principles into their mainstream health care.
Yoga: New life for an old art
Yoga is an ancient discipline that has enjoyed periodic spikes in popularity. At its roots, yoga involves repetition of certain poses and regulation of breathing. That basic idea has grown into multiple philosophies that incorporate varying degrees of spirituality and physical rigor.
In America, it's no secret that hot yoga is the style of the moment. Gardner says it can be tough to balance the trendiness of the discipline with the long, rich history behind it.
"I don't want that history to get lost in translation," she says. "It is a practice, not a gym class, and I want people to see how they can grow and change through the practice."
Gardner began practicing yoga when she was in college. She suffered from rheumatoid arthritis that cramped her hands and made it so difficult to write that she had an aide to help her take notes in class. She also took a number of strong medications, such as anti-inflammatory drugs and immunosuppressants.
She took her first yoga class after finding an advertisement on her car. She practiced for about six years, growing healthier all the while, then eventually enrolled in teacher training.
While she admires the structure and history of Bikram yoga, which leads students through a cycle of 26 specific postures, she does bring her own perspective to her two studios. Her class is punctuated with humor, and she encourages students to work at their own pace, with some advanced students undertaking stunning balancing poses while others try to stretch just a bit farther than they did a month ago.
Considering chiropractic care
Back pain plagues many people as they age, chipping away at the quality of life and making it difficult to exercise. That opens the door to weight gain and the numerous health problems associated with being overweight and immobile.
For some patients, visiting a chiropractor is an effective way to treat back pain, or a host of other problems including neck or shoulder pain, carpal tunnel syndrome, headaches, leg pain or scoliosis. Some patients find their way to a chiropractor after a traumatic incident, like a car crash. Others may decide to try chiropractic care after years of pain that doesn't improve with traditional medical treatment.
Patients should look for the designation "doctor of chiropractic" when choosing a chiropractor. They treat patients primarily with physical maneuvers called "adjustments" rather than medication or surgery.
But they do often work in tandem with traditional health care professionals, and so chiropractic care is becoming more widely accepted as a beneficial treatment for people with back or neck pain.
Dr. Michael O'Keefe, head of O'Keefe Chiropractic Center in Medford, says he routinely communicates with his patients' primary care doctors. Some patients come to him after being referred by a general physician. Others may opt for a chiropractor first, and he will wind up encouraging them to seek conventional medical care as well as the treatments he's performing.
A patient beginning chiropractic care will often be asked to give blood work, and perhaps an X-ray or MRI. O'Keefe says those initial examinations sometimes turn up problems that fall outside his scope—high blood sugar, for example. In such cases, he refers patients back to a medical doctor, and will keep his patients' doctors apprised of the work he is performing.
"We don't have all the answers, nor do they," O'Keefe says. "It's more of a collaborative effort between us and the primary care doctors."
Dr. Mike Edenzon, of South Jersey Health & Wellness in Cherry Hill, says a fundamental goal of chiropractors is to improve mobility and reduce pain so people can remain active and pursue overall wellness.
"We help them establish some health goals, then give them the tools they need to pursue their goals," he says. "A benefit of natural care is that we look at the whole body and how all systems work together. But it doesn't need to be natural only, or traditional only."
Exploring acupuncture
Acupuncture is another ancient discipline that may be integrated into a modern-day health plan. It is used for a wide range of ailments, from chronic pain and headaches to stress, anxiety, digestive problems and more.
"From a Chinese medical perspective, pain is the manifestation of an imbalance in the body," says Robert Rowand, licensed acupuncturist and owner of South Jersey Acupuncture in Haddon Heights and Cherry Hill. "If we can rebalance your body, the severity of symptoms will lessen."
Rowand says his patients' goals vary. Many are under the care of traditional medical doctors and are simply seeking another way to lessen pain or improve physical function. After acupuncture, patients are often able to reduce the amount of medications they take.
"If they are able to take a lower dose of painkillers, for example, that is putting fewer toxins in their system," he says.
Some patients are initially anxious about the idea of having needles inserted into their skin, Rowand says. He explains his procedures thoroughly, and says the prick of a needle feels only as uncomfortable as a mosquito bite.
The needles, he says, do not supply the cure.
"They help put the body in a state where it can begin to heal itself," he explains.
Nutrition: An important piece of the puzzle
Advocates of holistic health care make sure to advise patients on good nutrition. By definition, "holistic" health focuses on how all elements of the body work together, and how outside forces like stress, sleep and nutrition affect overall well-being. Edenzon says when he begins working with a new client, he evaluates their hair, skin and health. "Those are the body's non-essential tissues, so if a person is not properly nourished, those tissues are the first to suffer," he says. "They can give me an excellent clue about what may be going on nutritionally."
For some patients, vitamins may be recommended. Overall, those who practice holistic health care believe nutrition is an important building block in a quest for overall wellness. Exploring one discipline may encourage a client to improve other areas of their health.
"Yoga helps you get to know your body," Gardner says. "The better you know your body, the more likely you are to give it what it needs; you will give it the rest it deserves, and the nutrients it needs."
RESOURCES
Bikram Yoga Voorhees
Locations in Gibbsboro and Plainsboro
(856) 309-YOGA
BikramYogaVoorhees.com
O'Keefe Chiropractic
99 Taunton Road, Suite 101
Medford
(609) 654-4299
OKeefeChiropractic.net
South Jersey Acupuncture
Locations in Haddon Heights and Cherry Hill
(856) 672-0072
SJAcupuncture.com
South Jersey Health & Wellness
1919 Greentree Road
Cherry Hill
(856) 288-7366
SJHealthWellness.com
Published (and copyrighted) in Suburban Family Magazine, Volume 4, Issue 12 (February, 2014).
For more info on Suburban Family Magazine, click here.
For information about advertising in Suburban Family Magazine, click here.
To find out where to pick up your copy of Suburban Family Magazine, click here.