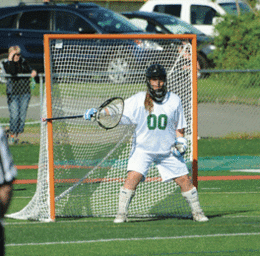 Girls Lacrosse
Bishop Eustace Crusaders
Players to watch: Senior midfielder Sarah Furey made the all-South Jersey second team and the all-conference first team a year ago. She will play field hockey at Duke. Senior midfielder Kristen Kelbon, who is recovering from a torn ACL, is a St. Joseph's recruit, while senior Liz Wissmann is headed to Philadelphia University. Senior defender Elise Sullivan was all-conference first team, while senior goalie Darby O'Kane and sophomore Kristen Biche were all-conference second team. Other returners include seniors Lauren Crudele, Stephanie Valentine, Uju Obianwu and Kelsey McMahon, juniors Natalia Marrone and Maureen Walsh, and sophomores Clare Monahan, Ally Criscolo and Jena Braungart.
OUTLOOK: Eustace finished with a 16-4 record in 2013 and reached the South Jersey Group I final before falling to Oak Knoll. The Crusaders graduated talented scorers in Mikeala Gekas-Robinson and Kylie Primeau, but a strong nucleus remains and this should again be one of the better teams in South Jersey.
Camden Catholic Fighting Irish
Players to watch: Camden Catholic returns a pair of excellent scorers in senior Tara Vittese and junior Megan Kilpatrick, and a strong defender in senior Cara Racobaldo. Sophomore Khaia Baranowski (pictured) is back after starting in goal as a rookie. Other returners include seniors Rachel Garafolo, Carolyn Kane and junior Kathleen Petrucelli.
OUTLOOK: Camden Catholic finished with a 12-7 record and reached the South Jersey Group I quarterfinals before falling to Pingry. The Irish appear set to post another winning season and make a run in the playoffs.
Cherokee Chiefs
Players to watch: Senior midfielder Christine DiLullo was all-Burlington County second team and is Cherokee's leading returning scorer after notching more than 30 goals last year. She will continue her career at Rutgers. Junior midfielders Savannah Singer and Ashley Koester are back after each scored more than 20 goals in 2013. Other returners are senior Kaylee Stroup and juniors Sarah Nowak, Leanne McCloskey and Jessica Havers.
OUTLOOK: Cherokee finished with a 6-11 record and reached the South Jersey Group IV quarterfinals before falling to West Windsor North. The Chiefs graduated all-South Jersey midfielder and leading scorer Lauren Thomas but have several offensive weapons returning and can contend for a winning record if they tighten up the defense.
Cherry Hill East Cougars
Players to watch: While Cherry Hill East said goodbye to its top two scorers, senior midfielder Taylor Patrizi returns after scoring close to 40 goals and leading the team with 103 draw controls in 2013. She has already committed to continuing her career at Stetson University. Senior Rachel Adap is back as the starting goalie and senior Megan Thompson, a Montclair State recruit, is a key playmaker who had 25 goals and 25 assists last year. Also returning are seniors Courtney Capehart, Brianna Strouse, Leah Singer, Brooke Beatty, Melissa Minkoff and Alisa Verratti, juniors Monica Lee, Lauren Kotler, Jordyn Koppelson and Sarah Powers, and sophomores Kyra Gorman and Kelsey Gorman.
OUTLOOK: East went 11-7 and lost to Cherokee in the first round of the South Jersey Group IV playoffs. Replacing all-South Jersey midfielder Caitlin Delaney and midfielder Emily Johnson— who combined for more than 160 goals—will be impossible, but the Cougars have a lot of young talent and another winning campaign is a realistic goal.
Cherry Hill West Lions
Players to watch: Cherry Hill West has several experienced players back, led by junior attack Lindsey Coyle. Other returners are senior midfielder Francesca Benitez, senior attack Erin Redmond, senior defender Mary Smyth and junior attack Lauren Elias.
OUTLOOK: Among the departed seniors from 2013 was Lauren Anderson, the program's all-time leading scorer. Despite that huge loss, the Lions are hoping to show improvement and build the foundation for a winning team under new head coach Melissa Venturi.
Clearview Clearview Pioneers
Players to watch: Clearview has a pair of terrific scorers in senior attack Jackie Pauling and junior attack Gianna Bowe, an all-South Jersey second-teamer. Both players scored more than 40 goals a year ago. Senior attack Holly Tevis, a George Mason recruit, is also a proven scorer who tallied 37 goals in 2013, and sophomore Hannah Quast is coming off a strong freshman season. Also back is senior Casey McFeeley, juniors Olivia Mittleman, Ali Donohue, Brooke Elsworth, Liz Kramer, Brianna Ladner and Carly Shaup, and sophomore Marielle Salvatore.
OUTLOOK: Clearview finished with a 15-6 record and reached the South Jersey Group III semifinals before falling to Notre Dame. Leading scorer Megan Donnelly and midfielder Sara Kramer—now at The College of New Jersey and Rutgers, respectively—are big losses, but the Pioneers are a program that can reload. A number of talented players remain to make this one of the top teams in the area.
Eastern Vikings
Players to watch: The Vikings return several key offensive contributors from 2013, including senior Sierra Slack and junior Austyn Cuneo, although junior Sam Mlkvy will miss the season with a torn ACL. Senior goalie Brittany Read was all-South Jersey second team and is headed to Louisville, while senior Lindsey Fleischer will play a major role on defense and senior midfielder Karlee Spirit is also an important veteran. Other returners are seniors Christy Altadonna, Hannah Baruch, Brianna Rolke, Madison Kirshner, Erin Gill and Olivia Schneider, and sophomores Nikki Santore, Jaylyn Thompson and Gabby LaRocca. Newcomers to watch are Taylor Clancey and Mac Mlkvy.
OUTLOOK: Eastern finished with an 18-2 record and reached the South Jersey Group IV final before falling to Shawnee. The Vikings, who also won a conference title for the first time in 10 years, took major strides last year and will look to ride the momentum into another outstanding season.
Gloucester Catholic Rams
Players to watch: Sophomore Frankie Paterno had a solid debut season, scoring more than 20 goals, and is the leading returning scorer for Gloucester Catholic. Senior defender Morgan Masiejczyk is a returning starter on defense who will play college lacrosse at Millersville. Junior Alexa Bonomo is another key returner and sophomore Hannah Malfitano saw varsity playing time as the backup goalie. Other returners are seniors Cassidy Harkins, Lauren Wilson, Michelle McCarthy, Becca Duffy, Megan McLoughlin and Lauren Gappa, juniors Elysa Virella and Sarah Coons, and sophomore Lisette Virella.
OUTLOOK: Gloucester Catholic finished with a 4-12 record and lost to eventual state champion Oak Knoll in the first round of the South Jersey Group I playoffs. The Rams were a senior-laden team in 2013 and, while several key players remain, they will be counting on a lot of first-year starters.
Haddonfield Bulldawgs
Players to watch: Haddonfield graduated its top two scorers but has talented offensive players returning in seniors Tenaya Clark and Taylor Jacobs. Senior Kelsey Welsh returns as the starting goaltender. Also back are seniors Katie Rodenhaver, Nikki Gavranich, Allegra Saggese and Miranda Toci, juniors Lizzie Hammon and Natalie Scott, and sophomore Olivia VanDervort.
OUTLOOK: Haddonfield finished with a 10-8 record and reached the South Jersey Group I semifinals before falling to eventual state champion Oak Knoll. The Bulldawgs lost key players in all-South Jersey second-teamer Gretchen Kiep and Taylor Ng. The program is a solid one, however, and should still be in the running for a winning season.
Kingsway Dragons
Players to watch: Senior attack Taylor Gretz led Kingsway with 42 goals and 10 assists a year ago and is one of the top offensive players in the area. Senior attack Paige Helm and senior midfielder Jackie Neary are also proven scorers. Junior attacks Aly Keene and Alex DiSciascio and senior goalie Erin Horner are other key returning veterans. Also back are seniors Erica Shannon and Alexis Damask, junior Maria Boerlin and sophomore Sophia Casella.
OUTLOOK: Kingsway finished with a 5-12 record and lost to Toms River South in the first round of the South Jersey Group III playoffs. The Dragons have a ton of experience returning, including a strong senior class, and figure to be much improved over last season.
Lenape Indians
Players to watch: Senior attacker and captain Rena Carabases scored more than 50 goals last year, was the team's leading scorer and was named all-South Jersey second team. Carabases has committed to St. Joseph's, where she will continue her career next year. Senior midfielder and captain Nicole Donnelly is also a prolific scorer. Other key returners are senior midfielder and captain Courtney Norton, junior midfielders Natalie Peel and Erin Harvey, defender and captain Shannon Gallagher and junior goalie Rebecca Wilen. Also back are seniors Deryn Lynch and Melanie Corbett, juniors Marissa Topolski, Abby Nocitio, Kaity McKenna, Emily Hunt and Deanna Amoriello, and sophomores Kasey Donoghue and Sydnee Sapp. There are also several freshmen that could make an impact on the varsity level.
OUTLOOK: Lenape finished with a 13-6 record and reached the South Jersey Group IV semifinals before falling to eventual state champion Shawnee. The Indians consistently reach double digits in wins year in and year out. Despite losing all-South Jersey defender Hunter Gray and all-county attack Olivia Streilein to graduation, they are primed for another successful year.
Moorestown Quakers
Players to watch: While there is an abundance of talent on the Moorestown roster, the logical place to start is reigning New Jersey Player of the Year Marie McCool. The senior midfielder had 86 goals and 26 assists a year ago, while also shining on faceoffs and defense. She enters the season with 187 career goals and has committed to the University of North Carolina to continue her career. Other Quakers who will continue their careers in college are Jessica Dadino, Frankie Angeleri and Kayla Pruitt (Vanderbilt), Sydney Dalmass (Michigan), Tristan McGinley (Virginia Tech), Kierstyn Voiro (Lehigh), Anne Keim (Delaware) and Lauren Martinelli (Fairfield). Dadino, Angeleri, Dalmass, McGinley and Voiro each had at least 24 goals last year and are dangerous offensive players. Also back are all-county junior defender Melanie Becker and junior goalie Gabby Cooper, the backup last year. Other returners are juniors Adriana Pendino, Jessica Button, Maggie Handlon, Abbey Brooks, Alex O'Donnell, Kiera Dalmass and Miranda Chrone, and sophomores Annika Nissen and Jenna Martinelli.
OUTLOOK: Moorestown finished with a 25-0 record, its second straight undefeated season, and defeated rival Shawnee to win the Tournament of Champions. The Quakers have won five of the last seven Tournament of Champions titles and claimed their 20th state crown last year, and finished first or second in six national polls. While there are a few key players to replace, notably at the defensive end, the program is a powerhouse that will vie for its third straight Tournament of Champions title and should be ranked among the top teams in the country.
Moorestown Friends Foxes
Players to watch: Senior midfielder Noelle Smith is back after earning all-Friends League first-team honors for the second straight year. Also returning are senior midfielder Katrina Savon, an all-Friends League honorable mention choice, and junior goalie Laila Van Cleve. Other returners include seniors Emily McKeown, Victoria Geyer, Gina Tamburri and Maureen Kelleher, juniors Stephanie Walker, Sarah Henig, Kendall Whittall, Alaina Shivers and Bria McKenzie, and sophomore Erin Chen.
OUTLOOK: Moorestown Friends finished with a 7-10 record and lost to Bishop Eustace in the first round of the South Jersey Group I playoffs. The Foxes have finished with a solid 4-4 record in the Friends League for four straight years. This year, they'll look to take the next step and post a winning mark in the competitive league.
Paul VI Eagles
Players to watch: Midfielder Erica McLaughlin returns for her senior year before continuing her career at Chestnut Hill College, while senior attack Casey Baker is one of Paul VI's most dangerous offensive players. Also back are senior attacks Taylor Humski, Kaylin Donaghy, Amanda Darley and Carly Devenney, senior midfielders Alexandra Jurgelis and Lauren DiPietropolo, senior defenders Julie Ford and Brooke Boucher, sophomore attack Michelle Hallman and sophomore defender Megan Carty.
OUTLOOK: Paul VI finished with a 4-10-1 record and lost to Manasquan in the first round of the South Jersey Group II playoffs. With a senior-laden squad, the Eagles have a chance to make great strides this year and perhaps compete for a winning record.
Seneca Golden Eagles
Players to watch: Senior attack Ellie Blythe scored more than 50 goals and was named all-Burlington County second team, while junior attack Megan Drum enjoyed a breakout season as a sophomore and tallied more than 60 goals. Other returners are seniors Sarah Hagmayer, Jamie Zangli and Jackie Gsell, junior Julia Ferrante and underclassmen Samantha Scarpello, Danielle Packard and Riley Bednar.
OUTLOOK: Seneca finished with an 8-12 record and advanced to the South Jersey Group III quarterfinals before suffering a tough overtime loss to Toms River South. After the first losing season of coach Morgan Crothers' six-year tenure at the school, the Golden Eagles are poised to bounce back. They have several elite scorers and should become one of the area's top teams again.
Shawnee Renegades
Players to watch: Senior attack Caroline Shinske was an all-South Jersey first-teamer after posting 75 goals and 18 assists. The Johns Hopkins recruit scored four goals in the state championship win over Ridgewood and enters her final season with 117 career goals. Junior goalie Lily Argyle returns after an all-South Jersey first-team sophomore campaign. Junior Caroline Farley scored 35 goals last season and could be ready to emerge as one of Shawnee's top offensive threats. Also back are senior Lindsay Lavin and juniors Erin Dugan and Dana Spires.
OUTLOOK: Shawnee finished with a 19-3 record and won the Group IV state championship, their first state title since 2002 and eighth overall. They lost to rival Moorestown in the Tournament of Champions final. The Renegades graduated a superb senior class that included three all-South Jersey players. But with talent like Shinske and Argyle returning, and new standouts sure to emerge, they should remain a contender for a South Jersey championship.
Washington Township Minutemaids
Players to watch: Senior McKayla Earley is Washington Township's leading returning scorer and the most experienced varsity player. Other returners include seniors Melanie Carpenter, Kelsey Powell, Julia Borgesi and Emily Volpe. Earley, Powell, Borgesi and Volpe will serve as team captains.
OUTLOOK: Washington Township finished with a 7-11 record and advanced to the South Jersey Group IV quarterfinals before falling to Eastern. The Minutemaids suffered their first losing season in a while in 2013, and many of the top players from that team have moved on. But this is a strong program and, if some of the younger players can mature quickly, the 'Maids can return to their winning ways.
Click here for this season's schedules.
Published (and copyrighted) in Suburban Family's High School Spring Sports Preview, January, 2014.
For more info on Suburban Family Magazine, click here.
For information about advertising in Suburban Family Magazine, click here.
To find out where to pick up your copy of Suburban Family Magazine, click here.