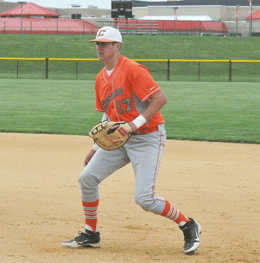 Year-Round Competitors
Today's athletes may lean toward one sport to help guarantee that spot on a college team, but these students have found success by bucking that trend.
Jake Klaus' body takes a beating during the fall and winter. Such is life for a high school athlete who plays football and wrestles, arguably the two most physically demanding scholastic sports. It's no wonder, then, that he uses the spring to relax a little bit. The only surprise is that his "break" involves yet another sports season. Klaus is that rare breed in today's sports landscape: the three-sport star. While the trend with most young athletes today is to specialize in one or maybe two sports, old-school athletes like Klaus are still around. This spring, the Haddonfield junior will once again be a member of the Bulldawgs' golf team as he caps a busy year that included a South Jersey Group II championship in football.
"I'm kind of used to it, but it's definitely a challenge," Klaus says. "There's a lot of kids that will quit their other sports and specialize in one of them, so you have to keep up with them. But it's also a lot of fun to go from sport to sport, because you always have something to look forward to."
Golf is probably Klaus' best sport, as he won the Colonial Conference Tournament last year by a whopping eight strokes. It also provides somewhat of a break for him because it's not as intense as football or wrestling. But even though it's not a contact sport, it does involve a lot of walking, and the mental side is what Klaus really enjoys about it.
"It's really nice coming off wrestling, which is a very tough and physically demanding sport," he says. "Golf is more relaxing in the physical sense, but there's also a mental challenge in golf. I thought about giving one up, but I decided that playing all three sports really helps me. With golf, there's the mental aspect, with wrestling there's the team and individual aspects, and football is the ultimate team sport. So they all help me get better in the other sports."
Like Klaus, Cherokee senior Jake Powell (pictured) has been a versatile athlete since his youth. He picked up a hockey stick at age 4, then added football and baseball to the list a year later. In middle school, he tried out for basketball for fun, and that soon became a passion, as well. Throughout his high school years, he's continued to play football, basketball and baseball, shining in all three. He never even thought about quitting any of them.
"It's just something that you can't stop once you start," Powell explains. "I can't picture myself having an offseason where I just train for another sport, because I would just want to play something else. It's fun; I love it. A lot of people focus on one thing, but I don't know if I can do that, just focus on one sport. The only reason I'm going to [next year] is because I'm going to college for football."
Powell, a tight end and defensive end on the gridiron who helped lead Cherokee to the South Jersey Group V championship this past fall, will continue his football career at the University of Delaware. For the first time, it will be his only sport, and he's excited to see how much better he can get with his focus entirely on football. And even though his brother, Tyler, is a member of the Delaware baseball team, he thinks he's making the right choice to give up his other sports.
"I think it gets different in college," he says. "It kind of turns into a job and you have to work on it all year round, or else you'll fall behind because you're playing with guys that are huge and have played just that sport their whole lives. So you really get no time off.
"Football is definitely my favorite. I was never really interested in playing basketball at the next level, because I knew I wasn't going to have the skills that everyone else has since they've been playing their whole lives. Going into high school, I didn't know whether it would be baseball or football, even after my freshman and sophomore seasons, because I was equally good at both sports. Then in junior season of football, I really had a breakout year. I got a lot taller and I could see myself playing football with my body type, and I started to love it even more. I'm definitely picking the right sport to play in college."
Frankie Angeleri feels the same way. The Moorestown senior has constantly gone from sport to sport since she was little, and while she will miss the variety, she's excited to see what she can do when she concentrates on lacrosse next year at Vanderbilt University.
"I've tried pretty much every sport since I was little, like tennis, field hockey, softball," Angeleri says. "But I stuck with soccer, basketball and lacrosse [in high school]. It's definitely going to be a big change in college, just because I'm used to playing other sports. But I think it will be good for me to start specializing in lacrosse. It's my favorite sport, so I'll be able to focus more on it."
While Angeleri considered giving up soccer or basketball sooner in order to train for lacrosse, she never could do it because of her love for those sports, as well as her importance to the Moorestown teams. While she doesn't regret the decision, she admits that it came with a lot of sacrifices.
"Since I was a freshman, I've played varsity for all three sports, so I figured I would continue and go for 12 varsity letters," she says. "I really enjoy playing sports, but I'm not going to lie and say it was easy, because it was actually very hard. When everybody else is getting ready for lacrosse in the offseason, I'm playing basketball.
When everybody is getting ready for another sport, I'm still in season. I was able to maintain good grades, but I definitely had to give up a lot of my free time. I was never really able to kick back and relax."
Playing three sports in high school can certainly take away from your social life, and finding a balance with your academics is also a challenge. There's also the limited amount of offseason practice time you have for your main sport. But even with those negatives, Klaus, Powell and Angeleri all agree that they wouldn't change a thing about their high school careers.
"I just try to focus on that season at that time," Powell says. "I'm trying to win as many games and as many championships in high school as I can. High school is a lot different than college, and it's something that's really special."
College commitments
Though many more commitments will be made this spring, local schools are reporting the following students will be headed off to Div. I teams in the fall.
Baseball
Mike Krusinski, Bishop Eustace, Delaware
Devin Smeltzer, Bishop Eustace, Florida Gulf Coast
Joe Craig, Camden Catholic, Monmouth
Max Joseph, Cherokee, Marshall
Frank Rosetti, Cherokee, Lehigh
Matt Rykaczewski, Cherokee, New Orleans
Mike Brambilla, Cherry Hill East, Monmouth
Nick Ciocco, Cherry Hill East, St. Peter's
Nick DiEva, Cherry Hill East, Stony Brook
Phil Dickinson, Gloucester Catholic, Wagner
John Murphy, Gloucester Catholic, Maryland
Mark Ostbye, Haddonfield, Virginia
Dallas Clark, Moorestown, Rider
Scott Zimmer, Moorestown, Delaware
Matt McKeown, Paul VI, Delaware
Devin Ruiz, Paul VI, UNC-Greensboro
Softball
Brianne Innamorato, Bishop Eustace, Florida Gulf Coast
Shannon Puthe, Clearview, St. Joseph's
Annie Robinson, Gloucester Catholic, Coastal Carolina
Tori Danner, Kingsway, Iona
Dallas Hogan, Lenape, Harvard
Dylan Jarvis, Paul VI, Towson
Rosie LaGrotta, Paul VI, Millersville
Brielle Pietrafesa, Paul VI, Hofstra
Boys lacrosse
Brendan Handlan, Moorestown, Delaware
Michael Handlan, Moorestown, Delaware
Kyle Borbi, Shawnee, Notre Dame
Steven Boyle, Shawnee, Hartford
Curtis Corley, Shawnee, Maryland
Nick Pressler, Shawnee, Delaware
David Smith, Shawnee, Virginia
Reece Tursi, Shawnee, Tampa
Brandon Stern, Cherry Hill East, Penn State
Dylan McCaughan, Shawnee, Tampa
Girls lacrosse
Kristen Kelbon, Bishop Eustace, St. Joseph's
Liz Wissmann, Bishop Eustace, Philadelphia
Christine DiLullo, Cherokee, Rutgers
Taylor Patrizi, Cherry Hill East, Stetson
Shannon Lynch, Clearview, Colorado Mesa
Holly Tevis, Clearview, George Mason
Brittany Read, Eastern, Louisville
Morgan Masiejczyk, Gloucester Catholic, Millersville
Taylor Jacobs, Haddonfield, St. Joseph's
Rena Carabases, Lenape, St. Joseph's
Frankie Angeleri, Moorestown, Vanderbilt
Jessica Dadino, Moorestown, Vanderbilt
Sydney Dalmass, Moorestown, Michigan
Anne Keim, Moorestown, Delaware
Lauren Martinelli, Moorestown, Fairfield
Marie McCool, Moorestown, North Carolina
Tristan McGinley, Moorestown, Virginia Tech
Kayla Pruitt, Moorestown, Vanderbilt
Kierstyn Voiro, Moorestown, Lehigh
Erica McLaughlin, Paul VI, Chestnut Hill
Caroline Shinske, Shawnee, Johns Hopkins
Boys tennis
Justin Kang, Shawnee, Johns Hopkins
Golf
Blaine Lafferty, Cherokee, Delaware
Published (and copyrighted) in Suburban Family's High School Spring Sports Preview, January, 2014.
For more info on Suburban Family Magazine, click here.
For information about advertising in Suburban Family Magazine, click here.
To find out where to pick up your copy of Suburban Family Magazine, click here.