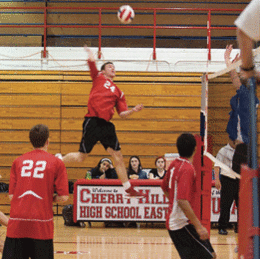 Volleyball
Cherry Hill East Cougars
Players to watch: Senior Jake Rudin played opposite last year and had 51 kills and 84 assists. He is the most experienced returner for the Cougars, who reached the South Jersey semifinals in 2013.
OUTLOOK: The Cougars (pictured) said goodbye to a huge part of last year's team, starting with legendary coach Karl Moehlmann, the only coach the program has ever known. Moehlmann retired after leading East to three state championships and more than 330 wins in 20 years. The Cougars also graduated a terrific senior class led by all-South Jersey outside hitter Nick DiVito. New coach Ori Haver inherits a host of newcomers, and it's unfair to expect another 16-6 season and a share of the Olympic American title, but you can expect East to remain a tough opponent.
Cherry Hill West Lions
Players to watch: Senior Ujjwal Tamhankar was a big part of last year's team and closed the season with five kills in a South Jersey quarterfinal loss to rival Cherry Hill East. Senior Pat Staepel is another key returner.
OUTLOOK: The Lions had an impressive 2013 season, winning five more matches than the year before and finishing with a 16-7 record. Despite losing several seniors, including all-South Jersey second-team middle hitter Sean Bivins, they'll look to post another winning record.
Clearview Pioneers
Players to watch: Senior middle/outside hitter Adam Herman emerged as a force last year, leading the team with 143 kills and 59 blocks. Senior libero Mike Lacsamana had 79 digs, while junior Tyler Hickman is another returner who could be ready for a bigger role.
OUTLOOK: The Pioneers slipped from 13-7 and Olympic Patriot champions in 2012 to 6-15 last year as they switched to the American Division. With Herman leading the way, they'll look to return to their winning ways under new head coach Scott Wagner.
Eastern Vikings
Players to watch: The Vikings return a trio of standout seniors led by outside hitter/defensive specialist Wade Coomer, who had 82 kills, 80 assists and 44 digs and was named all-South Jersey second team. Middle hitter Bill Fischer tied with Coomer for second on the team in kills and added 39 blocks, while setter/defensive specialist Joe Kerr notched a team-leading 147 assists. Other returners include senior defensive specialist/libero Ari Goldovsky, senior outside hitter/defensive specialist John Nahas, senior opposite/outside hitter Sunny Vaishnani and junior outside hitter/middle blocker Tyler Cavarocchi.
OUTLOOK: The 2012 Olympic American champs dropped to 9-12 last season, but look for a bounce-back year from veteran coach Tom Armour's team.
Kingsway Dragons
Players to watch: The Dragons graduated a lot of talent but several experienced players remain. Senior setter Nicholas Sammartino was among the leaders in assists and added 59 digs. Senior outside hitter Garrett Morehead and junior outside hitter Stan Storchevoy are back, while sophomore Jeremy Otten could be ready for a larger role.
OUTLOOK: The Dragons aren't likely to match last year's 17-10 season after losing three all-South Jersey players, but they can still contend for a winning record.
Moorestown Quakers
Players to watch: The Quakers return both of their captains from last year: senior outside hitter Jeff Nelson and senior middle blocker Shayne Lawless. They also bring back junior setter Bobby Daglian, who made the all-South Jersey third team as a sophomore. Other returners include senior outside hitter Blake Iespon, junior middle blocker Joe Salerna, junior opposite John Delorenzo and sophomore setter Johnny McGinley.
OUTLOOK: Last year's 7-17 season was uncharacteristic for one of the area's most consistent programs, so look for Moorestown to bounce back and make a run at a winning record.
Paul VI Eagles
Players to watch: The Eagles return a deep group of seniors, including outside hitter Freddie Simpkins, who led the team with 131 kills and also had 187 digs. Senior middle blocker Casey Taylor had 79 kills, 48 blocks and 231 digs, while senior setter Lou Polino recorded 220 assists and 87 digs. Other key seniors are outside hitter/opposite Pietro Gentile, libero Andy Gardner, opposite Keaton Sentak and defensive specialist Dan Snyder.
OUTLOOK: The Eagles have an experienced veteran group and should make strides after posting a 5-17 record last year.
Washington Township Minutemen
Players to watch: Senior libero/setter Joe Casaletto is the most experienced returner for the Minutemen and will be the team captain. He had 106 digs and 26 service points in 2013. Other players who could have an impact are juniors Austin Alcantara and Matt Molnar. Setter Tyler Dolgos, a sophomore, is a newcomer to the varsity squad who will contribute.
OUTLOOK: The Minutemen graduated most of the starting lineup from last year's 9-7 team, including all-South Jersey first-teamer Evan Carey. This will be a rebuilding year but they hope to be competitive in their division and contend for a winning record. —M.C.
Click here for this season's schedules.
Published (and copyrighted) in Suburban Family's High School Spring Sports Preview, January, 2014.
For more info on Suburban Family Magazine, click here.
For information about advertising in Suburban Family Magazine, click here.
To find out where to pick up your copy of Suburban Family Magazine, click here.