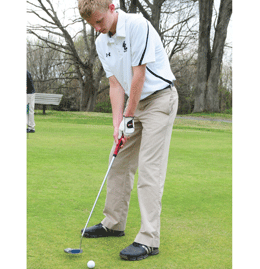 Golf Preview
Bishop Eustace Crusaders
Players to watch: Senior Matt Georgetti was all-Olympic Conference second team and leads the list of returners for the Crusaders. Other seniors coming back are Jack Circus (pictured), Mike Ferrelli, Cayce Gallo and Tom Griswold.
Outlook: Eustace was hit hard by graduation, losing four all-conference seniors from an 18-1 team, including team MVP Liam Mulligan, who tied for third at sectionals. There will be opportunities for the younger players to emerge and help the team reload.
Camden Catholic Fighting Irish
Players to watch: The Fighting Irish return their three most consistent scorers in juniors Patrick Gardner and Collin Zelinsky and senior Kevin McDonald. Also back are senior Dane Stolinski, juniors Kira Kuhar and Marco Spinosi, and sophomores Nick Bloss and William Wang.
Outlook: The Irish have a lot of experience led by the trio of Gardner, Zelinsky and McDonald, and should improve on last year's 2-16 record.
Cherokee Chiefs
Players to watch: Senior Blaine Lafferty carded a 75 to tie for second at the South/Central Group IV Tournament last year and is primed for a terrific final season with the Chiefs, as is his twin brother Liam Lafferty. Fellow senior David Quinn finished 17th last year at the Carl Arena Tournament and second at the Burlington County Open, and senior Shawn Russell and junior Colin Geary are other top golfers back for Cherokee. Also returning are seniors Jimmy Belz, Brian Cunningham, Matt Cunningham and Ryan Irish.
Outlook: The Lafferty twins headline an impressive senior class that helped Cherokee go 15-2, win the South/Central Group IV team title and finish third at states. Count on the Chiefs once again being one of the top teams in South Jersey.
Cherry Hill East Cougars
Players to watch: The Cougars weren't a division champion in 2013 as they were in 2012, but last spring saw several young players emerge. Junior Colton Cardea was one of their low scorers match in and match out, while junior Sam Amon and sophomore Kyle Ungerleider were also consistently in the top four. Other key returners include seniors Adam Bergen and Billy Spitzer, junior Michael Zilberfarb and sophomores Justin Bryan and Justin Janney.
Outlook: With so much young talent returning, it wouldn't be surprising to see the Cougars make major strides after finishing 9-9 last spring.
Cherry Hill West Lions
Players to watch: Senior Kyra Denish is one of the top female golfers in South Jersey and sophomore Alex Covelli had an impressive freshman campaign. Both were consistently the lowest two scorers for the Lions a year ago. Also returning is Anthony Bruce, a sophomore.
Outlook: The Lions made tremendous progress last year, improving by seven wins from the season before and finishing with an 8-11 record. Many seniors have graduated from that team, but the top two golfers remain in Denish and Covelli, and if the Lions can develop depth behind them, this could be a strong squad.
Clearview Pioneers
Players to watch: Senior Nick Cozzi and sophomore David Charles were usually among the top finishers for Clearview a year ago. Senior Mike Cullen is another key veteran, while other returners include seniors John Dempsey and A.J. Mitchell, and juniors Mike Hughes and Matt Maslanski.
Outlook: Clearview has captured the Tri-County Conference Royal Division championship for three straight years. The Pioneers graduated some tremendous players from last season's 14-4 team that finished second at the Tri-County Conference Tournament, including No. 1 golfer Austin Kohler. They have several solid returners and can stay near the top of the conference if some of the younger golfers mature quickly.
Eastern Vikings
Players to watch: Junior Ryan Zinsky finished in the top four for Eastern on a consistent basis last year. Zach Porter leads a solid group of seniors that includes twin brothers Brett and Mitch Graham, Jacob Weichart, Ian McMenamin and Dylan Chess. Coach Joe Murphy is also hoping several incoming freshmen could have an immediate impact.
Outlook: The Vikings lost No. 1 golfer Zach Wilson to graduation, but hope their balanced group can help improve a 4-13 record from 2013.
Gloucester Catholic Rams
Players to watch: Connor Goodrich has already had a memorable high school career and he's just entering his junior season. Last year, he won the Tri-County Conference Tournament for the second straight season and took 10th at the Carl Arena Tournament. Look for more big things in 2014. Sophomore Gary Eastlack had a solid rookie year and was consistently in the Rams' top four. Also back are juniors Austin Regan and Timmy O'Shea.
Outlook: Gloucester Catholic had an outstanding 2013, going 14-1 and winning the Tri-County Conference Tournament team title for the second straight year. Despite the graduation of standout Darren Raudenbush, they return one of the area's best in Goodrich and should remain among the elite teams.
Haddonfield Bulldawgs
Players to watch: Junior Jake Klaus dominated the Colonial Conference Tournament, winning the title by eight strokes a year after taking second. He also placed 19th at the Carl Arena Tournament and will be a threat at all of the major tournaments this spring. Senior Anthony Van Der Vort took second at the conference tourney and gives Haddonfield a strong one-two punch. Other returners who could compete for playing time are seniors Del Giannotti, Jack Wallner and Collin Setzer, and junior Anthony Ward.
Outlook: The Bulldawgs went 14-0 last season and should remain the class of the Colonial Conference with Klaus and Van Der Vort leading the way.
Kingsway Dragons
Players to watch: Senior Anthony Constantini could usually be found in the top four for Kingsway in 2013 and is one of the top returning golfers. Senior Ben Kelley and sophomore Dan Gable are other important veterans. Also back are seniors Tony Amorebella, Meghan Carroll, Mike Leone and Michael Potts, juniors Sarah Hanson, Glen Ivol and Ryan Rorick, and sophomores Nick Amorebella, Christian Cendejas, Logan Hartnett, Cliff Phillips, Matthew Pollock and Michael Ranalli.
Outlook: The Dragons suffered some heavy losses to graduation, including Carl Arena Tournament champion Grant Gardiner. They'll have a hard time matching last year's 16-4 record, but this is a solid program and they should still contend for a winning record.
Lenape Indians
Players to watch: The Indians have a solid trio in senior Dean Schwarz, junior Greg Tandourjian and sophomore Erica Han, one of the best female golfers in South Jersey who finished in the top 25 at last year's girls Tournament of Champions. Other returners are seniors Josh Band and Taylor Hughart.
Outlook: Lenape went 7-9 last season and graduated No. 1 golfer Joe Daly, but they have a solid core and could challenge for a winning record.
Moorestown Quakers
Players to watch: Take a look at the leaderboard at all of the major tournaments from 2013, and it's a good bet Josh Pederson was on it. Last spring's freshman phenom was the South/Central Jersey Group III champion and took second at Group III states. He also finished fourth at the Carl Arena Tournament and fifth at the Burlington County Open and will look to follow up that dominant performance this spring as a sophomore. Senior Liam Hughes took third and senior Justin DeVany was ninth at the Burlington County Open, and senior Greg Rothman is another returner for the boys team. The Moorestown girls team returns a ton of talent, including three of its top four in juniors Aine Filler and Gillian Marini and senior Allison Lin. Filler was named to the Central Jersey Girls Golf League first team last spring, and over the summer she was the South Jersey Junior Tour Female Player of the Year. Lin earned CJGGL second-team honors last year. Also back are senior Crystal Tan, juniors Michelle Goldberg and Alice Liu, and sophomores Bela Delvadia, Marissa Lance and Angelica Speer.
Outlook: The boys team went 20-1 and captured the team title at the Burlington County Open and will be one of the top teams in South Jersey again. The girls should also be impressive again after posting a 14-2 record and finishing second in the CJGGL in 2013.
Moorestown Friends Foxes
Players to watch: Anthony Mahon leads a solid group of seniors for the Foxes that also includes Adrian Ryczak, Andrew Schultz, Kenan Soso and John Leibungut. Junior Scott Abrams is also back, and coach Paul Guidry is expecting a lot from sophomores George Geertgens, Colin Kirby and Edward Gelernt.
Outlook: The Foxes have seen hard times lately in the competitive Friends League but hope to make strides in the standings this year.
Paul VI Eagles
Players to watch: Senior Jack Wagner is one of the standouts for the Eagles and could usually be found in their top four last year. Senior Matt Everett and junior Nick DeMarco are also important veterans. Other returners are juniors Julia Davis, Anthony DeStefano, Jessica Johns, Anthony Leone, Parker Munns and Carson Spering, and sophomore Tommy Sheilds.
Outlook: The Eagles had a strong 12-7 season in 2013 that included wins over Seneca and Cherry Hill East. They have a group that can post another winning campaign this spring and compete for a division title.
Seneca Golden Eagles
Players to watch: Junior Sam Dion was consistently a low scorer for the Golden Eagles last year and leads the returners in scoring average. Seniors Alex Mastrokyriakos and Jamie Papagno, the team captain, are also key returning letterwinners, while Seneca is counting on a big contribution from senior Jon Reale.
Outlook: The Golden Eagles said goodbye to a very good senior class that helped the team go a combined 25-8 over the last two seasons. Seneca is always competitive, though, and expects to contend for a division title and extend its streak of qualifying for sectionals every year since the program was started 11 years ago.
Shawnee Renegades
Players to watch: The Renegades bring back almost the entire team from a year ago, including a terrific junior class that includes all-Olympic Conference golfer Max Goldstein, Max Haggerty and George Frake III, who all consistently finished in the top four last season. Other key returners are sophomores Dylan Tollefson and Dillon Davis. Also back are junior Tom Wiker and sophomores Max Ennis, Antonio Forte, Joe Giordano, Brian Guzzi, Kevin Haines and Zach Michel.
Outlook: The Renegades finished 9-9 last year with an extremely young team. With that season of experience under their belts, expect them to make significant strides this year.
Washington Township Minutemen
Players to watch: Senior Joe Russo, who has individual championships at the Olympic Conference Tournament and the Gloucester County Open on his résumé, will look to cap his outstanding career in style this spring. Last year, he took 10th in Group IV states and shot in the 70s at all the major tournaments. Senior twin brothers Matt and Mark Graziano both earned all-conference second-team honors last year, while classmate Mike Gormley rounds out an impressive top four. Other returners are senior Troy Schnapp and junior Nico Postiglone.
Outlook: The Minutemen had a memorable 2013 season, taking second at Group IV states, posting an 18-3 record and sharing the Olympic American title with Cherokee. Despite the graduation of Gloucester County champion Justin Elwell, they will once again be a top team in South Jersey behind Russo.
Click here for this season's schedules.
Published (and copyrighted) in Suburban Family's High School Spring Sports Preview, January, 2014.
For more info on Suburban Family Magazine, click here.
For information about advertising in Suburban Family Magazine, click here.
To find out where to pick up your copy of Suburban Family Magazine, click here.