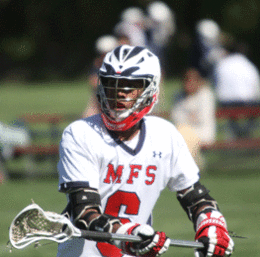 Boys Lacrosse
Bishop Eustace Crusaders
Players to watch: Junior Roy Hansen is a proven scorer who had five goals in Eustace's playoff victory over Newark Academy and was all-conference first team. Senior attack Patrick Buckley and junior Nick Barbieri, who was all-conference second team, are other leading returners. Also back are juniors Vince Papale, Dave Osuch, Ryan Moncrief and Ray Farnesi.
OUTLOOK: The Crusaders finished with a 7-8 record and earned the program's first-ever playoff win before falling to Immaculata in the Non-Public B quarterfinals. They took a major step last year and have the pieces back to make an even deeper playoff run.
Camden Catholic Fighting Irish
Players to watch: Junior attack Adam Giordano is the leading returning scorer for Camden Catholic. Other experienced players are senior goalie Collin Coshland, senior defender Mark Burke, senior midfielders Lee Bougess and Brian Medallion, junior midfielder Tyler Levine and junior defender Colin Wharton.
OUTLOOK: Camden Catholic finished with a 6-11 record and lost to Montclair Kimberley in the first round of the Non-Public B playoffs. The Fighting Irish showed a lot of progress last year and the next step is to win a playoff game for the first time since 2009.
Cherokee Chiefs
Players to watch: Junior Jordan Krug led Cherokee with 30 goals and 48 points and was named all-conference second team, while senior midfielder Chris Rispo led the team with 19 assists, scored 28 goals and was named all-county second team. Junior Ryan Vallen (24 goals, 14 assists) is another dangerous scorer and was all-South Jersey third team, while junior Grey Clarkson returns as the starting goalie and junior Timmy Carroll (19 goals) adds scoring punch. Other returners include senior midfielders Joey Catrambone, Zack Grace and Ryan Seward, senior defender Brett Wojtkowiak and junior midfielder Jesse Streb.
OUTLOOK: Cherokee went 12-4 and lost to rival Lenape in the South Jersey Group IV quarterfinals in 2013. The Chiefs bring back a strong core and should be one of the favorites in the Olympic American.
Cherry Hill East Cougars
Players to watch: Junior midfielder Brandon Stern led the team in scoring last year and has scored at least 15 goals in each of the last two seasons. Sophomore midfielder Ian Sheekey reached double figures in goals as a rookie and juniors Josh Cohen and Chris Hammerquist are also proven scorers. Other returners include junior goalie Jesse Viggiano, senior midfielder Joe Turtz and sophomore defender Brian Stamm.
OUTLOOK: The Cougars finished with a 3-14 record and lost to Freehold in the first round of the South Jersey Group IV playoffs. Wins were hard to come by last year against a difficult schedule, but East returns a lot of talent and appears ready to make big strides in 2014.
Cherry Hill West Lions
Players to watch: The Lions graduated a number of key players, including their top offensive weapon and the program's career scoring leader in Josh Ensley. The returners include sophomores Chris Bellon and Danny Buckwalter.
OUTLOOK: The Lions finished with a 3-13 record last year and have been rebuilding the last few seasons. They will look to develop their young players in 2014.
Clearview Pioneers
Players to watch: Junior midfielder Matt Donnelly enjoyed a breakout season, scoring 48 goals and earning all-South Jersey third-team honors. Senior midfielder Mike Mannino had 30 goals and 20 assists and sophomore attack Collin Love tallied 30 goals in a terrific freshman campaign. Also back is senior goalie Joe Dibabbo and offensive threats Tyler Richardson, a senior, and Frank Pipich, a junior. Other returners include seniors Sean Groch, Dan Perri, Nolan Vesey and Nathan Martini, juniors Adam Graham and Pat Hall, and sophomores Jackson Specht and Mitch Mulbaier.
OUTLOOK: Clearview finished with a 12-7 record and lost to Princeton in the South Jersey Group III quarterfinals. The Pioneers bring back a lot of offensive firepower and will surely be entertaining to watch. They appear ready to contend for a division championship.
Eastern Vikings
Players to watch: Sophomores Eric Ellis and Jake Brown had solid freshman seasons and should be two of Eastern's most talented offensive players. Junior Sam Smith is another key returner, along with classmate Nick Brocco, who specializes in faceoffs.
OUTLOOK: Eastern finished with a 4-13 record and lost to Cherokee in the first round of the South Jersey Group IV playoffs in a rare down year. The Vikings will look to get back on the right track despite graduating several key players.
Gloucester Catholic Rams
Players to watch: Senior attack/midfielder James Higginbotham was all-South Jersey third team after erupting for 47 goals last year. Senior midfielder Pat Richardson is also back after scoring more than 30 goals, but the Rams lost another important offensive player as senior Tyler Graham is expected to miss the season with a torn ACL. Senior attack Jeff DeAngelis is another proven scorer and sophomore Aidan Searles is back after playing every minute in goal last year as a freshman. Other returning players include seniors Patrick Burns, Adam Filbert, Mike Corrado, Mark Deberardinis, Andrew Steen and J.R. Hall, and juniors Dom Adelizzi and Shane Kenney. Freshmen Neil McGee, Colin Corrado and Christian Holmes could be in the varsity mix at attack or midfield.
OUTLOOK: Gloucester Catholic finished with an 11-5 record and won a playoff game before losing to DePaul in the Non-Public B quarterfinals. Higginbotham leads a sensational offense that should keep the Rams in most games as they break in a new defense in front of Searles. While West Deptford looks like the class of the division, Catholic should be a contender and is capable of a long playoff run.
Haddonfield Bulldawgs
Players to watch: Senior midfielder Dan Halla earned a spot with Team New Jersey in the Brine All-American Classic for the second straight year and leads the list of Haddonfield returners. Also back are senior goalie Jeff Sabatini, a three-year starter, senior midfielder Patrick Porter and senior defenseman Eddie Clark.
OUTLOOK: Haddonfield went 8-12 and reached the South Jersey Group I semifinals before falling to Bernards. The Bulldawgs finished the season on a tear, including their deep playoff run, and will look to ride that momentum into 2014. They return a strong defense but will need offensive contributions from their younger players.
Kingsway Dragons
Players to watch: With the graduation of all-South Jersey attack Tim Kemner, junior attack Bill Moran is the leading returning scorer after a strong sophomore campaign (23 goals, 30 assists). Seniors Dan Owen and Trevor Elm and junior Bruce Barrett return to lead the defense. The midfield will be led by senior Nick Guglietti and junior Anthony Cacciavillano, who will be joined by several other players with varsity experience. Sophomore Gabe Lombardi saw time in goal last year and also returns.
OUTLOOK: Kingsway finished with an 11-8 record and lost to top-seeded Moorestown in the South Jersey Group III quarterfinals. The Dragons have an impressive senior class to replace, but the foundation for another winning season seems to be in place with 22 returning letterwinners.
Lenape Indians
Players to watch: Senior attack Andrew Streilein made the all-South Jersey second team after leading the team with 57 goals and 78 points and will be the Indians' most dangerous offensive player. Senior midfielder Justin Holl (20 goals, 16 assists) and junior attack Connor Wolfe (18 goals, 26 assists) are also key contributors, and were joined on the all-conference team by sophomore midfielder Connor Gaffney and sophomore defender Mike Krosnodomskie. Senior Brandon Sweder and junior Anthony Brunetti are other important leaders. Other returners include seniors Brooks Long, Josh Reinheimer and Matt Popso, juniors Vinnie Alfinito, Trevor Snowden and Mike Hughes, and sophomores Kyle Treiber, Joe Mercado and Matt Smith.
OUTLOOK: Lenape posted a 12-8 record and reached the South Jersey Group IV semifinals before falling to eventual champion Southern. The Indians said goodbye to all-time leading scorer Reed Hofmann and all-South Jersey goalie Eric Leonard, but will look to remain among the top teams in South Jersey behind Streilein and Holl.
Moorestown Quakers
Players to watch: Senior attack Michael Handlan enters the season with 130 career goals, second on the school's all-time list. He had 58 goals a year ago on his way to all-South Jersey honors. Senior midfielder Robert Kuhn (20 goals) is another dangerous offensive player and other key contributors include senior defender Brendan Handlan and senior midfielder Nick Testa. Other returners are seniors Mike Katz and Zach Eichhorn, juniors Cory Buck, John Yeadman, Tristan Spore, Austin Haynes, James McHugh, Kevin Tsao and Jared Payne, and sophomore Bryan Wright.
OUTLOOK: Moorestown went 16-3 and reached the South Jersey Group III final before suffering a 4-3 overtime loss to Shawnee. The Quakers graduated all-state midfielder Matt Olbrich and a terrific goalie in Dan Willis, but will remain a South Jersey title contender with a lot of returning talent.
Moorestown Friends Foxes
Players to watch: Senior Tyler Mills was a goal machine last year, breaking the 50-goal mark and earning all-Friends League honors. Senior Pierce Williams (pictured), junior Joe Beideman and sophomore Dylan Eni are other proven scorers and senior C.J. Durkow returns as the starting goalie. Senior transfer Daniel McGinn looks to make a big impact as he brings years of experience and leadership and will play an important role at the midfield position. Other returners include seniors Andrew Schultz, Josh Kirkpatrick, Dan Zeiberg, Carlos Madamba, Trevor Golden and Dan Richards, juniors Jason Woloshin, Andrew Edzenger and Anthony Torres, and sophomores Kieran McMenamin, Andrew Cates, Josh Murdy and Dylan DiFlorio.
OUTLOOK: The Foxes finished with a 6-9 record and lost to DePaul in the first round of the Non-Public B playoffs. With Mills leading the way, they should make a run at a winning record and look to advance in the playoffs.
Paul VI Eagles
Players to watch: Senior attack Michael Burns is one of the top playmakers on the team and sophomore Danny Boucot is coming off an impressive freshman season in which he scored 16 goals. Sophomore Collin Savacool dominated in faceoffs as a freshman, winning more than 67 percent. Other returners include seniors Daniel Kummer, Michael Gennarelli, Charlie Reiss, Dylan O'Brien, Daniel Pelosi and Nick Masino. Juniors include Michael Bizzoco, Nicholas Misata, Connor Skilton, Daniel Echevarria, Connor Rhea and Ryan Laughlin, while returning sophomores are Andrew Farmer, Dominic Griffo, John Santini, Tom Froio, Austin Olson, Liam Murphy and Nicholas Antonucci. The Eagles are expecting big offensive contributions from freshmen middies Anthony Moran, Trevor Iocono, Jake DiGiacomo and Ryan Risse, and attackmen Matthew Motto, Collin Fogerty and Christian Haydinger. Strengthening the defense are freshmen Patrick McGovern and Nick Burns.
OUTLOOK: Paul VI had a 5-13 record and lost to St. Augustine in the first round of the Non-Public A playoffs. The Eagles graduated a pair of 50-goal scorers in Sam Jarvis and Gabriel Romano, so new scorers will have to emerge. The good news is that the numbers and talent level are there and this could soon be a winning team.
Seneca Golden Eagles
Players to watch: Senior attack Dan O'Keefe was second on the team in scoring with an impressive 107 points (53 goals, 54 assists), while senior midfielder Nick LeSaint tallied 30 goals. Both players were named all-conference. Senior Zack Aho is coming off a 29-goal campaign and is another key offensive player. Senior Alex Weightman and junior Vaughn Butler were all-conference defenders in 2013. Other key returners are senior Ryan Bradway and juniors Kevin Gray, Liam O'Connor and Nick Stott. Sophomore goalie Tyler McCormack is a promising newcomer.
OUTLOOK: Seneca went 20-2 last year, tying Ridge for the most wins in the state, and reached the South Jersey Group II final before falling to Somerville. The Golden Eagles bid farewell to Tyler Schulte, the all-time leading scorer in South Jersey. While that obviously leaves a huge hole in the offense—which led the state with 14.3 goals per game—a number of dangerous players return to help Seneca remain a force in the area.
Shawnee Renegades
Players to watch: Senior midfielder Kyle Borbi, an all-South Jersey second-team selection, scored 26 goals as a junior and will continue his career at Notre Dame. Several standouts return to the defense, as junior defender Nick Pressler (University of Delaware recruit) was all-South Jersey first team and senior goalie Reece Tursi (University of Tampa) was all-South Jersey third team. Junior midfielder David Smith, who has committed to Virginia, had 29 goals and 15 assists and is also strong on faceoffs, while sophomore Mike Githens had 25 goals in a strong rookie campaign. Other Renegades who have made college commitments are juniors Curtis Corley (Maryland) and Steven Boyle (Hartford), and senior Dylan McCaughan (Tampa). Also back are seniors Peter Kaz and Alex Foley, and juniors Cole Troyano, Jack Tyrrell, Jack Warren and Max Busca. Michael Shinske and Dan Wigley are promising freshmen.
OUTLOOK: The Renegades finished with a 19-5 record and won the South Jersey Group III championship with an overtime win over Moorestown before falling to Ridgewood in the state final. All-South Jersey midfielder Jake Dean is now at Virginia, but the Renegades return many key pieces—including their entire defense, goalie, top midfielders and one attack—and there's no reason they can't contend for a South Jersey title again and return to the state championship game.
Washington Township Minutemen
Players to watch: Seniors T.J. Mulderig, Ryan Hunsicker and Alex Chalef each had at least 18 goals in 2013 and should be the top scorers for the Minutemen this year. Junior goalie Chris Burns returns as the starter after a solid sophomore season, and senior defenseman Jeff Phillips has taken on a leadership role. Other returners include seniors John Steck, Kevin Keppler and Isaac Egizi, juniors Wyatt Miller, Riley Griffith, Lenny Lacovara and Jordan Dzierzgowski, and sophomore Joey Chelston. Freshmen Vincent Gagliardi, an attackman, and Jared Albano, a defenseman, were named to several all-select teams after their eighth grade year and should contribute right away.
OUTLOOK:The Minutemen finished with a 9-9 record and lost to South Brunswick in the first round of the South Jersey Group IV playoffs. They should be in line for a winning record and are capable of making a playoff run in their second year under coach Dan Fowler.
Click here for this season's schedules.
Published (and copyrighted) in Suburban Family's High School Spring Sports Preview, January, 2014.
For more info on Suburban Family Magazine, click here.
For information about advertising in Suburban Family Magazine, click here.
To find out where to pick up your copy of Suburban Family Magazine, click here.