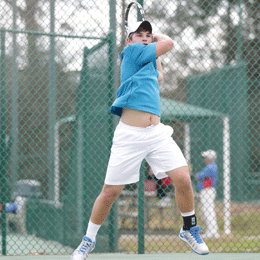 Tennis Preview
Bishop Eustace Crusaders
Players to watch: Junior Christian Akerley was named all-Olympic Conference after reaching the final four in the conference singles tournament and will most likely be the Crusaders' No. 1 singles player again. Classmate Nick Cardoso was the team's second singles player last year, giving Eustace experience at the top of the lineup. The Crusaders also return veteran doubles players in seniors Fran Hagerty, Quinn Laughlin, Phil Wong and Ron Berna, and junior Phil Rossi.
Outlook: The Crusaders return much of last year's varsity lineup, including team MVP Akerley, and an improvement on their 8-11 record seems like a safe bet.
Cherokee Chiefs
Players to watch: The entire singles lineup from 2013—seniors Bryan Korth and Conner Style and junior Rohit Panjala—are back this spring. The Chiefs also have returning doubles players in senior Alex Kervyn, junior Nihar Sheth and sophomore Grant Sokol. Newcomers that could have an impact are Vincent Elskamp, who is returning from a season-long injury last year, and Carson McBain, both seniors.
Outlook: While the Chiefs struggled to a 5-11 record last year, they gained valuable experience that will pay off in 2014.
Cherry Hill East Cougars
Players to watch: The Cougars graduated their entire singles lineup, including four-year varsity player Hank Davis. Junior Dan Jang and senior Nikhil Shukla return after playing first doubles together and junior Sam Yoon is back after playing second doubles. Senior Dan Kim is another returner.
Outlook: The Cougars graduated most of their starting lineup but are a consistent program that should contend for a winning record.
Cherry Hill West Lions
Players to watch: Junior Mike Genovese has played No. 2 singles each of his first two seasons and could be ready to make the leap to the top spot. Junior Vincent Pham saw time at third singles and first doubles last year, while sophomore Maurice Gordon and senior Michael Lu were West's No. 2 doubles duo. Senior Tyler Fung is back after missing all of last season with an injury. He played first doubles as a sophomore and will look to be a singles player this year.
Outlook: The Lions have several talented players returning and will look to show progress throughout the season.
Clearview Pioneers
Players to watch: The Pioneers were a senior-laden team in 2013 and graduated almost their entire starting lineup. Senior Brendan Kane, who played No. 1 doubles, is the only returning starter, but a solid group of returning players competed in the county tournament last year when the veterans were on their senior trip and will now challenge for starting spots.
Outlook: The Pioneers went 12-5 last year but will be breaking in a lot of new varsity players. How quickly they mature will determine the success of this year's squad.
Eastern Vikings
Players to watch: The Vikings suffered heavy losses to graduation, including their entire starting singles lineup, but there are some promising returners. Senior Adit Gupta and junior Dylan Jeng played second doubles together. Senior Zach German and sophomore Alec Feldstein also saw time at doubles and could be ready for bigger roles.
Outlook: The Vikings went 13-7 and reached the South Jersey Group IV quarterfinals last year, but will have a different look this year. They'll need new standouts to emerge.
Gloucester Catholic Rams
Players to watch: Senior Zach Kummer is an experienced player who played first doubles a year ago. Phil Brenner was a varsity starter as a freshman last year, as he played second doubles. Both players could bump up to singles this season.
Outlook: The Rams graduated most of their starting lineup and are looking to rebuild for the future.
Haddonfield Bulldawgs
Players to watch: The Bulldawgs return almost the entire starting lineup from last year's South Jersey Group II championship team, as well as junior Mike Alberto (pictured), who was third singles as a freshman and started last year at second singles but missed most of the season with an ankle injury. Senior Max Oberholtzer (106-28 for his career) went 38-9 at No. 1 singles and earned all-South Jersey honors. Junior Tommy Dodson played mostly second singles last year and also had an all-South Jersey season. Senior Isaak Anderson went 40-4 at third singles and first doubles, while Sam Oberholtzer played first doubles and senior Charlie Carr played second doubles. Other players contending for starting positions are senior Chen Huang, juniors Stephen Quickel, Phil O'Connor, Cameron Kohs, Joey Reisman and Alex Samaha, and sophomores Nick Dante and Dan Moramarco.
Outlook: Haddonfield went 31-6, winning its 11th straight sectional championship in 2013. Coach Jeff Holman will win his 1,000th match early in 2014, and with Alberto back, the Bulldawgs will make a run at the Group II state title.
Kingsway Dragons
Players to watch: The Dragons graduated several key players, including first singles Peter Brennan, but they return three sophomores who saw varsity time as freshmen. Leading that list is Jake McBride, who played No. 2 singles a year ago. Sophomores Dan Rival and Marut Raval, as well as junior Steve Harbeson, will all be pushing for doubles positions after earning experience last year. Senior John Cummings returns after missing most of last season with an injury and is expected to fill one of the singles spots.
Outlook: The Dragons went 7-10 last year and will look to make a run at a winning season behind their talented young players.
Lenape Indians
Players to watch: Senior A.J. Goldstein and junior Zach Silver are returning singles players for a solid Lenape team that said goodbye to No. 1 singles Ian Patel. Also back are junior Tommy Sha and sophomore Johnny Cao, who played second doubles together.
Outlook: The Indians went 13-6 in 2013, including a regular-season win over South Jersey Group IV champion Shawnee. They will again be a team to watch in the Olympic American and at sectionals.
Moorestown Quakers
Players to watch: Moorestown is likely to suffer a big loss before the season even starts with the departure of junior Ryan Dickerson, who set the bar high with his first two seasons in the program. After posting a 33-4 record as a freshman, last year he went 42-1 at first singles and was named all-state. He made it to the semifinals of the state singles tournament and defended his titles at the Burlington County Tournament and South Jersey Interscholastic Tournament. As of press time, Dickerson had left Moorestown and was being home-schooled. According to his father, Steve, Ryan is probably going to focus on individual tennis tournaments throughout the country this year instead of high school tennis as he pursues a Division I college opportunity. If Dickerson doesn't return to Moorestown, that leaves senior Tyler Blessing, who played second singles last year, as the top returner. Jacob Fox is also back after earning all-South Jersey honors at first doubles. Other experienced returners are seniors Alex Epstein and Kevin Tan.
Outlook: The Quakers went 28-5 and won the Group III state championship last spring, their 13th state crown and first since 2008. If Dickerson returns, they will be threats to add to that total. If he doesn't, it's obviously a big blow.
Moorestown Friends Foxes
Players to watch: Spencer Kelly leads an impressive group of juniors for the Foxes. He played first singles a year ago and was an all-Friends League selection. Classmate Adam Mohsen-Breen was second singles, while Tom Heitzman and Harvey Robins played first doubles last year and could challenge for a singles position. Other players who will battle for starting positions are juniors Brian Pansius, Jon Hurley and Wesley Share, and senior Dante Bucci. There is also a good group of freshmen who will try to make their mark.
Outlook: The Foxes went 12-5 last year and reached the South Jersey Non-Public B semifinals. Following the strong junior class, they will be competitive in the Friends League and make a run in sectionals.
Paul VI Eagles
Players to watch: Junior Seamus Plunkett returns after playing No. 1 singles, while senior Bobby Whittle is also back after playing second singles. Other experienced players are senior Will Sharkey and junior Giovanni Sparacio.
Outlook: The Eagles should show major improvement after going 3-18 last year and losing to Monsignor Donovan in the first round of the playoffs.
Seneca Golden Eagles
Players to watch: The Golden Eagles don't have much returning from their starting lineup, but they do bring back sophomore Cody Cassise, who played first singles as a freshman and had a strong season. Senior Jake Davies, who played second doubles, is the only other returning starter, while junior Joshua Chung also saw playing time at doubles.
Outlook: Seneca has to replace a lot from last year's 18-6 squad that won the Olympic National title, but Cassise will be a player to watch and the Golden Eagles can contend if the new players mature behind him.
Shawnee Renegades
Players to watch: Senior Justin Kang is a special player whose only two losses last year came to state singles champion Maverick Lin of Highland Park and state semifinalist Ryan Dickerson of Moorestown. The Johns Hopkins recruit was an Olympic Conference and South Jersey first-team all-star and reached the round of 16 in the state singles tournament. Sophomore Eric Tecce backed up Kang at second singles and earned South Jersey third-team honors. Another sophomore, Chris Machuzak, played first doubles as a rookie, while juniors Connor Baechler and Andrew Corwin played second doubles together.
Outlook: The Renegades went 20-2 and captured their second straight South Jersey Group IV championship last year. With almost the whole starting lineup back, they will be favorites to make it three in a row.
Washington Township Minutemen
Players to watch: Junior Chase Eldridge has been through the battles in his young career, playing first singles last year after competing at second singles as a freshman. The experience should have him prepared for a standout season. Spencer Cook, a sophomore, played No. 2 singles as a rookie, while senior Justin Rodriguez is the third returning singles player for the Minutemen. Township graduated its starting doubles teams, but senior Anir Shah has experience at doubles.
Outlook: The Minutemen play in one of the toughest conferences around, but with a promising singles lineup back, they can make the jump from 7-14 to a winning record.
Click here for this season's schedules.
Published (and copyrighted) in Suburban Family's High School Spring Sports Preview, January, 2014.
For more info on Suburban Family Magazine, click here.
For information about advertising in Suburban Family Magazine, click here.
To find out where to pick up your copy of Suburban Family Magazine, click here.