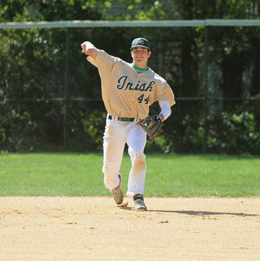 Baseball
Bishop Eustace Crusaders
Players to watch: Senior left-handed pitcher Devin Smeltzer has one of the best arms in South Jersey, as he consistently hits the high 80s with his fastball. An all-state second-team and all-South Jersey first-team selection as a junior—when he led the team with eight wins—he has committed to Florida Gulf Coast University. Also an outfielder, he had four home runs in 2013. Senior infielder Mike Krusinski, a Delaware recruit, hit five homers last year, and junior outfielder Nick Browne had four homers and eight doubles. Junior infielder Justin Hagenman was all-South Jersey second team after hitting 10 doubles. Other key returners include junior infielder Chris Jones, senior outfielder-pitcher Dan Marano and senior pitcher-infielder Jack Brandt.
Outlook: The Crusaders went 22-8 and finished last year ranked 17th in the state. They lost to St. Augustine in the South Jersey Non-Public A semifinals and shared the Olympic Conference National Division title with rival Camden Catholic. A perennial power under veteran coach Sam Tropiano, they should be contenders for division, Diamond Classic and South Jersey Non-Public A titles.
Camden Catholic Fighting Irish
Players to watch: Senior shortstop Joe Craig (pictured), a Monmouth recruit, had eight doubles and was all-South Jersey first team. Senior catcher Dom Messina is another big bat who tied for second in South Jersey with a dozen doubles. Other key returners are senior outfielder-pitcher Christian Bilan, senior outfielder Albert Faiola and senior pitcher-outfielder Tom Gallagher.
Outlook: The Fighting Irish went 19-10 and finished 2013 ranked 19th in the state. They lost to Bishop Eustace in the South Jersey Non-Public A quarterfinals after sharing the Olympic National title with the Crusaders. They also reached the Diamond Classic final. It was a big leap from their .500 season the year before, and they'll look to keep it going behind a strong senior class.
Cherokee Chiefs
Players to watch: Senior outfielder Troy Domenick made the all-Olympic American second team and the all-Burlington County second team in 2013, while junior pitcher Brian Marconi was also all-conference second team. Both players represented Cherokee at the Carpenter Cup. Senior catcher Matt Rykaczewski was all-conference second team and has committed to New Orleans, senior right-handed pitcher Frank Rosetti will continue his career at Lehigh, and senior catcher Max Joseph will play college ball at Marshall. Other returning starters are senior first baseman Jake Powell, senior pitcher-third baseman Matt Curry, senior outfielder Brendan Gumm and senior outfielder-pitcher Mike Follet.
Outlook: The Chiefs went 9-17 and lost to Toms River North in the first round of the South Jersey Group IV playoffs in 2013. Two years removed from a South Jersey Group IV championship, they look to bounce back this year with a lot of varsity experience and hope to be competitive in the always-tough Olympic American and the loaded South Jersey Group IV bracket.
Cherry Hill East Cougars
Players to watch: East has a pair of Division I pitchers in seniors Nick DiEva, who is headed to Stony Brook, and Mike Brambilla, a Monmouth recruit. Senior outfielder Nick Ciocco, a four-year starter, will also continue his career at the next level after signing with St. Peter's.
Outlook: Despite playing in a brutal division, the Cougars can be competitive with anybody and should be in the running for a playoff berth if they can improve their .187 team batting average with runners in scoring position. They finished with an 8-14 record in 2013, dropping six one-run games.
Cherry Hill West Lions
Players to watch: After losing important players in Brad Machinski, Brandon Perna and Will Allen to graduation, the Lions turn over leadership of the team to junior infielder A.J. Wright, an all-South Jersey second-team selection who had 12 doubles in 2013. Key returning seniors are catcher Kyle Bordner, outfielder-pitcher Wilson Brickner, third baseman-pitcher Hayden Remphrey, second baseman-pitcher Brandon Zachary and third baseman-pitcher Sean Kyser. Returning juniors are outfielder-pitcher Josh Machtinger, infielder Chandler Dunoff, pitcher-outfielder Alec Fisher, infielder-pitcher Joe Santaguida and pitcher-shortstop Jeff Dixon, while sophomore infielder Jake Campbell is also back. Luis Martinez will be an integral part of the pitching staff.
Outlook: West went 16-8 and won a playoff game last year before falling to Williamstown in the South Jersey Group IV quarterfinals. The Lions also qualified for the Diamond Classic for the second straight year. While they have to replace their top three pitchers from a year ago, they have a solid everyday core returning, led by Wright, and should be in store for another playoff season.
Clearview Pioneers
Players to watch: The Pioneers graduated a solid senior class, but leading the list of returners is senior outfielder-pitcher T.J. Dezzi, an important player at the plate and on the mound. Also back is senior pitcher Alex Hochberg, who had three wins a year ago. Junior infielder Jacob Drozd is coming off a fine offensive season. Other key returners include senior pitchers Keith Ryback and David Gies, senior outfielder George Kerasinis, senior pitcher-infielder Matt DeFrank, senior outfielder Brett Milden, senior infielder Ronnie Mestichelli and junior catcher Dalton Reim.
Outlook: Clearview went 12-10 and lost to Shawnee in the first round of the South Jersey Group IV playoffs. The Pioneers are consistently a winning team under long-time coach Rocco Cornacchia, and this year should be no different.
Eastern Vikings
Players to watch: A terrific senior class that included all-South Jersey first-teamers in pitcher Steve Priolo and infielder Nick Tierno has moved on, but the Vikings do return one star in outfielder Tom Flacco. He hit .412 with five homers, 38 RBIs, 38 runs and 29 steals and was all-state first team. Other returners include senior first baseman Jake Quinn, senior outfielder Tyler Pagaduan, junior infielders Corey Kreston and Noah Clement, and senior catcher Anthony Regalbuto.
Outlook: Eastern went 29-4, won the program's first state championship and finished as the state's second-ranked team. The Vikings will have a hard time duplicating last year's success, but Flacco is a special player and they can be a contender in South Jersey Group IV once again.
Gloucester Catholic Rams
Players to watch: Junior John Murphy will be the ace of the pitching staff after going 8-1 with a 0.61 ERA and 77 strikeouts in 57.1 innings last year. He has 15 wins in two seasons and should make a run at the school record by the time he graduates. The Rams have another talented starting pitcher in sophomore Tyler Mondile, who went 9-1 last summer for the World Series-winning Brooklawn American Legion team. He was clocked at 94 on the radar gun in the fall and is already a Division I prospect. Senior shortstop Phil Dickinson, a Wagner recruit, leads the offense after hitting .448 with 20 RBIs, 31 runs and 26 steals. Junior Fran Kinsey hit .350 with six doubles and 23 RBIs. Other key returners include junior infielder Sean Breen, junior designated hitter Anthony Harrold (four home runs), senior infielder Mike Cunningham, junior infielder/outfielder Pete Farlow, senior Mike Garofolo, senior pitchers Steve Mondile and Mike Mercer, and junior pitcher Dante Scafidi.
Outlook: In Mike Rucci's first season as coach after replacing the legendary Dennis Barth, the Rams went 29-5 and became the second team in New Jersey history to win their fourth straight state championship. The streak can't go on forever, but do you want to pick against them? Murphy, who has already committed to Maryland, is one of the best pitchers in South Jersey and the Rams will again be a tough team to beat, especially when he's on the mound.
Haddonfield Bulldawgs
Players to watch: Senior outfielder-pitcher Mike McLaughlin is a four-year starter who was among the South Jersey leaders with 10 doubles last season. Senior pitcher-first baseman Mark Ostbye has great stuff and has committed to Virginia. Senior second baseman-pitcher Carter Fichter led the Bulldawgs in pitching victories and carried them into the playoffs last season. Other returners include senior pitcher Matt Cassell, junior third baseman-pitcher Jake Thorndike, junior outfielder Mike DeFeo, junior outfielder-pitcher Mark Walker, junior shortstop-pitcher Mark Jones and junior outfielder Charlie Clarke.
Outlook: Haddonfield went 11-16 but advanced to the South Jersey Group II semifinals before losing to eventual champion Cinnaminson. That playoff run should be a big benefit to this year's club. Behind McLaughlin and Ostbye, the Bulldawgs are likely to be among the top teams in the Colonial Conference.
Kingsway Dragons
Players to watch: The Dragons graduated a bunch of senior contributors from last year's team. Among the top returners are senior outfielders Matt Lesyk and Jason West, who both reached double digits in RBIs, and the team's two best overall hitters in senior infielders Ronnie Ippolite and Mike Schintz. Other returners are senior catcher Matt Helmandollar, senior pitcher Luke Falkenberg, senior infielder Brendan Dukes, senior pitcher-outfielder Jason Phillips and senior infielder Peyton Bosco.
Outlook: The Dragons went 14-16 in 2013, rallying after an 0-8 start, and lost a heart-breaker to eventual champion Burlington Township in the South Jersey Group III semifinals. Despite losing the heart of last year's squad, the Dragons have a strong senior class and should be in contention for a winning season.
Lenape Indians
Players to watch: Lenape lost many key players to graduation, including ace pitcher Kevin Milley and star infielder Matt Jolly. The returners include senior pitchers Steve Bohrer and Hunter Holroyd, senior pitcher-third baseman Anthony Guido, senior catchers Alex DelRossi and Josh Verdeur, senior infielder Joe Breymeier, senior outfielder Steve Kennedy, junior infielder Connor Milley, junior third baseman Matt Anderson, junior outfielder Ben Fadool and junior pitcher Mike Celia.
Outlook: The Indians went 13-10 and lost to Shawnee in the South Jersey Group IV semifinals. They were hit hard by graduation but have been a consistent winner over the years and are looking forward to the challenge of a difficult division.
Moorestown Quakers
Players to watch: Moorestown has a strong duo in senior right-hander Scott Zimmer (4-2 record, 1.79 ERA), who's headed to Delaware, and senior outfielder-pitcher Dallas Clark (.311 batting average, five doubles), who will attend Rider. Other key returning letterwinners include Devin Connelly (three triples in 2013), Jared Gold, Alex Humes, Chris Li, Zach Michaud, Vin Moncholi and Justin Varga. Newcomers to watch are Kyle Cutler, Will Emerson, Colin Francisco, Ryan Gold and Tom Gamble, a transfer from California.
Outlook: The Quakers went 17-9, won their second consecutive Burlington County Scholastic League Tournament title and lost to Central in the South Jersey Group III quarterfinals. Count on the Quakers being in the mix for league and section crowns this year.
Moorestown Friends Foxes
Players to watch: Senior catcher Steve Mannion and junior pitcher-second baseman Adam Quaranta were both all-Friends League players a year ago. Other returners include senior outfielder Peter Bader, sophomore pitcher-shortstop A.J. Dunham, sophomore pitcher-outfielder Matt Mullock, sophomore pitcher-first baseman Mitchell Mullock, junior third baseman Luke Bianco, junior infielders Shailen Doshi and Tommy Martin, junior outfielder C.J. Eni, sophomore first baseman-pitcher Alex Ounjian and sophomore infielder Chris Grahn.
Outlook: Moorestown Friends went 16-5, won its division in the Friends School League and reached the South Jersey Non-Public B final before losing to Rutgers Prep. The Foxes have reached double digits in wins in four of the last five years and should be able to hit that number again, contend for the FSL championship and put together a long playoff run.
Paul VI Eagles
Players to watch: Senior outfielder Devin Ruiz hit .333 with a .486 on-base percentage. He will continue his career at UNC-Greensboro. Junior Matt McKeown, who had nine doubles last season and will also be an important pitcher this year, has already committed to Delaware. Senior Shawn Semple's return to the mound after season-ending surgery last year will be critical to the Eagles' success, while Widener-bound senior John Petrongolo is a key left-handed bat and can play multiple positions. Three sophomores who made an impact as freshmen also return and are expected to make big contributions: Shane Kubrak started every game and hit .300; Lou Testa hit two home runs and should provide power; and Jeff Ciocco pitched well down the stretch and earned a win in the playoffs.
Outlook: The Eagles went 14-14 and reached the South Jersey Non-Public B semifinals before losing to eventual state champion Gloucester Catholic. They are capable of another season of double-digit wins and can contend in a competitive division.
Seneca Golden Eagles
Players to watch: Senior pitcher-shortstop Eric Shugars is a key on the mound and at the plate for Seneca. Outfielder-pitcher Allan Smith III also returns after hitting .529. Other key returners include senior pitcher-outfielder Chase Vena, senior infielder Patrick Donnelly, senior outfielder Ryan Bowman, senior catcher John Maurer, senior pitchers Brett Lyons and Allan Kniffin, and senior infielder Bryce Sondberg.
Outlook: The Golden Eagles went 6-13 and lost to Hammonton in the first round of the South Jersey Group III playoffs. They gained valuable experience last year and should make a run at their first winning season since the 2011 state championship team, but they will be following a new leader. Sean Cassel resigned after six seasons and was replaced by co-head coaches James Donoghue and Dave Lafferty, who was the program's inaugural head coach.
Shawnee Renegades
Players to watch: Shawnee graduated a trio of all-South Jersey players who moved on to Division I programs in Jarret DeHart, Brian Lawler and Nick Montefusco. The Renegades have four returning players with starting experience in senior pitcher Scott Leventon, sophomore pitcher Jake Miller, senior second baseman Nick Corbi and junior first baseman Sean Heslin. Senior pitcher Frankie Hutchko, senior pitcher-shortstop Jimmy Miller and senior outfielder Scott Rosvold all contributed off the bench last year and will look to take on bigger roles. Other players who could have an impact are pitcher Matt Lampe, catchers Kyle Fisher and Michael Welsh, infielders Nic Russo, Jaymes Bailey and Grant Wetterau, and outfielders Chase Bromley, Austin Grose and Ryan Drexel.
Outlook: The Renegades went 15-10 and reached the South Jersey Group IV final before falling to eventual state champion Eastern. They have some key players to replace and will need some of the new faces to step up in order to contend in the conference and Group IV.
Washington Township Minutemen
Players to watch: The Minutemen graduated a terrific senior class. Leading the list of returners is senior Justin Sommermann, who hit .397 with three home runs and 32 RBIs, and all-South Jersey senior pitcher Mark Scarpa, who went 7-1 with a 1.65 ERA and also hit cleanup, hitting .313 with two home runs and 26 RBIs. Other returning letterwinners are senior outfielder Blake Vaczi, senior second baseman Colin McAllister, sophomore pitcher Nick Evangelista, senior pitcher Dom DeAngelo, senior pitcher-third baseman John Schoelkopf, senior catchers Steve Bucci and Antonio Morello, and senior pitcher Erik Gretzmacher. Newcomers to watch are junior pitcher Chris Haruch, who beat Vineland in the Diamond Classic semifinals, senior outfielder-pitcher Nick Barker, infielder Mike Hammond, first baseman AJ DiLugi, infielder Joe Cooney and pitcher Anthony Degliomini.
Outlook: Township went 23-6 and suffered an upset loss to Toms River South in the first round of the South Jersey Group IV playoffs, but also won its first Diamond Classic title since 1993. The Minutemen also won the Grand Slam Classic for the third straight year and won at least a share of the Olympic American championship for the third year in a row. They said goodbye to an outstanding class, but coach Bill Alvaro has built a consistent program and a solid core remains to continue the tradition.
Click here for this season's schedule.
Published (and copyrighted) in Suburban Family's High School Spring Sports Preview, January, 2014.
For more info on Suburban Family Magazine, click here.
For information about advertising in Suburban Family Magazine, click here.
To find out where to pick up your copy of Suburban Family Magazine, click here.