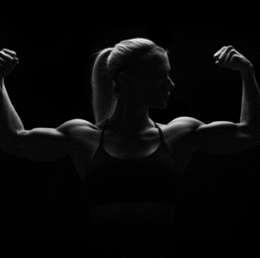 Fitness Revolution
Shape up this new year by taking advantage of the popular—and maybe extreme—trends in fitness.
If your goal is to get in shape this year, then you are in luck. New techniques and trends can help you get fit and stay that way, no matter what individual challenges you might have—even if you feel like you don't have the time to work it in. Our experts break down the different options in workouts, go over the benefits and—perhaps most importantly—tell you how to play it safe.
New trends in adult fitness
New developments in fitness are reinvigorating in people the desire to get active and fit by adding new elements, making it fun, yet making working out more challenging than ever. There are several adult programs and methods to explore this year based on a participant's individual goals and abilities, but the three trends that have our attention—and according to our experts, the vast majority of clients' attention—are INSANITY, CrossFit and personal training.
It makes sense that if you want to get fit fast, you might consider going a bit extreme, which might be the best way to describe INSANITY. "INSANITY is an insane workout that uses your body weight and functional movement," says Brian Kosa, the general manager for Cherry Hill Health & Racquet Club. "All you need is space and a dynamic instructor to get great results."
INSANITY is a high-calorie-burning workout that uses plyometrics, upper body resistance, cardio and max interval training circuits in a group class setting. Individuals all do the same exercises, but everyone works at his or her own pace, upping the intensity as ability increases. "It is also a great muscle and toning program that targets both men and women," Kosa says. "There are usually a variety of classes on a variety of days to choose from, and with INSANITY, the more the better."
However, it might not be the kind of workout you can jump straight into off the couch. But if you're still looking to get into shape and want something different, CrossFit is another option, and the popularity is evident in the amount of new CrossFit facilities popping up across South Jersey.
If you never want to have to do the same workout twice, Jed Letchford of CrossFit Strength & Justice in West Berlin suggests you give it a try. "CrossFit is a varied workout program," he says. "That's what makes it unique. There is nothing boring or static about it."
According to Letchford, at least 74 percent of their clients come from "the doldrums" of a traditional gym and they're looking for a new challenge they can stick with.
The philosophy behind a CrossFit program is based off of the fundamental movements that we humans must perform every day, such as sitting down, standing up and picking up objects. By strengthening these core movements, participants may gain a lifetime of fitness and health. "That is one of the benefits of this workout," Letchford says. "If you learn those movements the proper way, you will be safe in any exercise or movement that you do."
There may also be an unexpected benefit. "The intensity of the workout encourages you to eat right," Letchford says. "If you don't eat right, you'll find that you aren't doing as well in your workout or progress. This gives you an awareness of what the right exercises and food do to your health."
Instruction usually takes place in a group setting, with benchmark workouts to monitor progress. "In CrossFit, that is what keeps people here; they start seeing changes. The first changes take place in your head before they take place in your body."
For those intimidated by the group setting and perhaps looking for more individualized attention, especially if they're just beginning to get in shape, personal training may be the answer. Fortunately, many gyms in the area offer that type of one-on-one attention.
Helena Duzenski and Danielle Kane, co-owners of Evolution Fitness of Cherry Hill, advise that the best program is often one that is custom made for you, balanced, holistic and incorporates a healthy lifestyle. "Through group coaching classes and semi-private training, we make sure everything is focused on the individual, their bodies, their goals," Duzenski says. "You don't have to figure out what to do to change your life or get healthy on your own. You walk in the door, you get a plan."
At Evolution Fitness, individuals start out with a screening that helps the trainers create customized programs. While some of these programs include group settings, such as a popular program called Rock My Jeans, trainers are always available to spot problems and steer participants away from the wrong exercises. "We are here to coach you; we are not just here to be cheerleaders," Duzenski says. "All of our training is very functional in its design to help you move and feel better in your everyday life. The workout design changes every month so your body doesn't get used to it. You can continue getting results."
As an added benefit, Duzenski and Kane say, participants can expect fast results because each workout is individualized to a specific body, and that includes nutrition, hydration and sleep. "We want to catch any impairments early on, and then see if what we are doing improves it.
"Making sure you have a plan and people around you to support you is important," Duzenski says. "When you are getting results, it keeps you on the right path."
Kids and fitness
One of the best ways to stick to your goals this year could be to make it a family affair. If you have children, there are plenty of gyms and fitness centers in the area that offer youth programming, whether it's setting a foundation for fitness at a young age or furthering the skills of a student-athlete.
Kosa, of the Cherry Hill Health & Racquet Club, points out an added bonus not always considered: Being involved with a fitness program can boost self-esteem.
As just one example, CHHRC offers a program called Ten and Under Tennis, "a newer trend to the tennis world that gets kids playing tennis properly at a younger age," Kosa says. "It is a real neat and new concept, as it relates to teaching kids."
Instead of the standard tennis equipment, this new program puts kids on a mini court with a smaller net, a redesigned racket, and specially designed balls that kids can progress through as they learn proper technique. "We've scaled down the whole game of tennis so kids can be up and running right away. They are just playing, having fun and are immediately engaged."
Parisi Speed School is available there as well, which offers a program designed to teach kids 7-18 to be faster, quicker and more agile for their particular sport by focusing on exercises to develop linear speed, change of direction, agility and power. "Of course, it can be used for any sport," Kosa says.
"The Parisi Speed School allows kids to learn, at an early age, while they are still developing, the proper way to do all of these [movements required in sports], so they don't get hurt and can do it all better," Kosa says. "The biggest benefit, my personal feeling, is that since kids are all about not knowing who they are, engaging all of their self-worth from their peers, this program can develop self-confidence like you would not believe."
Cherry Hill Health & Racquet Club
1820 Old Cuthbert Road
Cherry Hill
(856) 429-1388
CHHRC.com
CrossFit Strength and Justice
419 Commerce Lane
West Berlin
(856) 767-1959
CrossFitStrengthAndJustice.com
Evolution Fitness
1990 Route 70
Cherry Hill
(856) 751-1300
EvolutionFitnessNow.com
Published (and copyrighted) in Suburban Family Magazine, Volume 4, Issue 10 (December, 2013).
For more info on Suburban Family Magazine, click here.
For information about advertising in Suburban Family Magazine, click here.
To find out where to pick up your copy of Suburban Family Magazine, click here.