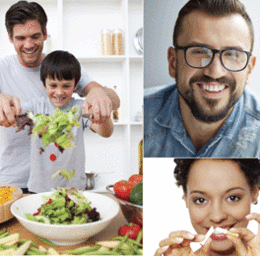 Here's to a New Year
A new year means a world of new possibilities. Whatever your goals are for 2014, our expert tips will help you get there.
Christy Casimiro of Cherry Hill has a long history of keeping her New Year's resolutions. About four years ago, it was a big one—go from couch potato to triathlete. This was not only her most ambitious resolution, but also the most transformative. This wife and mother of three young children lost 40 pounds, got into the best shape of her life and discovered a newfound passion. In October of 2010, Casimiro achieved her goal—a quarter-mile ocean swim, 10-mile bike ride and 5K run. "I had made a resolution to do a triathlon that year, and I did it," she exclaims proudly. "It was the biggest and best resolution I ever made." Since then, she has competed in six triathlons, and her 2014 New Year's resolution is to finish a half Ironman.
Elizabeth Piccinnini of Medford curls up each New Year's Eve with her husband and three boys to review their old resolutions and make their new ones. Three years ago, she wanted to do something to help the environment, so she started with a simple New Year's resolution. "I decided I would no longer use paper napkins," she says. She has used cloth napkins ever since. The following year, she omitted plastic shopping bags from her life permanently. In 2014, Piccinnini will add composting to her list of green resolutions.
However, not everyone feels the success of a resolution kept. Nicole Curtis of Woolwich has been trying to give up diet soda for two years. "I start out great and I'm so proud of myself and then something comes over me," she laughs. "I lasted the first year three months. The second year, a month into it I broke down."
What is it that makes or breaks a resolution? And what are the tangible benefits to setting one and keeping to it? Dr. Leslie Tuttle, a licensed psychologist at Woehr Associates in Haddonfield, notes that Jan. 1 is a significant date for life-changing decisions. "The new year is a time when many people take stock of their life," she observes, explaining it can act as a springboard to making behavioral changes, both big and small. Yet even the best of intentions will quickly fizzle without proper goal setting.
A resolution is simply a goal and can be set at the commencement of a new year or at any time. Whether the goals focus on self-improvement, health, career, parenting, fitness, domestic activities, family or philanthropy, the path to success remains the same. "You need some strategy or coping mechanisms," Tuttle says. A plan that includes realistic, specific and measurable goals with a support system increases success.
Making it realistic
"The more realistic the goal, the better," says Tuttle, and Piccinnini lives by that motto. Though she has considerable self-determination, Piccinnini attributes her success to making small, reasonable goals. "I don't have grandiose resolutions," she says. "I choose one tiny thing I can manage."
"Being realistic is the big thing as well as being flexible," agrees Dr. Jacqueline Kaari, department chair of Pediatric and Adolescent Medicine at The University Doctors in Washington Township. Kaari advocates for simple lifestyle modifications. The cumulative effect of those small changes can result in significant improvements to health and well-being. "Choose something that easily fits into your life," she suggests, such as walking for 30 minutes twice a week, increasing water intake, taking a daily vitamin or getting one extra hour of sleep a night. Often, it's the small things that easily go from resolution to lifestyle change. For instance, Piccinnini's 4-year-old son made a resolution to match his socks. "Now it's just his job," she says. Her other son resolved to smile more. "He really does smile more."
Making a plan
Being realistic doesn't mean you can't set the bar high. Casimiro certainly did. When asked about her secret to success, she humbly states, "I'm just determined. My parents instilled in me that I can do anything I put my mind to." True, Casimiro has determination, but more importantly, she breaks down her large goals into a detailed plan.
"Many people make global resolutions that may feel overwhelming," says licensed professional counselor Dr. Lynn M.Levine of Career and Life Options, a career and educational counseling and consulting practice in Cherry Hill. "The first step is to clearly identify and state your goal," Levine explains, "then break it down into measurable activities." Creating a checklist of reasonable and attainable steps to chart progress sets people up for success rather than disappointment and failure.
For example, "getting into shape" is a more difficult goal to measure than "getting into shape by walking for 20 minutes, three days a week." "People get discouraged because they don't measure their goals in increments," Levine continues. "You set the larger goal and assess it daily in more bite-size pieces."
Accountability and support also aid the plan. "Boldly state to people what you are going to do," suggests Kevin Touhey of Elite Performance Systems, a life coach, peak performance expert and author of The Miracle of Optimism and The Agony of Winning. In Casimiro's case, she trained for her first triathlon alone but proclaimed her resolution on Facebook and documented her progress there, as well.
Holistic health coach Cristie Ritz-King of Real Life Wellness finds that for mothers especially, resolutions often end up becoming about the entire family, which increases support and success. "It makes it easier," says Ritz-King. "It's tough to do anything in a vacuum." The Piccinninis make accountability a family affair by discussing their New Year's resolutions, writing them down and posting them on the refrigerator. This way, they act as their own support system by reminding and encouraging each other throughout the year.
Making it stick
"The ones who are successful make lifestyle changes, not New Year's resolutions," Ritz-King says. A critical piece of that journey lies in examining why an individual wants to make the change. Touhey is a firm believer that any goal or resolution must be connected to something deeper and more meaningful. "You have to have the bigger 'why,' the bigger passion," he says. "Unless you internalize motivation, you lose it."
The best approach to making any resolution stick is to align it with your value system, understand your motivation, make it manageable and concrete, construct a reasonable plan and, lastly, show yourself forgiveness and compassion. Too many people give up on their resolutions prematurely because they feel like they failed when they cheat on a diet, smoke that one cigarette or, like Curtis, drink that diet soda.
Amy Innella, certified school counselor, educational consultant and owner of Aim High Consulting in Monroe Township, sees anxiety and perfectionism as major saboteurs to achieving personal goals. "You have to be present in today, mindful and in the moment," she advises. "Keep up the positive self-talk. Always work toward achieving your personal best."
Minimizing the negative self-talk that occurs during a backslide is an invaluable tool to staying positive and successful. When some days do not go as well as others, Innella encourages people to evaluate what happened, learn from it and apply that knowledge to the next time. This philosophy encourages moving forward instead of giving up.
"We haven't taught people that there is a beauty to the journey, the process of success," Touhey says. "You can always start over. You really can't fail."
Health & Wellness Resources
Aim High Consulting
Monroe Township
(609) 472-5946
Career and Life Options
102 Browning Lane, Building A, Suite 2
Cherry Hill
(856) 354-0330
CareerAndLifeOptions.com
Elite Performance Systems
Medford
(609) 706-1288
TheMiracleOfOptimism.com
Real Life Wellness
Serving South Jersey
RealLifeWellnessNJ.com
The University Doctors,
Rowan University School of Osteopathic Medicine
405 Hurfville-Cross Keys Road, Suite 203
Washington Township
(856) 582-0033
TheUniversityDoctors.com
Woehr Associates
32 Kings Highway W.
Haddonfield
(856) 427-0776
WoehrAssociates.com
Published (and copyrighted) in Suburban Family Magazine, Volume 4, Issue 10 (December, 2013).
For more info on Suburban Family Magazine, click here.
For information about advertising in Suburban Family Magazine, click here.
To find out where to pick up your copy of Suburban Family Magazine, click here.