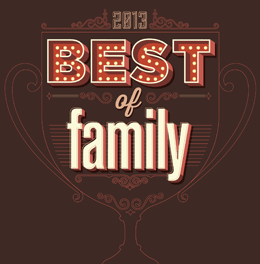 2013 Best of Family
Our annual Best of Family feature—made up of both readers' and editors' picks—is so much more than a roundup of favorite spots around town. It serves as the ultimate resource guide for families across South Jersey, whether they're trying to decide on the best preschool, dance school or doctor. Here, we present 125 winners that are sure to make your life a little easier.
ARTS AND ENTERTAINMENT
Children's Theater
Moorestown Theater Company
If your kids are looking for an after-school activity that tests their acting chops instead of their dribbling skills, this theater that promotes total family involvement may just be your answer.
19 W. Main St., Moorestown, (856) 778-8357, MoorestownTheaterCompany.org
Readers' Choice:
The Broadway Theatre of Pitman
43 S. Broadway, Pitman, (856) 384-8381, TheBroadwayTheatre.org
Vocal Instruction
Mainstage Center for the Arts
Offering private voice lessons as well as group instruction and vocal coaching, you'll find everything you need here to ace an audition, make a statement in the school choir or finally take the chance on an American Idol try-out.
27 S. Black Horse Pike, Blackwood, (855) 936-2467, Mainstage.org
Music Lessons
The Music Place
Offering not only instrument sales and rentals but also lessons, this isn't your average music store. You won't find a more comprehensive retailer anywhere, and you can rest assured, whether you're a beginner or more advanced, they'll have what you need to take your music to the next level.
844 S. Route 73, West Berlin, (856) 768-2226
Children's Art Classes
Markeim Arts Center
This arts center has been promoting the visual arts in Haddonfield for more than 50 years, which means there's no better place where your children can learn to channel their inner Picasso—or at least have fun trying.
104 Walnut St., Haddonfield, (856) 429-8585, MarkeimArtCenter.org
Teen Art Classes
Perkins Center for the Arts
Classes for all levels are offered here, but the teen arts classes are especially popular, as they offer teenagers the chance to explore and develop artistic skills they may not otherwise have an opportunity to showcase in areas from painting to pottery.
Locations in Collingswood and Moorestown, PerkinsCenter.org
Competitive Dance School
Jazz Unlimited
Catering to dancers of all ages, abilities and interests, this dance studio, led by Artistic Director Carryl Slobotkin, has been making a name for itself competing in South Jersey, and across the country, for more than 40 years.
201 Route 73 S., Marlton, (856) 983-6608, IBJazz.com
Children's Dance Instruction
Bowman School of Dance
Your child's first experience with dance should be fun but informative, and the instructors at this renowned dance school will be sure it is. Offering a variety of classes at various levels, your child's desire to dance will be encouraged and fostered here.
74 Kings Highway N., Cherry Hill, (856) 667-0447, TheBowmanSchoolOfDance.com
Readers' Choice:
Dee Dots Dance Academy
356 Garwin Road, Swedesboro,
(856) 467-8998, DeeDotsDance.com
Ballet Instruction
South Jersey Ballet School
Offering small class sizes, a variety of class levels and a concentration on discipline and technique, there is no better place to learn the art of ballet than this renowned South Jersey ballet school known for its annual Nutcracker performance.
415 Commerce Lane, West Berlin, (856) 767-7060, SouthJerseyBallet.com
Performance Coach
Renee's Studio
Whether you have dreams of performing on Broadway or simply would like a little help with your acting or public speaking skills, the teachers at this Moorestown studio will be sure you have the tools you need to be successful on any stage, at any age.
875 Cox Road, Moorestown, (609) 220-7537, Renees-Studio.com
FAMILY FUN
Arcade
Tilt Studios
Dozens of arcade games may be the initial draw to Tilt Studios, but black light mini golf, rollerball mini bowling and a ball pit are just a few of the other attractions that will keep the kids entertained for hours.
1580 Voorhees Town Center, Voorhees, (856) 782-6572, TiltStudio.com/Voorhees-NJ
Birthday Party Spot
Rastelli's Sports and More
Make your kid's big day the talk of the playground. This indoor fun house offers a pizza party birthday package complete with balloons, along with access to all the equipment in its 55,000-square-foot facility. Bonus: Parents play free.
1855 Hurffville Road, Sewell, (856) 401-8111, SportsAndMoreFun.com
Readers' Choice:
FunPlex
3320-24 New Jersey 38, Mount Laurel, (856) 273-9666, FunPlexMountLaurel.com
Indoor Play Center
Monkey Town
When it gets too cold to play outside, head inside to this child's dream of a play place, complete with inflatables, obstacle courses, slides and a Velcro wall. What more could a kid ask for?
5360 Route 42, Whitman Plaza, Turnersville, (856) 227-5867, MonkeyTownNJ.com
Weekend Activity
Miller Farms
Whether you're looking for a unique experience for the kids or perhaps a fun adventure for a date, an hour-long trail ride at this family-owned farm may be just what you need to take your Saturday from ordinary to extraordinary.
134 N. Grove St., Berlin, (856) 728-3500, MillerFarmsLLC.com
Rainy Day Fun
30 Strikes Bowling
Newly renovated and with specials galore, it's not hard to spend a quality afternoon at this family-friendly alley. We can't guarantee you'll bowl a strike every frame, but we can promise you'll have a good time trying.
501 S. White Horse Pike, Stratford, (856) 783-0558, 30Strikes.com
Readers' Choice:
Cherry Hill Skating Rink
664 Deer Road, Cherry Hill, (856) 795-1919, CherryHillSkatingCenter.com
Ice Rink
Hollydell
Offering public skating along with figure skating and ice hockey opportunities on two rinks—one Olympic-sized and one NHL-sized—this facility makes getting ice time year round for the whole family easy.
601 Hollydell Drive, Sewell, (856) 589-5599, Hollydell.com
Readers' Choice:
Flyers Skate Zone
Locations in Pennsauken and Voorhees, FlyersSkateZone.com
Date Night Activity
Illiano Cucina Mediterranea
For a date night that doesn't break the bank but still comes with the ambiance we crave for that two-hour escape, we hit up this family-owned spot, where dishes ranging from stuffed eggplant parm to capellini aragosta satisfy the most discerning Italian palate. Added bonus: Portion sizes will feed you for two days.
200 Tuckerton Road, Medford, (856) 985-2721, IllianoCucina.com
Readers' Choice:
Arthur Murray Dance Center 117C S. Route 73, Marlton, (856) 396-2490, NJArthurMurray.com
FOOD FAVORITES
Doughnuts
McMillan's Bakery
For that early-morning sweet fix, the doughnuts at this bakery are worth being late for work. Every doughnut is fresh and filling, but South Jersey flocks here for the creme-filled ones. Served almost like a sandwich, they are split open, stuffed with mouthwatering vanilla creme and coated in powdered or granulated sugar.
15 Haddon Ave., Westmont, (856) 854-3094
Baked Goods
L&M Bakery
If you can't decide between cookies, cinnamon buns, cannoli or muffins, never fear because you can't go wrong here. Each delicious item has that homemade taste that just melts in your mouth, leaving you wanting more, so go ahead and order one of everything.
11 St. Mihiel Drive, Delran, (888) 887-1335, LMBakery.com
Gourmet Bakery
Classic Cake Co.
The skills and techniques of a classically trained pastry chef are evident in the countless delicacies offered at this bakery. From extravagantly designed wedding cakes, handmade chocolates and gelato to favorites like tiramisu and cheesecake, these palate-pleasers are almost too pretty to eat.
Locations in Cherry Hill and Sewell, ClassicCake.com
Family Breakfast
Amy's Omelette House
This restaurant features a larger-than-life menu with more than 200 omelettes and 30 varieties of pancakes and French toast, served up in a retro-inspired atmosphere complete with tchotchkes on the walls. The kids will love the Mickey Mouse pancake breakfast even more than parents love the price.
Locations in Burlington and Cherry Hill, YourAmys.com
Readers' Choice:
The Pop Shop
729 Haddon Ave., Collingswood, (856) 869-0111, ThePopShopUSA.com
Family Lunch Spot
Cool Dog Café
Even the pickiest of eaters and strictest vegetarians can find something on this crowd-pleasing menu. All-beef (or veggie) franks are topped with everything from mac 'n cheese and guacamole to pulled pork and chili. Try splitting the Gadzooks Dog, topped with peanut butter, warm brownie pieces, chocolate and caramel sauces, and whipped cream.
2091 Marlton Pike E., Cherry Hill, (856) 424-0400, TheCoolDogCafe.com
Readers' Choice:
Chick-fil-A
13 locations across South Jersey, Chick-Fil-A.com
Sushi
Yokohama
No matter if you're adventurous or conservative, the end result here is going to look like a work of art. We recommend the signature Yokohama roll, with tuna, salmon, yellowtail, white fish and peanut powder on the top, and crunchy spicy tuna and avocado inside.
300 S. Lenola Road, Maple Shade, (856) 608-8812, YokohamaCuisine.com
Readers' Choice:
Megu Sushi
Locations in Cherry Hill and Moorestown, MeguSushiNJ.com
RETAIL & MORE
Special Occasion Kids' Clothes
Ragamuffins
When your little one needs to dress to the nines for a special occasion—be it a First Holy Communion, Bar Mitzvah or a portrait session—the selection of designer fashions will impress even the budding fashionista in your family. This boutique is known for its customer service, making the shopping experience enjoyable for everyone.
2110 Route 70 E., Suite 19, Cherry Hill, (856)751-9333, RagamuffinsNJ.com
Readers' Choice:
Janie & Jack
300 Route 73 S., Marlton, (856) 797-6547, JanieAndJack.com
Everyday Kids' Clothes
Gymboree
We love that the clothes and accessories from this fashionable retailer are not only affordable, but full of whimsical details that help our children look chic from head to toe. With sizing from newborn to age 12, this is a convenient, one-stop shop that even the busiest of families can't miss.
500 Route 73 N., Marlton, (856) 810-0107, Gymboree.com
Teens' Clothing
Heather's
A teenager's sense of style can sometimes be hard to define, which is why we love this local boutique's approach to fashion. There are no rules to follow here, and teens can find the latest trends in dresses, skinny jeans, bags and jewelry to perfectly complement their unique personalities.
207 Route 73 S., Marlton, (856) 985-8199, ShopHeathers.com
Dance and Yoga Apparel
Attitudes
When the dancer in your family needs shoes, leotards or tights (or when Mom needs new yoga pants), this shop boasts one of the largest inventories in the area, meaning you won't need to run to five different places to find what you need.
444 Route 70 W., Marlton, (856) 985-7270, AttitudesNJ.com
Sportswear and Shoes
New Balance
No matter what level of athlete you are—be it the avid Crossfitter or the casual jogger—the friendly staff at this local New Balance store will help you find the best-fitting sneakers and most comfortable apparel to keep you on top of your game.
1990 Route 70 E., Cherry Hill, (856) 874-0666, NewBalance.com
Floral Arrangements
MaryJane's Flowers
Birthdays, new babies, get-well wishes, holidays and congratulations—there are countless reasons to give someone flowers, even if it's no reason at all. The skilled florists at MaryJane's can create a unique design that is guaranteed to put a smile on a loved one's face and be the envy of their co-workers.
111 W. White Horse Pike, Berlin, (856) 336-2912, MaryJanesFlorist.com
Housewarming Gifts
Jilly B's Boutique and Treats
Jilly B's offers the chic vibe of a posh Manhattan boutique right here in South Jersey. Their collection of serveware, frames, candles and more will be the perfect addition to a friend's new home. Don't miss out on sampling their edible sweet treats while you shop.
100 Springdale Road, Cherry Hill, (856) 795-2337, ShopJillyBs.com
Religious Gifts
Many Blessings
Since 1996, this store has been known for its religious and inspirational items—like rosaries, figurines, jewelry and artwork—that make the perfect gifts for holidays or the special moments in a person's life, such as baptisms, First Holy Communions and weddings.
1105 Voorhees Town Center, Voorhees, (856) 770-1177, ManyBlessingsOnline.com
Sporting Equipment
Danzeisen & Quigley
For the die-hard skiers, swimmers, cyclers and boarders among us, nothing beats the 31,000-square-foot shopping experience offered here. The staff's passion and comprehensive knowledge shine through when helping customers, and we love how they embrace fitness from a family perspective by offering products for all ages.
1720 Marlton Pike E., Cherry Hill, (856) 424-5969, DAndQ.com
Educational Toys
Young Minds
Young Minds makes learning fun with an array of toys and other products that will not only occupy your child's time, but stimulate his or her brain, as well.
127 Route 73 S., Marlton, (856) 810-1122, YoungMindsToys.com
Readers' Choice:
Lakeshore Learning Store
2020 Route 70 W., Cherry Hill, (856) 910-0888, LakeshoreLearning.com
Farm Market
Springdale Farms
Cherry Hill's last working farm is one of the best places to stock up on fresh fruits and veggies—and after you've eaten healthy, it's one of the best places for fresh doughnuts and other baked goods. Seasonal hayrides and more kid-friendly activities make this more than just a produce pit stop.
1638 S. Springdale Road, Cherry Hill, (856) 424-8674, SpringdaleFarms.com
Readers' Choice:
Duffield's Farm Market
280 Chapel Heights Road, Sewell, (856) 589-7090, DuffieldsFarm.com
Special Event Entertainment
SuperStar Entertainment
Looking to kick your next party up a notch? Turn to the folks at SuperStar, who can liven up any affair from a wedding to a Sweet Sixteen party. If the experienced DJs aren't enough to get the crowd buzzing, try booking one of their photo booths or karaoke machines for a truly memorable event.
5101 Route 42, Turnersville, (800) 382-7464, SuperStarEntertainment.com
Pet Training
Champion Dog Training & Services
When dog owners are having a hard time getting Fido to be more obedient, they turn to certified dog trainer Jenna Quinn. She'll work around your schedule and bring the training session right into your home, so your pup can learn both tricks and basic manners in a familiar environment.
4724 Westfield Ave., Pennsauken, (856) 535-6855, TrainThatMutt.com
Insurance
McDyer Insurance Agency
Michael J. McDyer is a seasoned pro, having won Allstate's Financial Leader Award three times and Allstate's National Conference Award twice. Plus, having a local firm like McDyer's two offices ensures that you can have access to property and auto insurance on your time.
Locations in Medford and Cherry Hill, Agents.AllState.com
Family Law
Borger Matez P.A.
Family law matters, including divorce, adoption and child custody, are difficult enough, so having a dedicated attorney on your side is vital. With a staff of five attorneys, Borger Matez has a team ready to help, and the experience to understand just how emotional family circumstances can be.
1415 Route 70 E., Cherry Hill, (856) 424-3444, NJFamilyLaw.net
HEALTH & BEAUTY
Family Fitness
Virtua Center for HealthFitness
Having young children will certainly keep you active, but it's not much of an exercise routine. Here, while mom and dad are breaking a sweat in the gym, the onsite Kidz Motion program allows the youngsters to burn calories (and energy) on their own.
Locations in Moorestown, Sewell and Voorhees, VirtuaFitness.org
Semi-Private Training
Evolution Fitness
If your routine is not producing noticeable results, the trainers here can help you get on track. Though you'll work in small groups of two or three people, the instructors will handpick exercises based on a personalized workout for you, meaning the focus doesn't waver from the task at hand—sculpting your new physique.
1990 Route 70 E., Cherry Hill, (856) 751-1300, EvolutionFitnessNow.com
Fitness Classes
Future Fitness
With more than 85 classes a week, this gym offers a way for everybody to get into shape—and stay that way. They'll also help you with your nutrition and make sure you reach your goals, while, perhaps more importantly, setting new ones.
Locations in Cherry Hill, Medford, Mount Laurel, Mullica Hill, Turnersville and West Berlin, FutureFitnessCenters.com
Family Sports Club
Cherry Hill Health and Racquet Club
Since this club opened its doors in 1971, they have strived to create a family-friendly atmosphere. There's plenty of basketball, tennis, volleyball and racquetball to go around, but they also specialize in catering to specific clients with a women's-only fitness center and programs designed to teach good exercise habits to children.
1820 Old Cuthbert Road, Cherry Hill, (856) 429-1388, CHHRC.com
Personalized Workouts
Koko FitClub
Technology serves as a digital personal trainer here, projecting right on personal screens on each exercise machine a customized workout that combines strength training, cardio routines and a meal plan so you're reaching your full potential with each workout.
2095 Route 70 E., Cherry Hill, (856) 489-5656, CherryHillMarltonNJFitnessClub.com
Readers' Choice:
Giant Fitness
Locations in Delran, Lindenwold, Mount Laurel and Woodbury Heights, GiantFitnessClubs.com
High-Intensity Training
Impact Training
Athletes looking to improve their game can get the attention they need at Impact, where specific exercises will help increase strength, power and muscle. Want to be a quicker defender on the soccer pitch, or looking to increase your arm strength? Impact can help you gain that competitive edge.
115 Route 73 N., West Berlin, (856) 767-2250, ImpactTrainingNJ.com
Athletic Performance Training
Next Level Quarterbacks
South Jersey quarterbacks looking to take their game into overtime are turning to Marcus Hammond and Next Level Quarterbacks for those extra downs. Hammond, a former NCAA quarterback, builds individualized programs for young athletes throughout the seasons, teaching them the best way to excel using their talents while developing stronger skills for the future.
Marlton, (856) 452-1553, NextLevelQuarterbacks.com
Reader's Choice:
Parisi Speed School
1820 Old Cuthbert Road, Cherry Hill, (856) 429-1200, ParisiSchool.com
Indoor Sports Complex
Total Turf Experience
Packed inside one massive indoor 16-acre space, you'll find individual fields of all sizes designed to handle whatever sport you want to play, from baseball and softball to lacrosse and field hockey. Total Turf offers rentals and even hosts leagues and training programs for all ages.
614 Lambs Road, Pitman, (856) 218-8091, TotalTurf.net
Dermatology
Dr. Ingrid Warmuth Skin Care Center
Dr. Warmuth and her team of estheticians and consultants cover all areas of dermatology. That means you have a one-stop spot for all family members, covering general problems like acne or skin examinations and cosmetic options for moms and dads.
Locations in Elmer and Swedesboro, DrWarmuthSkinCareCenter.com
Family Eyewear
Fortuna Optical
Glasses and super-chic frames are cooler than ever. Browse the racks at Fortuna and you'll see why. They carry dozens of designers for men, women and kids, including Chanel and Oliver Peoples, with frames that are rocking the runways and red carpets across the country.
501 Route 73 S., Marlton, (856) 797-0600, FortunaOptical.net
Eye Surgery Center
Mazzuca Eye and Laser Centers
Dr. Douglas Mazzuca has given thousands of residents a second chance at clear sight. Offering surgical options from laser repair to the treatment of eye injuries, Mazzuca Eye and Laser Centers works with their patients to help them see a whole new world.
Locations in Logan and Pennsville, DrMazzuca.com
Family Eye Care
Village Eyecare
Your vision changes and evolves as you grow, and so should your eye care, and Village Eyecare is ready to address anything you need. That includes standard eye exams for children and adults, treatment for dry eye or eye infections, and specialty contact lens fittings for patients in need of extra assistance.
120 Center Square Road, Woolwich, (856) 832-4950, SJVillageEyecare.com
Specialty Eyewear Selection
Frederic Meserall Vision & Hearing
Finding progressive lenses or specialty eyewear options doesn't have to be the frustrating experience it once was, especially at Frederic Meserall. The shop carries more than 100 brands of glasses that can accommodate specialty eyewear needs from sports glasses to digital lenses.
206 Kings Highway E., Haddonfield, (856) 429-6930, Meserall.com
Chiropractor
Liebman Wellness Center
Being part of a busy family can lead to lots of aches and pains. That's why we look to Liebman Wellness Center. Adjustments, acupuncture and spinal decompression are just some of the services offered, all designed to get you feeling your best and back in action.
100 Route 70 W., Marlton, (856) 596-3000, LiebmanWellness.com
Pediatric Emergency Care
Virtua Voorhees
When an emergency strikes your child, you want only the best solutions. For years, that meant a long drive across the bridge into Philadelphia, but Virtua's beautiful Voorhees location has reshaped emergency care. With a child-only emergency care ward and pediatric life support certified nurses on staff, you get the close location you need.
100 Bowman Drive, Voorhees, (856) 247-3000, Virtua.org
Diabetes Care
Joslin Diabetes Center Affiliate at Deborah Heart and Lung Center
The Joslin Diabetes Center is a national diabetes treatment and education organization that has made a very successful home right in Browns Mills. They work with diabetics to customize therapy options, meal plans and treatment, while teaching their patients about a disease that may be a mystery to many families.
200 Trenton Road, Browns Mills, (609) 621-2075, Deborah.org
Cardiac Care
Our Lady of Lourdes Medical Center
Your family's medical care doesn't stop with the kids. And when looking into cardiac care options, the experts at Lourdes Medical Center come with impressive credentials, including five-star ratings from HealthGrades in the categories of Cardiac Services, Coronary Bypass Surgery and Cardiology Services.
1600 Haddon Ave., Camden, (856) 757-3500, LourdesNet.org
Pediatric Practice
Advocare Lerch & Amato Pediatrics
Finding a reliable pediatrician is a priceless commodity. Advocare Lerch & Amato Pediatrics is a local practice committed to helping you raise a healthy and happy child, from infancy through adolescence. Plus, the practice is affiliated with Virtua Health and Kennedy Health Systems.
Locations in Gibbsboro and Sewell, AdvocareDoctors.com/LerchAmatoPeds
Reader's Choice:
Advocare Township Pediatrics
123 Egg Harbor Road, Sewell, (856) 227-5437, AdvocareDoctors.com/TownshipPeds
Family Medicine
Advocare Pediatric & Adult Medicine

You can trust a family practice that's led by a father and son team. Drs. S. Jay and John C. Mirmanesh offer all the typical preventive care services, but they also have an on-site allergy department and are trained to handle many sports injuries on-site. Locations in Marlton and Sicklerville, AdvocareDocMir.com
Family Dentistry
Dr. Mary Farren, DMD
Having one doctor who can provide all the dental services you need for yourself and toddlers through teens is a convenience factor not to be underestimated. Even better, as a family and cosmetic dentist, Farren takes great pride in spending time to get to know each patient and make them feel at home.
1908 Springdale Road, Cherry Hill, (856) 751-6606, MaryFarrenDMD.com
Readers' Choice:
Center Square Family Dental
120 Center Square Road, Suite 205, Woolwich, (856) 294-6767, CenterSquareDental.com
Cosmetic Dentistry
Washington Township Dental Associates
A smile you're proud to show off goes a long way in building confidence and self-esteem, which is why the professionals at Washington Township Dental Associates concentrate on services such as bonding, porcelain veneers and teeth whitening.
474 Hurffville-Cross Keys Road, Sewell, (856) 582-1000, WashingtonTownshipDental.com
Readers' Choice:
Drs. Sullivan and Turner
736 W. Somerdale Road, Somerdale, (856) 784-3440, AdvancedCosmeticDentistry.net
Dental Implants
Dental Arts of South Jersey
Dr. Jack Piermatti, who founded the New Jersey Center for Implant Dentistry 25 years ago at his Dental Arts practice, is an international presenter and lecturer on clinical implant dentistry and implant surgery, so when you're looking for a prosthodontist, his is a name to know.
1001 Laurel Oak Road, Suite C1, Voorhees, (856) 783-5777, DentalArtsOfSouthJersey.com
Periodontal Health
Periodontal Health Professionals
Dr. Gail Childers offers gum grafting, crown lengthening and other periodontal surgery options—like guided tissue bone regeneration or nerve repositioning—to repair smiles and maintain healthy gums and jaws.
Locations in Marlton and Turnersville, (856) 983-5593, (856) 228-4141, DrGailChilders.com
Orthodontics
Segal and Iyer Orthodontics
Orthodontics has become something the whole family can take advantage of at Segal & Iyer. Adults like going—they make up nearly 20 percent of the practice—due to services like Invisalign. And if the game room isn't enough to get kids excited about going, maybe the contests they hold will help.
501 Route 73 S., Suite 202, Marlton, (856) 396-9518, SegalAndIyer.com
Readers' Choice:
Kadar Orthodontics
485 Hurffville-Cross Keys Road, Sewell, (856) 582-1400, GoKadar.com
Pediatric Specialty Care
Nemours duPont Pediatrics
Nemours' Voorhees location is designed to handle the tougher challenges that may come with pediatric medicine. They specialize in everything from speech and occupational therapy to diagnostic testing that will give you the best answers to life's most important questions.
443 Laurel Oak Road, Voorhees, (856) 309-8508, Nemours.org
Family Planning
Delaware Valley Institute of Fertility & Genetics
Starting a family should be exciting, but for some it's a struggle. To help parents-to-be start the family they always dreamed of, Dr. George S. Taliadouros and his team focus on the cause of infertility and develop a unique plan for each patient, whether that means IVF, embryo/egg donation or surrogacy.
6000 Sagemore Drive, Suite 6102, Marlton, (856) 988-0072, StartFertility.com
OB/GYN
Obstetrics & Gynecology Associates
Dr. Joann Richichi first wanted to be a pediatrician, but realized in medical school that it broke her heart to treat sick kids. That's what led her to delivering healthy babies, though she also offers a full range of gynecologic health services, as well as HGC weight loss and hormone therapy.
239 Hurffville-Cross Keys Road, Suite 250, Sewell, (856) 262-8300, MyOBGYNDoctors.com
Orthopedic Surgery
Reconstructive Orthopedics
Orthopedics is a growing field due to the high number of injuries among youth athletes as well as active baby boomers. Luckily, the staff here includes some of the top names in the region, including Dr. Scott Schoifet, medical director for Joint Replacement Services at Virtua.
Locations in Cherry Hill, Lumberton, Marlton, Moorestown, Sewell, Somerdale, Vineland and Voorhees, ReconstructiveOrtho.com
Back Pain Management
Woodbury Spine
The doctors at Woodbury Spine offer everything from minimally-invasive to major surgeries, so you'll find solutions here like joint injections, cyst aspiration and spinal fusion to treat everything from headaches to degenerative disc disease.
1225 N. Broad St., Suite 3, Woodbury, (856) 845-0707, WoodburySpine.net
Behavioral Treatment Center
Center for Neurological and Neurodevelopmental Health
This neurological health center—which has now expanded to four locations—has grown equally in services, becoming a leading provider of treatment for ADHD, autism, brain injury/concussions, and seizure disorders, among others. They also recently started neuroeducational services to address students' learning challenges.
250 Haddonfield-Berlin Road, Suite 105, Gibbsboro, (856) 346-0005, The CNNH.org
Electrolysis Center
Bodywise Electrolysis
Barbara DeBrielle has been a certified professional electrologist since 1989 and has seen the boom in popularity for the service, whether it's permanent hair removal for the face, underarms, abdomen or elsewhere, for both men and women. That, along with being the vice president of the Electrologists Association of New Jersey, makes her a leader in the field.
44 Cooper St., Suite 200, Woodbury, (856) 848-9991, BodywiseElectrolysis.com
Cosmetic Skin Care
Cosmetic Surgery Center of Cherry Hill
If your goal is to turn back the clock without going under the knife, then this is the place to turn for services including Clarisonic cleansing, chemical peels and even lash and brow tinting. For an added pampering splurge, check out their Facial of the Month Club.
1942 Route 70 E., Cherry Hill, (856) 751-7550, ILoveLyleBack.com
Hair Care — Adults
Suede Salon and Spa
They do it all here, from blowouts to updos, coloring to texturing, and we like that there's something for everyone. For those with curly hair, take note of the "Our Answer to Curls" section on their services menu, which includes the definition-enhancing "carve and slice" technique.
500 Route 73 N., Marlton, (856) 985-0700, SuedeSalonSpa.com
Readers' Choice:
Martino Cartier Salon
Locations in Cherry Hill and Sewell,MartinoCartier.com
Hair Care — Kids
Kids Kuts
A trip to the hairdresser for your children doesn't have to be a drag, for you or them. Kids will love the toys in the waiting area, the animal or car seats, and the lollipops and stickers when they're finished. Parents will love the reasonable prices.
Locations in Cherry Hill, Turnersville and West Deptford, KidsKutsRUs.com
Day Spa
Haven Day Spa
Formerly known as the Rizzieri Haven Spa and now under new ownership, this remains the perfect place to unwind and treat yourself to a relaxing afternoon. Whether you're getting a facial, a manicure and pedicure or a massage, you're certain to leave feeling revitalized.
133 Egg Harbor Road, Suite D-E, Sewell,(856) 218-3001, HavenDaySpa.com
Readers' Choice:
In the Village
120 Center Square Road, Suite 102, Woolwich, (856) 241-1218, InTheVillage.com
HOME & GARDEN
Kitchen and Bath Remodeling
A&J Custom Home Remodeling Center
Whether you're a cook or not, you tend to spend a lot of time in the kitchen. A&J has been designing dream kitchens for years, and will build each cabinet to fit your specific needs. That attention to detail, along with the finest products and designs, can also be found in their bathroom remodels.
1342 Kings Highway, Swedesboro, (856) 832-4001, A-JCustomHomes.com
Readers' Choice:
Matteo Family Kitchens
20 Old Salem Road, Woodstown, (856) 769-2490, MatteoKitchens.com
Home Renovation
Home Trimwork
Sometimes updating your home with a large-scale renovation can be too time-consuming and expensive. Home Trimwork can spice up boring spaces in the kitchen, bathroom or den in just a few days with additions such as crown molding, raised panels, fireplace mantels, built-in bookcases and more.
Serving South Jersey, 1 (800) 888-4467, HomeTrimwork.com
Readers' Choice:
A5 Handyman and Remodeling
1258 Haddonfield-Berlin Road, Voorhees, (856) 719-0200, A5Remodeling.com
Home Construction
Brindisi Builders
A family-owned business since 1976, Brindisi has completed more than 10,000 remodeling projects. That's the kind of experience we want when it comes to adding a special room or even renovating the entire house. Brindisi also stresses a clean worksite, and that goes a long way, too.
59 S. Maple Ave., Marlton, (856) 985-6219, BrindisiBuilders.com
Readers' Choice:
Merryfield Construction
138 N. Broadway, Gloucester City, (888) 612-5450, MerryfieldConstructionGroup.com
Hearth Specialists
The Fireplace People
Winter is coming, and if you've been thinking about adding a fireplace to your house, now is the time. The Fireplace People, with more than 30 years of experience, can install a wood, gas or electric fireplace that will bring character to your home and help keep out the cold.
794 Route 73 S., West Berlin, (856) 768-0009, TheFireplacePeople.com
Greenhouse
Mr. Green Jeans Farm Market and Nursery
Find the perfect plant or flowers for your house and backyard at Mr. Green Jeans, where 90 percent of the products are grown on the premises. With the holidays approaching, be sure to stop by for Christmas trees of all shapes and sizes in the color of your choice.
210 Route 73 S., Hammonton, (609) 567-5786, MrGreenJeansNJ.com
Patio Furniture
Green Lea
With more than 200 patio sets on the showroom floor, Green Lea is sure to have the ideal furniture for your outdoor entertainment. They stock the top manufacturers of cast aluminum, sling, wicker and wrought iron furniture, and the knowledgeable staff is happy to help you make the choice that's right for you.
204 Route 73 N., Voorhees, (856) 767-4413, GreenLeaGardens.com
Gardening Supplies
Magnolia Garden Village
All the gardening supplies and expertise you need to create a beautiful landscape for your yard can be found at Magnolia Garden Village, family-owned for more than 50 years. They can also help you plant your own garden, as more and more South Jersey residents are growing their own fresh produce.
405 S. White Horse Pike, Magnolia, (856) 783-4717, MagnoliaGardenVillage.com
Interior Design
Rooms in Bloom
When it comes to home decorating, some people know what they want but need help pulling it together, while others need guidance in coming up with a vision. Either way, Jennifer Baxter and Kathy Geller can use their creativity to deliver the perfect décor within your budget.
Moorestown, (856) 722-1505, RoomsInBloomNJ.com
Window Treatments
Jen-N-Josh Blind Co.
The right window treatments vary from house to house and room to room, but whether you're going with draperies, shades or shutters, the experts here can help you come up with a creative and appealing look.
Serving South Jersey, 1 (888) 536-5674
Realtor
Anne Koons
Anyone who has recently bought or sold a home knows that trust, accessibility and great listening skills are all musts in a realtor. Anne Koons brings all of that, as well as almost 30 years of experience in the South Jersey real estate market, to the table.
1401 Route 70 E., Cherry Hill, (856) 795-4709, AnneKoons.com
Readers' Choice:
Jennifer Baxter
1 W. Main St., Moorestown, (856) 222-5818, FoxRoach.com
Pools
Swim-Mor
You might never want to leave the backyard in the summertime after having a custom-made pool built by Swim-Mor. Some of the exciting options they offer include vanishing edges, rock waterfalls, fountains and bar stools.
920 Lake Drive, Mount Ephraim, (856) 456-3332, SwimMor.com
Readers' Choice:
The Pool Store
288 Egg Harbor Road, Sewell, (856) 286-3300; 19 Cross Keys Road, West Berlin, (856) 767-8900; ThePoolStore.com
EDUCATION
Early Childhood Education
Malvern School
We all want the best foundation possible for our children, so a center with a curriculum designed to meet or exceed standards established by the National Association for the Education of Young Children is a good start. Here, collaboration with parents is considered a priority and the focus is on emotional and cognitive development.
Locations in Medford, Voorhees, and Washington Township, MalvernSchool.com
Preschool
Rancocas Friends School
Rancocas Friends School provides an atmosphere that emphasizes hands-on learning. The school also features extra curriculum for enrichment, which includes a variety of different activities and trips, and allows students ages 4-5 to develop friendships and learn about wildlife and nature outside of the classroom.
201 Main St., Rancocas, (609) 267-1265, RancocasFriendsSchool.org
Reader's Choice:
Blooming Buds Childcare Center
700 Second St., Suites A & B, Swedesboro, (856) 241-7611, BloomingBudsChildcare.net
After-school Care
Archway Programs
Archway Programs has been caring for children with special needs since 1965, but they also offer on-site, before- and after-school care for all students in more than 30 schools in South Jersey. Their Just Kids program ensures a safe and enriching environment until mom or dad get home from work.
280 Jackson Road, Atco, (856) 767-5757, ArchwayPrograms.org
Pre-K-8 Private
Haddonfield Friends
The trademark phrase of this private Quaker school, "Confidence Uplifts," is apparent throughout the halls. Whether a student is in kindergarten or eighth grade, their focus is continuing to be curious learners who aren't afraid to ask questions, a skill required if one is to become an independent thinker.
47 N. Haddon Ave., Haddonfield, (856) 429-6786, HaddonfieldFriends.org
Pre-K-12 Private
Moorestown Friends
Moorestown Friends is known for its rigorous programs inside the classroom as well as in the community. During one week every year, classes are suspended and Middle and Upper School students and teachers participate in an in-depth program, often involving off-campus research as far away as the Florida Everglades, Mexico or even Europe.
110 E. Main St. Moorestown, (856) 235-2900, MFriends.org
Behavioral Learning Center
Brain Balance Achievement Center
The Brain Balance Achievement Center takes a drug-free approach to behavioral therapy and tailors programs specifically to each child's individual needs.
Locations in Mount Laurel and Glassboro, BrainBalanceCenters.com
Tutoring Center
Huntington Learning Center
This education center offers tutoring in a wide array of subjects, focusing on academic skills and exam preparation, and bases every decision on the unique best interest of its students.
Locations in Cherry Hill and Turnersville, HuntingtonHelps.com
Readers' Choice:
Tutoring Club of Cherry Hill/Voorhees
484 E. Evesham Road, Cherry Hill, (856) 616-8808, TutoringClub.com
Transition Program
Bancroft School Transition Program at Camden County College
Now in its third year, this collaboration between Bancroft School and CCC is for students 18-21 with autism or other developmental disabilities. The goal is to help them transition to adult lives and jobs by providing a range of collegiate experiences, such as work opportunities and interaction with other students.
425 Kings Highway E., Haddonfield, (856) 524-7322, BancroftNJ.org
Summer Camp
JCC Camps at Medford/Early Childhood Camps at Katz JCC
Located on 120 acres in Medford, the JCC Camps have plenty of activities for kids 3 to 14, including swimming, boating, fishing and more. For the 2-3-year-olds, the Early Childhood Camps provide swimming, arts and crafts and sports, among other activities.
400 Tuckerton Road, Medford, (609) 654-5192 (summer), (856) 751-1666 (offseason), JCCCampsAtMedford.org; 1301 Springdale Road, Cherry Hill, (856) 424-4444, KatzJCC.org
SENIOR LIVING RESOURCES
Home Care
Spring Hills Home Care Services
For the loved one who isn't ready to give up living in their own home, Spring Hills offers a comprehensive program where a registered nurse will first visit to evaluate the clients' needs before matching them up with a vetted home health care aide. Clients are then reassessed every 60 days.
1450 Marlton Pike E., Suite 100, Cherry Hill, (800) 638-5110, SpringHillsHCS.com
Residential Living
Collingswood Manor
Maintain your independent living while taking advantage of all that Collingswood Manor has to offer with its residential living service, which includes meals, security, maintenance, access to their health center, and maybe the best part—activities and transportation.
460 Haddon Ave., Collingswood,(856) 854-4331, UMH-NJ.org/cm
Long-Term Care
CareOne at Moorestown
The specialists at CareOne will help you choose the best options available for long-term care, and their programs offer services like 24-hour-a-day registered nurses, licensed nutritionists and spiritual support services.
895 Westfield Ave., Moorestown, (856) 914-0445, Care-One.com
Sub-Acute Rehabilitation
AristaCare at Cherry Hill
Along with a therapy gym and access to a consulting physiatrist as well as specialists in physical, occupational, speech and recreational therapies, patients here have access to social and recreational events ranging from Wii games to massage therapy, and a long list of services designed to make rehabilitation as smooth as possible.
1399 Chapel Ave., Cherry Hill, (856) 663-9009, CherryHillRehabNJ.com
Aging-in-Place Senior Care
Woodbury Mews
Woodbury Mews offers on-site nursing care and visiting doctors, and develops personalized assistance that's unique to each resident so they can feel comfortable that their changing needs will be taken care of. This recently renovated facility also includes a theater, indoor/outdoor dining, a bistro/café, and a wealth of activities and trips.
122 Green Ave., Woodbury, (856) 292-6056, Woodbury-Mews.com
Senior Safety Provider
All Star Lifts
All Star Lifts has been preserving the independence of seniors for more than 40 years with a selection of Stairgliders, Stairlifts, ramps and elevators to make getting around the house much less burdensome.
Serving the tri-state area, (609) 442-7508, AllStarLifts.net
Published (and copyrighted) in Suburban Family Magazine, Volume 4, Issue 9 (November, 2013).
For more info on Suburban Family Magazine, click here.
For information about advertising in Suburban Family Magazine, click here.
To find out where to pick up your copy of Suburban Family Magazine, click here.