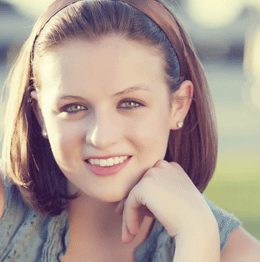 Star Students: November, 2013
Kacie Dunham (pictured)
Medford
Dunham, a senior at Shawnee High School, was recently recognized on a national level for both her academic and athletic accomplishments. She was named a National Merit Scholarship semifinalist, in recognition of achieving a score in the top 1 percent of all students in the nation taking the PSAT, and she was also named a USA Swimming Scholastic All American for achieving the USA Swimming cut time in the breaststroke while maintaining a perfect 4.0 GPA.
Washington Township High School Peer Outreach Club
Washington Township
The WTHS Peer Outreach Club's latest project involved looking out for the four-legged members of their community. Led by senior Katie Lee, Peer Outreach members gathered old T-shirts, cut them and braided them to make dog toys. The toys were donated to the Camden County Animal Shelter. The club's past projects included making cards and centerpieces for senior citizens, and volunteering at the annual Festival of Friends.
Lenape High School DECA members
Mount Laurel
DECA leaders from Lenape High School attended the New Jersey DECA Chapter Official Leadership Training at the Burlington County Institute of Technology in Westampton. During the conference, students were taught about goal setting, leadership, communications, team building and public speaking. The conference was held in an effort to motivate students to become exceptional leaders on their local chapter level.
Neil Sefah
Moorestown
A senior at Moorestown Friends School, Sefah was recently named a National Achievement Scholarship Program semifinalist. The program recognizes academically gifted African American students, and Sefah is among 1,600 other students being considered for a scholarship. Winners will be announced in April.
Bunker Hill Middle School Roots and Shoots Club
Washington Township
Thirteen students from the Roots and Shoots Club of Bunker Hill Middle School volunteered in the annual Washington Township Clean-up Day. The students participated by cleaning up Cedar Lake in Washington Lake Park. The group's efforts were vital to the Washington Township Environmental Commission, which hopes to have the Cedar Lake section of Washington Lake Park in good enough shape to be reopened for Earth Day in April.
Allison Fasano
Mount Laurel
Lenape High School senior Fasano recently won the grand prize in an art poster contest held for Lenape students during Anti-Violence Awareness Week. This year's theme for the Anti-Violence Awareness Week poster contest was the dangers of substance abuse, and the winning poster, along with the second- and third-place posters, was put on display in Lenape's cafeteria.
Francis S. Demasi School students
Marlton
Elementary school students, assisted by their teacher JoAnne Cannon, illustrated a book that denounces bullying and aims to instill a positive self image for boys and girls. The book is illustrated by the school's third-, fourth- and fifth-graders, and it promotes turning thoughts into words and actions in order to help students build better self-esteem.
Anna Mourovannyi and Hye Ren Kim
Cherry Hill
Cherry Hill High School West student Mourovannyi and Cherry Hill High School East student Kim were selected to perform with the All National Choir and Band, respectively. Mouroyannyi performed in the choir and Kim played the flute in Nashville in October. This highly competitive ensemble performed on behalf of the National Association for Music Education, which works to provide resources and comprehensive education for students and teachers interested in musical education.
Kathleen Brennan, Christie Hopkins, Lacy Michaels, Samantha Schwartz and Hannah Turck
Medford
Shawnee High School students Brennan, Hopkins, Michaels, Schwartz and Turck joined more than 7,500 members of the Family Career and Community Leaders of America (FCCLA) as participants in the FCCLA National Leadership Conference in Nashville this past summer. All five achieved honors for their participation in the National Star Competitive Events and Conference, which recognizes excellence in a variety of different skills involving leadership and team exercises.
Haddonfield Environmental Studies Students
Haddonfield
Students from the environmental sciences program helped the Rutgers Cooperative Extension of Camden County and Camden County Soil District complete an award-winning algae cessation project at Hopkins Pond in Haddonfield. With the help of faculty, the students collected water quality data and assisted in monitoring the pond's habitat, which led to a reversal in algae growth and an award from the Association of N.J. Environmental Commissions.
Elizabeth Lee
Voorhees
Lee was one of 22 high school cellists across the country selected to be a member of the 2013 All-National Honors Orchestra. She traveled to Nashville in October to participate with the group, while representing Eastern High School in this honorary position. The Eastern Tri-M Music Honor Society sponsored her trip.
Abhay Aradhya and Lauren Brill
Moorestown
Moorestown Friends School seniors Aradhya and Brill were recently named National Merit Scholarship semifinalists. They were selected from high school students scoring in the 99th percentile or above on the 2012 Preliminary SAT/National Merit Scholarship Qualifying Test.
Published (and copyrighted) in Suburban Family Magazine, Volume 4, Issue 9 (November, 2013).
For more info on Suburban Family Magazine, click here.
For information about advertising in Suburban Family Magazine, click here.
To find out where to pick up your copy of Suburban Family Magazine, click here. Know a Star Student? Tell us about him or her at Family@SouthJersey.com.