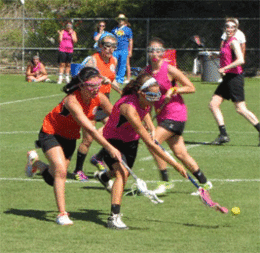 Star Athletes: November, 2013
Tahlee Yichye (pictured)
Voorhees
Yichye, pictured above at left, a sophomore lacrosse player at Eastern Regional High School, was selected to play on the first-ever U19 national Israel lacrosse team, which comprises Israeli and Jewish-American players. She will leave this December to begin training at Wingate Institute for Sport in Netanya over winter break before traveling to Warsaw, Poland to compete against other national teams.
Greg Lee
Haddonfield
Lee, a graduate of Haddonfield Memorial High School, recently placed 1st in the men's division at the Washington College men's and women's triathlon in Maryland. The triathlon consisted of a 100-mile bike ride, a two-mile run and 1,000-yard swim. The competition raised $1,500 that will benefit the American Cancer Society's Relay For Life.
Hannah Keane
Mullica Hill
Keane was honored as the Most Valuable Player at the UNC Junior Elite Residential Academy. Keane received this recognition at a University of North Carolina training camp she attended over the summer. The honor was presented by former U.S. National Soccer Team and UNC Women's soccer coach Anson Dorrance.
Breezy Maravich
Moorestown
Moorestown senior Maravich recently won the South Jersey Interscholastic Tennis Championship in singles play with a 5-7, 6-3, 6-4 win over Haddonfield's Amanda Lanciano. Maravich was ranked as one of the best female high school tennis players in South Jersey going into the final.
Maddy Berman
Cherry Hill
Cherry Hill East cross country runner Berman placed first at the Camden County Championships, clocking a time of 19:17 at Pennypacker Park. The senior also had a strong showing at the Olympic Conference Championships, finishing in 19:58 to land in the top 20.
Briana Gess
Haddonfield
Gess, a freshman, turned in one of the all-time best performances by a New Jersey runner at the 41st Manhattan Invitational at Van Cortlandt Park, a long-distance race held in the Bronx. Gess completed the race in 14:28.9, which is now the eighth-best time ever by a New Jersey girl at the event and was the seventh-best time of the day.
John Fox
Marlton
Fox, a 16-year-old Marlton resident and St. Augustine Prep junior midfielder, recently accepted a partial athletic scholarship to attend Fairfield University in Connecticut, where he plans on studying business and economics. Fox scored 10 goals and had 11 assists his sophomore season. He is also one of six members of his junior class to be selected to play Division I lacrosse upon graduation.
Emily Sheehan
Mount Laurel
Sheehan, a senior volleyball player at Lenape, has taken on a proactive role in cancer research and fundraising in her school and with her team. Sheehan, who was diagnosed with hip cancer in July, has organized multiple events at her school and with her volleyball team, supporting cancer research through donation-based events. These include a Pink 5k Run and wearing "Dig Pink" shirts during volleyball matches.
Austyn Cuneo
Voorhees
As if breaking Eastern Regional High School's career goal record was not enough, field hockey player Cuneo also broke the national career goal—reaching 193 goals—in a match against Cherry Hill East. The record was previously held by Lexi Smith of Florence in 2012.
Jake Powell
Marlton
Powell, a tight end and linebacker for Cherokee, is following in the footsteps of his family members. Like his father and brother, he has committed to the University of Delaware to play, having also received offers from Colgate, William and Mary, Bucknell and Buffalo. Last season, Powell made a name for himself by catching 35 passes for 440 yards and five touchdowns—an impressive record that increased his career numbers to 51-647-6.
Shea McGee
Washington Township
McGee, senior midfielder of the Washington Township field hockey team, scored a hat trick against American Division Olympic Conference rival Cherokee, setting the team back on track after a tough loss the game before. McGee's hat trick aided the Washington Township Minutemaids in solidifying an 8-0 win over Cherokee and picking up a conference win for the team.
Brenden Aaronson
Medford
Medford soccer phenom Aaronson was invited to the first training camp of 2013-2014 cycle for the U.S. U14 boys national team. Aaronson joined 47 other elite athletes from all across the country at the U.S. Soccer National Training Center in Carson, Calif., for the camp. The attendees played two intra-squad scrimmages and watched an MLS match between Chivas USA and the San Jose Earthquakes.
Published (and copyrighted) in Suburban Family Magazine, Volume 4, Issue 9 (November, 2013).
For more info on Suburban Family Magazine, click here.
For information about advertising in Suburban Family Magazine, click here.
To find out where to pick up your copy of Suburban Family Magazine, click here. Know a Star Athlete? Tell us about him or her at Family@SouthJersey.com.