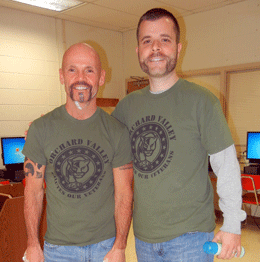 Star Teachers: November, 2013
Bob Rourke (Pictured)
Washington Township
Rourke, a teacher at Orchard Valley Middle School pictured above at left, won the school's "Mustaches for Military Veterans" competition, which ran throughout the month of October. Nine teachers participated in the competition, during which they grew out their facial hair and allowed students to vote on which teacher they most wanted to see with a wacky shave. Students voted by placing money in jars assigned to each teacher, and Rourke's jar collected just over $62. The event raised over $730 total.
Maureen Schoenberger
Medford
Technology teacher Schoenberger helped the students of Milton H. Allen Elementary School participate in Peace Week, a week dedicated to teaching lessons and discussions on peer-to-peer relationships and the impacts of bullying in schools. Her fifth-graders posted comments about a video on cyber-bullying she showed to them on a cyber-wall she created, while the younger students worked on a computer lesson about the book Out on a Limb: A Guide to Getting Along.
Raymond Anderson
Washington Township
Anderson, the district world languages supervisor, will now enjoy the principal's chair at Whitman Elementary School. Anderson began working as a German and French instructor at Washington Township High School in 2002. He will begin his duties as principal in February.
Denise Santucci
Cherry Hill
Eighth-grade language arts teacher Santucci, of Carusi Middle School, will be a recipient of the Rider University Cooperating Teacher Excellence Award. Santucci was selected for the award due to her excellent work and powerful mentorship with a Rider student-teacher last spring. She will be honored during a ceremony at Rider in December.
Leeanne Schmidt
Moorestown
Schmidt started the first-ever Yoga Club at Moorestown Upper Elementary School. Students engage in exercises aimed at stress relief and the fitness of not only the body, but the mind as well. The club also uses music as an aid to meditation and concludes with a discussion on the history and evolution of yoga.
Jessica Miller
Haddonfield
Miller asked students at Central Elementary School, where she is a librarian, to bring in Halloween costumes from years' past to be donated to those who might not be able to purchase a costume on their own. Two charities in Camden benefited from the effort and repurposed 107 costumes that may have otherwise sat forgotten in a closet for another year.
Ed Cuneo
Marlton
As a third-grade teacher at Marlton Elementary School, Cuneo has been employing a new program, titled CARES (Cooperation, Assertion, Responsibility, Empathy, Self Control), to help students understand how to positively contribute to their community. The students have already been applying their new lessons at school by opening doors for others and using school-appropriate voices in the hallways.
Linda Martin
Washington Township
Chestnut Ridge Middle School reading teacher Martin organized an event that honored military veterans visiting the school. It included a homemade breakfast, an introduction performed by band, orchestra and chorus students, as well as plaques of appreciation. She also selected students to share essays that commended the group.
Kathy Waldron
Mount Laurel
To help her students learn more about the source of dairy products, Waldron, a special education teacher at Lenape High School, took the students of her Living Well class on a tour of Creamy Acres farm in Mullica Hill. The class learned about the care and maintenance of a dairy farm and the process of producing milk and other dairy products.
Rebecca Jenkins
Marlton
This fall, Jenkins introduced yet another new tool in her physical education class to get kids active. When students returned to Beeler Elementary, they worked with medicine balls, jump rope and more, but the highlight was an inflatable paddleboard, which she says helps children develop muscle control and balance.
Sheila Miller
Mount Laurel
Miller, the district supervisor of curriculum, unveiled a new elective program she helped formulate at Harrington Middle School to replace study hall. The unique interest-based approach includes courses on financial literacy, creative thinking and publishing.
Gregg Molotsky
Voorhees
Molotsky, a science teacher at Eastern High School, is directing the fall drama, which has a much more serious tone than many performances of the past. Ghetto, a fictional work taking place during the Holocaust, will be performed later this month. To help students understand the importance of the play, he took the cast to the Holocaust Memorial Museum in Washington, D.C., and also held a screening of Schindler's List.
Published (and copyrighted) in Suburban Family Magazine, Volume 4, Issue 9 (November, 2013).
For more info on Suburban Family Magazine, click here.
For information about advertising in Suburban Family Magazine, click here.
To find out where to pick up your copy of Suburban Family Magazine, click here. Know a Star Teachers? Tell us about him or her at Family@SouthJersey.com.