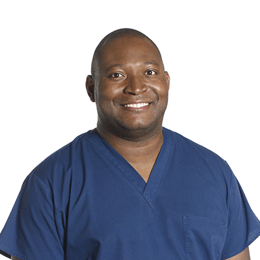 Holdbrook Pediatric Dental
Advice from the Expert: Holdbrook Pediatric Dental's Dr. Wendell Holdbrook
Like any area of a child's health, regular visits to the dentist are an important part of their well-being. Seeing a pediatric dentist who specializes in treating children from ages 1 to 18 years will lay the foundation for lifelong oral health, and also help them be less anxious about visiting the dentist. Dr. Wendell Holdbrook, of Holdbrook Pediatric Dental, opened his first office in 2008 and second location in 2011. He told us why parents should prioritize their children's oral health and set an example at home between visits to instill good dental habits.
Is there additional training to become a pediatric dentist? Pediatric dentistry requires an additional two years of dental schooling. During those two years, you learn how to deal with patients from ages 1 to 18 and their growth and development from childhood to adolescence to help them maintain their oral health before seeing a general dentist.
Would you say a pediatric dentist needs any special skills to work with children? There are definitely personality traits you need, like being friendly and approachable. You also need patience. Not all kids are the same and you have to be patient with their behavior and understand that it can sometimes be a scary experience for them.
How do you put children at ease when coming in for treatment? I think the best way is to tell them what is happening every step of the way. I show them all of the equipment, like the mirror and the tools I'll use. I explain the purpose of each tool and then I conduct the treatment. Knowing what to expect makes them comfortable.
What age should parents begin bringing their children to a dentist? The American Academy of Pediatric Dentistry recommends seeing a dentist six months after they get their first tooth, so typically that's 1 year old. We think this is ideal because it gives us the opportunity to educate the parents on how to take care of their children's teeth. We can give them guidance on which teeth to expect next, and along the way, teach them how to floss properly or look for signs of decay. Many parents don't know to bring their kids in so early, and we'll meet new patients who are 3 years old and haven't been to a dentist and often they have cavities already. The earlier you start to bring them to a dentist, the better off for the child and the parent. The worse things get, the more complicated they become to treat.
What are some healthy habits for parents to instill in their children between dental visits? Snacking between meals is a dangerous habit and is a contributor to cavities forming. If you want to give your kids juice, that's fine, but we suggest giving it to them during meal times, like lunch or dinner, and not in between. If you teach them that juice is a drink to have with a meal, then it's one step toward healthier teeth.
We also encourage parents to brush with their children, even up until they are 8 years old. Sometimes kids will rush through brushing when you're not looking, but if you're there with them, you can make sure they are doing it right.
Holdbrook Pediatric Dental, LLC
250 Haddonfield-Berlin Road
Suite 101
Gibbsboro
(856) 783-0444
553 Beckett Road
Suite 604
Swedesboro
(856) 556-4020
Published (and copyrighted) in Suburban Family Magazine, Volume 4, Issue 9 (November, 2013).
For more info on Suburban Family Magazine, click here.
For information about advertising in Suburban Family Magazine, click here.
To find out where to pick up your copy of Suburban Family Magazine, click here.