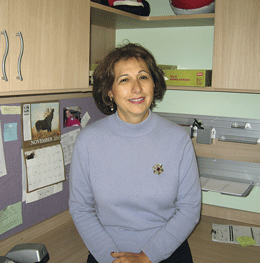 California Closets
Advice from the Expert: California Closets Vice President Shiva Nili
If you've found yourself frustrated recently while searching through the chaos that you call your closet, or if productivity is virtually non-existent in your home office because it's just too cluttered, it might be time to step back and think about how to better organize things.
We spoke with Shiva Nili, vice president of California Closets, about what people can do when they finally decide enough is enough. Together with her husband, Dan, president of California Closets, and son, Eric, the Nilis have been helping people create custom spaces and organized areas in their homes for the past 28 years. Shiva Nili understands how frustrating it can be to go into a room that has no rhyme or reason, and knows how important it is for both productivity and overall happiness to get it back to a functioning state.
What are some of the reasons people might not have success in organizing their closet? There are five main reasons we say a person's closet may not be working for him or her: The closet lacks basic tools, like specific storage areas for shoes and accessories; the closet hasn't been layered to prevent a cluttered look; the closet hasn't been purged of unnecessary items; seasonal items, such as flip flops or boots, are taking up space in the wrong season; and items that have actually been selected for donation never get donated and continue to take up space.
When is the best time to tackle an organization project? The best time to start organizing is when you think you've stressed enough over a specific area, whether it's your home office or closet. When you're so stressed you can't find that specific dress or specific shoes you want, that's the time you have to start doing it. Life is overwhelming enough as it is for all of us. You don't need a cluttered closet or office to add to that stress.
What are some of the biggest mistakes people make when they decide to organize a specific room or closet? Some customers sacrifice quality to save money and opt for cheaper materials that are not going to last. Our material we use in our projects is not like that—it lasts forever. We use laminate materials that we guarantee as long as they own the house. It's also adjustable and can change to fit their needs. Never underestimate the power of quality, built-in cabinetry to unify a room—and to do so with both efficiency and good looks. What might be lost in flexibility within the space is gained in sure and steady practicality.
What are some trends you have seen in organizing lately? The Murphy bed [where the bed is stored in a compartment on the wall] is very, very popular right now. It used to be a trend in the '50s and '60s, and it's back now because we don't have enough room for stuff, and we're trying to be closer to family and friends. We were surprised in the beginning at all the requests we were getting for them, but now that we're installing them, we do at least one a week.
If someone wants to get started with organization, what do you suggest as a first step? The first step is to call us. No matter what size the job is, we will come in, measure it, and design an organizing solution in their house on our computer. Most of the time, installation takes only a day, and the customer can immediately start filling it up.
Despite your company's name, is it correct that you specialize in more than just closet organization? Yes, we help organize bedrooms, garages, entry ways, media centers, kids' rooms, offices, craft rooms, pantries and more. We have organization solutions for every room in the house.
California Closets
1211 Route 73
Mount Laurel
(800) 274-6754
CaliforniaClosets.com/Mt-Laurel
Published (and copyrighted) in the Art of Living Well pull-out section of Suburban Family Magazine, Volume 4, Issue 9 (November, 2013).
For more info on Suburban Family Magazine, click here.
For information about advertising in Suburban Family Magazine, click here.
To find out where to pick up your copy of Suburban Family Magazine, click here.