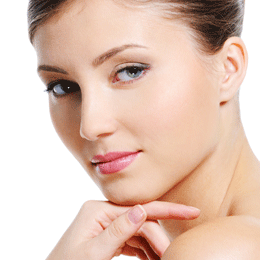 Looking Your Best
Holding onto youthful appearance is easier than ever thanks to advances in cosmetic skincare.
With so many people living longer than ever before, there has been growing interest in turning back the clock on an aging face. Oftentimes the telltale wrinkles around the eyes or the creases around the lips are the only signs a person has aged. These days, there are a myriad of products and treatments that claim they can take years off your face—but how do you find the right one? We spoke to some of the region's skincare experts about what they recommend.
"When we look good, we feel good, and feeling good about ourselves makes us more confident," says Donna Giosa, an esthetician with Rizzieri Salon & Spa in Marlton. "People are taking better care of their bodies and their appearances and as a result are living longer lives."
But as they're living longer and healthier, many individuals are finding that even though they feel great on the inside, their skin has begun to show its true age. Fortunately, there are a variety of options for creating a more youthful look. Giosa says Rizzieri offers a number of treatments that can help people look younger. These include Pelleve (a treatment that delivers collagen production to areas of the face), DermaSweep (particle-free resurfacing with a peel), dermaplaning (scraping off dead skin cells and fine facial hair to leave a smoother texture), and microdermabrasion (deep exfoliation that sheds layers of dead skin cells), among others. "All of these services are non-invasive with minimal to no discomfort at all," Giosa says.
While surgery is always an option, these days many people are finding that these non-invasive methods are working wonders for them. And the best part is they don't have to go under the knife. Dr. Anu Momi, of Anu Medical Spa in Voorhees, says people today are looking for procedures that have little to no downtime. "They don't want their neighbors and friends knowing what they're doing, so they want treatment options with no downtime," she says. "They also want options that aren't too expensive."
At Momi's medical spa, a micro-needling technique called the Dermapen treatment has been meeting those criteria. "It's more aggressive than microdermabrasion but less aggressive than fractional lasers," she says. "It's like an ultimate facial. It's not very painful and you can also be topically numbed. Plus, patients love that there's no downtime."
Dr. Pooja Malik, medical director of Mullica Hill Skincare, says Exilis is an excellent non-surgical treatment option that has been getting great results at her practice—particularly in the neck and jowl area. This device delivers volumetric heating to the tissue to reduce wrinkles with high frequency technology. "When used in conjunction with Botox, it gives really great results and is definitely one that I'd recommend," says Malik. "It's not painful and feels like a warm massage."
Dr. Denise Farnath Alber, of Mazzuca Eye and Laser Centers in Logan and Pennsville, also recommends chemical peels, which remove the outer layers of the epidermis to improve sun spots, pores, fine lines, scars and wrinkles—depending on how deep the peel is. "There is no downtime with superficial peels, which have also come to be known as 'lunchtime peels,'" adds Alber.
Many people are already familiar with Botox and its ability to turn back the clock. "It weakens muscles that cause frown lines, forehead lines and crow's feet," says Alber. "With regular treatments, these lines can completely disappear. Fillers, like Restylane or Radiesse, can also be used to fill in deep lines such as the lines between the nose and mouth, lines around the mouth, or circles under the eyes."
Even just getting regular facials can make a big difference, adds Donnarose Baldi of Scruples by Donnarose (soon to be Sano Salons) in Marlton. "Facials are an important factor in keeping that youthful appearance," she says. "Removing the dead top layer of dry skin will create a more dewy appearance. A healthy glow makes you look younger."
But Baldi admits a healthy glow comes from more than just a facial. It's also about healthy eating and an overall healthy lifestyle. "It's a combination of a number of things," Baldi says. "A healthy mind and spirit go along with looking younger." Skincare at home
Of course, keeping up with a healthy skincare routine at home is also important, adds Donna Goudge, medical esthetician at the Lyle M. Back, M.D. Cosmetic Surgery Center of Cherry Hill. "Home care products are extremely important for maintaining healthy skin," Goudge says. "We carry Obagi products, Revision and Nia. We can recommend the best treatment and products for whatever your skin condition is—whether it's hyperpigmentation (age spots), acne, acne scarring, dry skin, wrinkles, fine lines or something else."
Goudge recommends using an exfoliating cleansing brush on a daily basis. "We carry the Clarisonic Pro for body and face, and the Mia for face," she says. "It helps with dryness, oily skin and cleaning out pores. Plus it's easy to use and only takes minutes."
With all of the treatment options available these days, patients have a lot of options when it comes to a younger visage. Malik says so many options make it important that people are doing their homework. "The only option used to be a face lift," says Malik. "Now there are so many options for people who don't want to go that aggressive, surgical route. No matter what you choose, do the research. With access to the Internet, it's easy to learn about the product or treatment you're considering. It's always helpful to ask friends for recommendations and choose a product or treatment that is tried and true."
Momi agrees. "There are a lot of places offering the same types of treatments, so it's important that you find one that's reputable," she says. "Make sure they can answer all of your questions—and do your own research so you know what to ask. With so many treatment options out there, you should be able to compare and contrast to find the one that's best for you."
Resources
Anu Medical Spa
200 Route 73
Voorhees
(856) 809-0909
AnuMedicalSpa.com
Lyle M. Back, M.D. ?Cosmetic Surgery Center of Cherry Hill
1942 Route 70 E.
Cherry Hill ?
(856) 751-7550
ILoveLyleBack.com
Mazzuca Eye and Laser Centers
Locations in Logan and Pennsville
(856) 678-4800
DrMazzuca.com
Mullica Hill Skin Care
201 Bridgeton Pike
Mullica Hill
(856) 478-4700
MullicaHillSkincare.com
Rizzieri Salon & Spa
Route 73 and Greentree Road
Marlton
(856) 985-5500
Rizzieri.com
Scruples by Donnarose
121 Route 73
Marlton (856) 985-1414
Published (and copyrighted) in the Art of Living Well pull-out section of Suburban Family Magazine, Volume 4, Issue 9 (November, 2013).
For more info on Suburban Family Magazine, click here.
For information about advertising in Suburban Family Magazine, click here.
To find out where to pick up your copy of Suburban Family Magazine, click here.