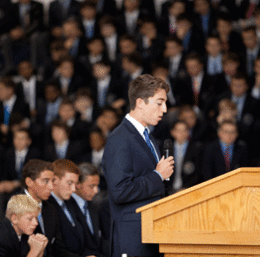 St. Augustine Preparatory School
Prepping Young Men for the Future: St. Augustine is a truly unique educational experience
When Austin Campbell first visited St. Augustine Preparatory School in Richland, he immediately knew it was the place he wanted to spend his high school years. But after stepping foot on the scenic wooded campus as a freshman, he started to have second thoughts. The Mullica Hill resident had left all of his friends back at public school, and here he was 40 minutes away at an unfamiliar place surrounded by strangers.
Soon, though, those strangers became like brothers. And it didn't take long for Campbell to realize he had found one of the most unique educational experiences in South Jersey. "After the first few weeks here, I couldn't imagine myself at any other school," says Campbell, now a senior. "I got to know everyone quickly and everyone here is so friendly. It made the transition from a public school to a private school very simple.
"It's been a great experience and I've learned a lot here," he continues. "It's definitely a different environment than what I would have experienced at public school. I think there's more of a connection here; more of a community feel between the students and the faculty."
St. Augustine, known as "The Prep," was founded in 1959 and is an all-boys Catholic school run by the Augustinian Friars of the Villanova Province. The school places great emphasis on developing "Christian gentlemen," and not only prepares its students for higher education, but for lives as productive citizens. "We provide a safe, strong, fraternal environment for young men to excel academically and spiritually during some challenging years in their lives," says Rev. Donald Reilly, the President of St. Augustine. "We're educating students to be change agents in society. In other words, we want them to be bright, we want them to be healthy and we want them to be service-oriented."
One particularly unique aspect of St. Augustine is the Third Semester program. In each of his first three years, a student will take a course either locally, nationally or internationally with fellow students and faculty members, to learn about the world and bring that experience back to school. The course usually lasts about two weeks and is typically held at the end of the school year. "Third Semester was a great experience," Campbell says. "As a freshman I went to Disney World; as a sophomore I went to space camp in Huntsville, Ala.; and this past summer I went to Seattle and Vancouver. It's not just a vacation—there's a learning component and a culture experience to take from each trip. For example, when we went to Disney, the main focus was business and leadership. We got to go behind the scenes and see how everything works. We didn't just go and have fun at the amusement park all day. We really got something out of it, and it was really nice to experience that in a different light."
Other features of The Prep that Campbell appreciates is the college-type atmosphere—the physical school campus lends itself to this as there are many different buildings on campus. "Students enjoy a lot more freedom to move around campus than at other schools that my friends attend. I think this is one of the best things about the Prep, and it is something that really attracted me to the school," Campbell notes. This freedom is embraced by St. Augustine students and creates a lasting bond between the students.
That camaraderie among students carries over to athletics, which are very important at The Prep. The Hermits have one of the finest athletic programs in the state, and is the home of the "Richland Rowdies" which is the name of the Prep's fan section. In line with its unique brand of education, St. Augustine also offers less traditional sports, such as fencing, squash, sailing and surfing. "I think the only thing we don't have is horseback riding," Reilly says with a laugh. "This is the school that never sleeps. There's always something going on in terms of athletics, and there's something for everybody."
Students can also expect a challenge in the classroom, another aspect of The Prep that prepares them for college. Their hard work pays off, as 100 percent of the graduates move on to higher education, including prestigious universities like Johns Hopkins, Notre Dame and Georgetown. "Last year our graduating class of 173 earned approximately $38 million in scholarships, which I think is absolutely fabulous," adds Reilly.
Prospective students and parents can find out more about The Prep at the school's January 15 Open House. Prospective students can also take part in the "Hermit for a day" program by shadowing a current student for the day, and apply online at Hermits.com. "We are a unique school, and the best way for a young man to experience that is to come and spend the day here," Cappuccio says. "Nine times out of 10, when students come here they really enjoy the day and they go home saying that this is where they want to go to school."
St. Augustine Preparatory School
611 Cedar Ave., Richland
(856) 697-2600
Hermits.com
Published (and copyrighted) in the Art of Living Well pull-out section of Suburban Family Magazine, Volume 4, Issue 9 (November, 2013).
For more info on Suburban Family Magazine, click here.
For information about advertising in Suburban Family Magazine, click here.
To find out where to pick up your copy of Suburban Family Magazine, click here.