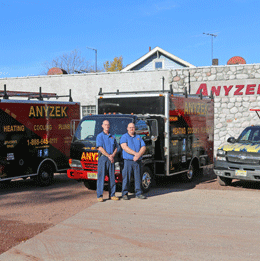 Anyzek Service
Always There When You Need Them: Anyzek Service—in business since 1932—is the dependable choice for your plumbing, heating and air conditioning needs.
Erna Long has had her share of heating and plumbing issues at her Gloucester City home, which is more than 150 years old. But she never worries when a new problem arises. She simply calls Anyzek Service, a company she has depended on for more than 25 years.
"I use them for everything," Long says. "They put in our new heater a few years ago, they put in new hot water hookups, they've done plumbing work in my kitchen and bathroom, I get my heating oil from them. Basically, this is the only place I go to. "I'm very pleased with them. They do a good job at a fair price, and you don't have to wait days for service like some other places. They're very caring and I can always count on them. We've dealt with them for many, many years."
Anyzek has inspired that kind of loyalty in its customers since its founding in 1932. What started as Anyzek Coal has evolved into a full-service plumbing, heating and air conditioning company that also specializes in fuel oil delivery. They can do repairs and installations for any type of heating or cooling system, and they serve all of Camden and Gloucester counties as well as the southern parts of Burlington County.
Anyzek places great importance on family values, which is fitting considering its history. Current owner Ed Anyzek Jr. learned the business from his father. "I've been doing this my whole life," he says. "My grandfather started the company in 1932 and my father, Ed Anyzek Sr., started running the company in 1959. My grandfather instilled a tremendous work ethic into my father, and that was passed on to me. [They taught me] about being there when the customer wants you and listening to the customer's problems."
That's why customers like Long know that if they have a problem, Anyzek will be right out to fix it—even if it happens in the middle of the night, or on Thanksgiving or Christmas. With the frigid winter months approaching, it's reassuring to know that if your heating system does need fixing, help is just a phone call away. "We have an answering service that takes calls 24/7 and our guys are on call 24/7. Our guys are always available," says Patty Anyzek, the office manager and Ed's wife. "You can wait two or three days for someone from the gas company to come out and fix your gas furnace for you," Ed Anyzek adds. "But we'll come out Sundays or holidays. We'll come out at 2 in the morning if we have to."
That same service applies to your plumbing needs, as Anyzek and his father are both state-licensed master plumbers. They replace water heaters, unclog sewer and drain lines, and fix leaky faucets or toilets.
Many people in the area also use oil heat for their home or business, and Anyzek's fuel delivery is prompt and reasonably priced. Long has always used oil heat in her home and is happy with the results. "They come once a month during the winter and fill whatever we need," she says. "We have oil heat and radiators, and it seems to keep the house warmer. This new heater we have doesn't use much oil; it's very economical."
Now is the time to have that heating system checked, before it gets too cold. Anyzek encourages its customers to call and schedule an appointment to have their heater cleaned.
"November is a very important month for anybody that has a gas or an oil heater," says Meredith West, Anyzek's public relations manager. "This is the time that you really want to get it cleaned so you're prepared for the change in weather during the wintertime. If it's clean and ready to go, in the long run that's going to save you money because the chances are greatly diminished that something's going to go wrong with it."
Anyzek now has a strong presence on social media, with company pages on Facebook and LinkedIn as well as a Twitter feed. You can find exclusive offers, tips on how to save money and links to relevant articles.
Still, the company remains true to the qualities that have defined it for 81 years—dependability and loyalty to its customers.
"What makes Anyzek stand out from the competition is personalization," West says.
"When somebody calls in, they're not just going to get an answering service. They're going to get a live voice from a friendly and knowledgeable staff and immediate answers. We try to accommodate the individual needs of every person that calls in, whether it's giving them a specific time or finances. Anyzek is kind of old school—you know what you're going to get."
She continues, "Anyzek is not some huge company where you're just a number ... you're a valued customer."
Anyzek Service
916 Market St., Gloucester City
(856) 456-5953
1 (888) 645-0111
AnyzekFuel.com
Published (and copyrighted) in the Art of Living Well pull-out section of Suburban Family Magazine, Volume 4, Issue 9 (November, 2013).
For more info on Suburban Family Magazine, click here.
For information about advertising in Suburban Family Magazine, click here.
To find out where to pick up your copy of Suburban Family Magazine, click here.