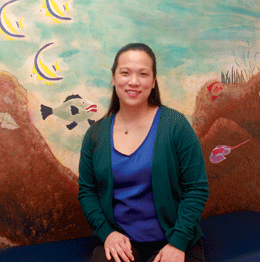 Advocare Lerch and Amato Pediatrics
International Adoption Medicine: Advocare Lerch and Amato Pediatrics Pediatrician Diana Lewitt, DO
Choosing a pediatrician for your child can be a long and complicated process. You want to find someone you're comfortable with and that you can trust will give your child the best care available. You also want to find someone who will make your child's first experience with medicine a good one. The process can be even more complicated if you're adopting a child internationally. On top of the fact that they are already being exposed to a number of new experiences, they may also have unique medical concerns that should be addressed.
We spoke with Diana Lewitt, DO, a doctor with Advocare Lerch and Amato Pediatrics who specializes in international adoption medicine, about what those concerns are and the considerations parents should make when they're looking into international adoption. Advocare Lerch and Amato Pediatrics provides unrivaled care for all children, but the special care Lewitt can provide for children adopted internationally is second to none.
How did you become interested in international adoption medicine?
I was internationally adopted from South Korea. There were other international adoptions in my family, as well.
Why is it important to have pediatricians who specialize in international adoption medicine?
It's important for general practitioners to become familiar with children who have been adopted internationally because they have a unique set of concerns, such as the possibility of malnourishment, developmental delay, infectious diseases, and possibly psychological issues if they've been institutionalized. These specific concerns that internationally adopted children have are generally much different than the concerns of a typical American child.
When should a family consider international adoption medicine?
There are a lot of things parents need to know before they adopt. If they're in the process of adopting internationally, they'll receive the child's name and some kind of medical history. They will also receive a referral to a pediatrician. Usually the medical history is not complete, so it can be overwhelming for the parent, and the pediatrician can help them go through it prior to the adoption. Based on the provided information, we can determine how the child is growing, what medical conditions there may be, and whether long-term care may be necessary.
Is it always recommended that a family considering international adoption refer to a pediatrician before the adoption is complete?
It is greatly recommended because then we can prepare the parents, and us, to know what we're getting into. It can help the parents to be prepared emotionally. It can also help answer questions like, "My child has hepatitis B, what does that mean?" Unfortunately, sometimes after referrals, parents decide they're not going to adopt that child. It doesn't happen often, but it's good for parents to know fully the child's current medical history so that when the child gets here, they're not neglected and are cared for properly. There's a lot in the beginning that parents aren't necessarily aware of, so a pre-adoption visit is a good consultation to have.
If a child has been adopted from another country, when should they see a pediatrician once they are in the United States?
After the adoption, we recommend patients are seen within the first week of their arrival, and again a month later. During the initial evaluation, we'll do labs and measure their height, weight and head circumference. In the one-month follow-up, we'll discuss how the child is attaching to the family, if they're having any school issues, and how their language competency is. From that point, we'll schedule follow-up appointments as needed, and they continue on through routine check-ups.
What are some common questions parents have when they decide to adopt internationally?
Generally, parents are looking for suggestions on how to introduce the child to the new culture, while incorporating their previous identity so the child feels like they have a link to the country they came from. They'll also wonder how the adoption could affect their biological children, and how adoption could affect them all as they get older.
Advocare Lerch and Amato Pediatrics 63 Lakeview Drive N., #202, Gibbsboro
(856) 344-3963
AdvocareDoctors.com
LerchAmatoPeds
Published (and copyrighted) in Suburban Family Magazine, Volume 4, Issue 9 (November, 2013).
For more info on Suburban Family Magazine, click here.
For information about advertising in Suburban Family Magazine, click here.
To find out where to pick up your copy of Suburban Family Magazine, click here.