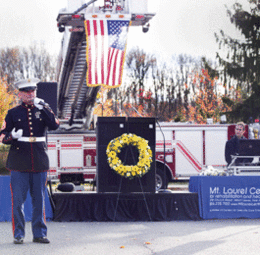 Mount Laurel Center for Rehabilitation and Healthcare
Mount Laurel Center for Rehabilitation and Healthcare Serving those who Served our Country: Mount Laurel Center for Rehabilitation and Healthcare honors veterans in special ceremony.
Community support is not something the Centers for Specialty Care Group takes lightly. As one of the leading providers of medical care, rehabilitative treatment and health care services in New York and New Jersey, the Centers operates 23 specialty, multi-purpose health care facilities, one of which is the Mount Laurel Center for Rehabilitation and Healthcare.
This location offers a 220-bed rehabilitation and skilled-nursing facility in a warm, nurturing environment, which allows each resident to maintain his or her individuality.
The Mount Laurel Center includes an experienced team of therapists who provide much-needed specialty care to each resident. Physical therapists help with muscle strength, joint mobility, posture, mobility, cardiovascular functions and more. Occupational therapists assist each patient in regaining skills to perform daily living activities at the highest level of independence possible, and speech therapists work on expanding auditory comprehension, oral expression, respiration and also swallowing.
Residents' dignity and independence is prioritized, leading to them living a healthier lifestyle. With this in mind, the Mount Laurel Center believes in making its residents feel at home, whether it's through the various resident services like beautician and barber services, educational programming, courtesy transportation or special events.
Throughout the year, the Mount Laurel Center holds events that involve its residents, their families and the community. Earlier this month, a heartwarming celebration for Veterans Day was held at the Mount Laurel location to honor its 27 veteran residents for their service to the country.
Organized by Mount Laurel Center Administrator Nate Goldman and Recreation Director Maria Gommel, the ceremony included several special guests. Retired Sgt. Tim Chambers, known as The Saluting Marine, addressed the audience and presented plaques to each veteran. Chambers is famous around the world for his annual salute to The Rolling Thunder in Washington, D.C., and he travels to raise awareness of veterans' causes. His appearance was made possible by the South Jersey Nam Knights—a motorcycle riding club that honors the memories of those lost in the line of duty—and Nam Knights member Bob Hammonton also spoke as an honored guest.
"We at Mount Laurel Center experienced an amazing event," says Goldman. "We saw tears in the eyes of our veteran residents and many of them commented to me that they had never felt appreciated for their duty to our country until today. It's uplifting to see how many turned out to show their appreciation for the sacrifices they made and our soldiers continue to make."
Nancy Hastie, an employee at the Mount Laurel Center, says she witnessed something special at this ceremony. "There are residents I work with daily who I only see in a wheelchair, and at this event I saw them attempt and succeed at standing when the musical hymn for their respective military branch was played," Hastie says. "It makes me proud to be a part of an organization that is recognizing our heroes."
All who participated say they were incredibly moved by the turnout in the community and the special guests who spoke. This ceremony was one of many events held throughout the year, and most are open to the community.
Mount Laurel Center for Rehabilitation and Healthcare is located at 3718 Church Road in Mount Laurel. For information about their services or upcoming events, call (856) 235-7100 or visit MtLaurelCenter.net.

The Mount Laurel Center is a member of Centers for Specialty Care Group. CentersHealthcare.com

Published (and copyrighted) in Suburban Family Magazine, Volume 4, Issue 9 (November, 2013).
For more info on Suburban Family Magazine, click here.
For information about advertising in Suburban Family Magazine, click here.
To find out where to pick up your copy of Suburban Family Magazine, click here.