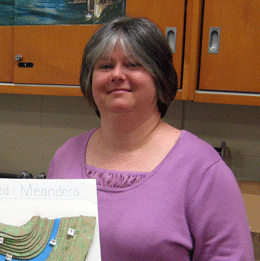 Star Teachers: October, 2013
Amy Carpinelli (Pictured)
Washington Township
Carpinelli, a science teacher at Washington Township High School, was asked to present a lecture to the Delaware Valley Earth Science Society this past summer. She presented the diagnostic use of trace fossils with a concentration on corpolites. Carpinelli also provided samples of the fossils for audience members to view and presented what information these fossils can impart to geologists.
Kathy Assini
Franklinville
Assini was recently named the 2013-2014 New Jersey Teacher of the Year. Assini is a Delsea Regional Middle School teacher of history and social sciences, and had previously won both Delsea Regional and Gloucester County Teacher of the Year honors, respectively. As the state Teacher of the Year, she will perform a six-month sabbatical for which she will act as the voice of the teaching community for the state Department of Education.
Maureen Barrett
Mount Laurel
Harrington Middle School's Science, Technology, Engineering and Math (STEM) Program earned the Recognized Program designation in the 27th Annual School Leader Award Program presented by the New Jersey School Boards Association. The STEM program at Harrington, taught by Barrett, provides students with an introduction into the fields of technology, engineering and design. Harrington's STEM program was one of only four school district programs in the state to receive the designation.
Mary Byatt
Washington Township
The Gilder Lehrman Institute of American History recently named Byatt, a fifth-grade teacher at Birches Elementary School, the New Jersey History Teacher of the Year. In addition to receiving the title, Byatt also received a certificate, books, resources, a $1,000 award, and future access to educational resources by the Gilder Lehrman Institute. Byatt was selected for her efforts to make her lessons come alive to her fifth-graders. Now, with the exceptional resources gifted by the Institute, Byatt is able to enhance what she already brings to the classroom.
Joseph Fisicaro
Medford
Fisicaro was elected to be vice president of the State Board of Education last month, after the passing of former vice president Ilan Plawker. Fisicaro, who has been on the board since 2011, spent 30 years teaching in Philadelphia public schools and served on the Evesham and Lenape Regional boards of education. He now works in the special education office of the Burlington County Institute of Technology in Medford.
Charlie Warner
Tabernacle
Special education teacher Warner, of the Sequoia alternative school, was named Sequoia's 2013 Teacher of the Year for his dedication, hard work, and teaching abilities over the past 10 years. Described as patient, student-centered, and a flexible team player, his combination of kindness and professional attitude has helped students grow and learn to their full potential under his guidance.
Traci Brosius and Eileen Penman
Voorhees
Voorhees Middle School eighth-grade teachers Brosius and Penman recently coordinated a presentation to honor 9/11 survivor Lou Giaccardo. Giaccardo spoke for about an hour to students at the school about his own experience as a worker on the 82nd floor of the second tower during the Sept. 11 attack. Penman explained how important Giaccardo's talk was to the students, because most of them would have only been 1 or 2 at the time of the attacks.
Heather Lockhart
Cherry Hill
Lockhart, a Cherry Hill High School East teacher, and director of a cappella group "Stay Tuned," led her group to victory in the "A Cappella for Autism" competition in Moorestown, and led them to a first runner-up spot in the ICHA Mid-Atlantic Competition. The group had also been nominated for "Favorite High School A Cappella Group" for the 2013 A Cappella Community Awards.
Joe De Julius
Mount Laurel
This Lenape business teacher had the honor of being named Teacher of the Month due to being a talented, supportive and dedicated second-year member of the faculty. De Julius has made the most of his first couple of years; he was instrumental in helping create the highly successful district job fair held earlier this year and, as the team adviser, he led Lenape's DECA students to the state competition last spring.
Emily Goodman
Haddonfield
Goodman, a second-grade teacher at Haddonfield Friends School, participated in the Responsive Classroom week-long institute in Newtown, Pa., a training program focused on building a classroom community and establishing an optimum learning environment through collaborative problem-solving, responding to misbehavior, and other techniques. This fall, she trained her fellow teachers to learn the skills, as well.
Kiera Scussa, Susan Screnci and Jaggard Elementary Staff
Marlton
Under the leadship of Scussa and Screnci, the Jaggard Elementary staff organized a Patriot's Day parade to honor first-responders and those lost on 9/11. The school used it as an opportunity to support the local Operation Yellow Ribbon club and collect supplies to send abroad, particularly to the troop of a son of one of the school's teachers who's serving in Afghanistan.
Josh Bessinger
Haddonfield
Bessinger directed his first play at Haddonfield Memorial High School this month, and it was quite a unique one. The play, titled Lizzy's Scrapbook, was written by Haddonfield resident Sydney Lefler and was performed as a tribute to the borough's tricentennial. Though it was his first experience directing at HMHS, Bessinger has plenty of experience, having worked on productions at Cinnaminson High School and Bordentown Regional High School.
Published (and copyrighted) in Suburban Family Magazine, Volume 4, Issue 8 (October, 2013).
For more info on Suburban Family Magazine, click here.
For information about advertising in Suburban Family Magazine, click here.
To find out where to pick up your copy of Suburban Family Magazine, click here.