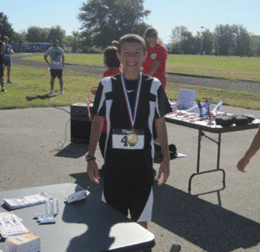 Star Athletes: October, 2013
…From the pages of Suburban Family Magazine…
Justin Kelly (pictured)
Marlton
Kelly, 13, not only competed in the Run for Our Troops charity 5K event in September, but he finished in first place for his age group, establishing a new personal record of 18 minutes and 41 seconds. The Run for Our Troops, which benefits severely injured veterans and provides help with new handicapped accessible housing, took place at Cooper River Park.
Dillon Hall
Cherry Hill
Hall, an eighth-grader at Christ the King Regional School in Haddonfield, placed 1st for the sixth consecutive year in the 2013 1-meter South Jersey Diving Association Championship for his age group recently. Hall, who placed 1st All-Around for his age group last year at the NJ Men's Gymnastics State Competition, uses gymnastics to benefit his diving skills during the summer season.
Andrew Reyes
Mickleton
Reyes, just 8 years old, recently won the Middle Atlantic Regional Qualifier of the Drive, Chip and Putt Competition for boys ages 7-9 with a score of 112. By winning this first-ever competition, he will compete for the national title during a special competition at the Masters golf tournament next April in Augusta, Ga. Reyes, a two-time U.S. Kids Golf Philadelphia Tour Player of the Year, will also be able to watch the first practice rounds of the Masters.
Courtney Novak
Mount Laurel
Novak, a senior at King's Christian School, scored her 100th career soccer goal in September. The milestone was reached on an unassisted goal in the second half—and the completion of a hat trick—during a game against Cavalry Academy of Lakewood, where she was awarded the game ball and a bouquet of flowers.
Laura Sweeney
Marlton
Cherokee High School alumnus and recent Villanova graduate Sweeney was named the 2013 Big Five Scholar Athlete of the Year, as well as being honored in her hometown. Sweeney quickly became a top basketball player in the Big East, scoring an average of 14 points per game with the Wildcats and leading them to the NCAA tournament. At Cherokee, Sweeney holds the points record, scoring 2,037 points during her career.
Erik Zapfe
Cherry Hill
Cherry Hill West senior, and captain of the cross country team, Zapfe is in the process of training for a half-marathon taking place in Las Vegas on Nov. 17. As a participant in the Crohn's and Colitis Foundation of America's Team Challenge, Zapfe is trying to raise $4,000 by running to help find a cure for those affected by Crohn's and colitis. This event is very close to his heart, as Zapfe himself was diagnosed with Crohn's disease at age 10.
Alexandria Nachodsky
Medford
Alexandria Nachodsky took home the 13-14 high point award at the Suburban Swim Association South Jersey Championships. Nachodsky also took first place in the 100 IM with a time of 1:09.81, the 100-meter free with a time of 1:01.03 and the 50-meter breast with a time of 36.80. She also anchored the 13-14 girls 200 free relay, which led them to first place.
Jeff Barton
Moorestown
Barton, 43, was selected to compete in the Veteran Mens division at the IWWF Wakeboard World Championships in South Korea recently, and he took home the gold medal in Masters 2 Men, scoring 45.56 points in the finals. The U.S. team also won silver in the team competition. Barton won a regional qualifier last year, giving him the opportunity to compete for the U.S.
English Gardner
Voorhees
Gardner, an Eastern High School graduate and University of Oregon student, medaled as a professional at the IAAF World Championships in Moscow, Russia. Gardner ran the third leg on the United States women's 4x100 meter relay, with a time of 4.29, helping the U.S. place second. In her second event in the 100 meter final, with a time of 10.97, she placed fourth.
Andrew O'Neill
Washington Township
A senior running back on the Washington Township High School football team, O'Neill scored five touchdowns to spark the Minutemen to a 41-35 comeback victory over Lenape. O'Neill's final TD came on a 2-yard run in the fourth quarter and proved to be the game-winner. O'Neill also scored on runs of 1 and 17 yards and receptions of 75 and 7 yards.
Julie Knodt
Mount Laurel
Knodt, a senior back on the Kean University field hockey team, was named New Jersey Athletic Conference Defensive Player of the Week in September after scoring the game-winning goal in overtime in a 1-0 victory over Rensselaer. The Lenape High School graduate also had an assist earlier in the week in a 1-0 win over Vassar and helped the Cougars' defense earn shutouts in both games.
Briana Gess
Haddonfield
Gess, a freshman, started her cross country career on a high note, winning the Freshman Division of the Cherokee Challenge 2-miler with a time of 10:54.97. Earlier this month, she won the Girls Championship Division 5K at the Adidas Shore Coaches Invitational Track Meet with a time of 18:36.
Published (and copyrighted) in Suburban Family Magazine, Volume 4, Issue 8 (October, 2013).
For more info on Suburban Family Magazine, click here.
For information about advertising in Suburban Family Magazine, click here.
To find out where to pick up your copy of Suburban Family Magazine, click here.