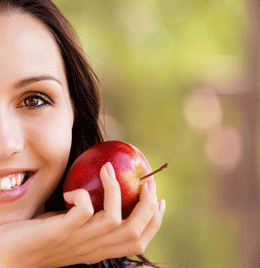 Something to Smile About
How implants have revolutionized the field of dental care
Over the last few decades, the world of dentistry has changed in many dramatic ways. Perhaps one of the most far-reaching developments has been the growth of the use of implants. When teeth fall out, they create a gap. Left unfilled, that gap can lead to a host of problems. But by utilizing implant technology, the hole is closed and the patient's smile remains as strong as ever.
A clear choice
"There was a time when, if you were missing several teeth, dentures were your only option," says Dr. Bill Greenberg of Mount Holly Family Dentistry. "Now it's possible to recreate the entire dentition with implants. Patients with dentures are acutely aware of the problems with slippage during chewing and speaking. ... Having a couple of implants placed to help secure the denture can make a huge difference [and] can often be placed without extensive surgery. The patient can leave the office and go right out for a meal."
The benefits extend well beyond cosmetic, as implants improve jaw function, oral hygiene and, in turn, overall health.
"Implants have many benefits," says Dr. Mary Farren, a dentist in Cherry Hill. "Dental implants give people a more reliable, predictable way of replacing missing teeth, while still feeling like they have their natural teeth. In addition, having the implant placed into the jaw where the root of your tooth was keeps your jawbone from shrinking, maintaining your jaw line's integrity. The implant is better for your oral hygiene since you are able to brush and floss around it the same way you do with your natural teeth."
It's a consensus that implants have revolutionized the industry significantly and their contributions to helping patients lead healthier lives can't be ignored. According to Dr. Nishit Shah, of Center Square Family Dental in Woolwich, for patients with ill-fitting dentures, implants could make all the difference when it comes to eating well. Also, once implants are integrated into a patient's bone, they actually help preserve the bone.
"When doing an implant to replace a missing tooth," he says, "we don't need to trim the adjacent teeth. Because of this, the healthy teeth are preserved. In a similar way, when implants are utilized to support dentures, they tend to preserve the bone rather than deteriorate the bone."
By protecting the bone, implants preserve the natural capabilities of the jaw. "The mouth was designed to function with a complete set of teeth. The loss of one tooth or more set the individual down the road toward bite collapse due to excessive function on the teeth adjoining the space," says Dr. Stephen Markus of the Centre for Dentistry at Haddon in Haddon Heights. "Additionally, those teeth tended to tip toward the open space, and so receive the forces of the bite on an angle, rather than straight up and down. The fewer teeth you have doing the job of 32, the less longevity you can expect from them because they can't support the function." Markus always saw dentures as something that "crippled people," he says. "The loss of all the teeth in one or both jaws was like the loss of a limb or limbs. Thanks to dental implants, we can make dentures much more stable."
There's also the matter of self-confidence. "People who have felt embarrassed by their tooth problems or smile are astonished by what new permanent teeth can do for self-esteem," says Dr. Jack Piermatti of Dental Arts of South Jersey in Voorhees.
"When I initially consult with a patient, the first question is a matter of fear that treatment will be painful. In truth, there is very little discomfort. Others often feel their case may be far too difficult, yet it really is something we have treated before. My recommendation: Let us determine what, if any, treatment is best for you."
What you need to know
"Implants are very routine today. Oral surgeons, periodontists and general dentists are placing them," says Greenberg. "The techniques have evolved and the materials and equipment have progressed to create a predictably successful procedure in almost every circumstance." However, implant treatment is not a quick fix. "Implants usually involve a two-stage process. The implant is placed into the bone, where it heals and actually attaches to the bone. After healing (generally two to six months), the final crown can be placed. Sometimes, if the amount of bone is inadequate, bone grafting must be performed. That adds a few months to the process. It takes planning and time to accomplish."
People should also know that the two phases of a dental implant are usually done by two different dental professionals, explains Farren. "There is the surgical phase, where the implant itself is placed into the jaw bone (typically done by an oral surgeon or a periodontist). Then there is the restorative phase, where the crown is placed onto the implant (usually done by your general dentist)." In addition, they don't cost as much as they did many years ago and more insurance companies are offering some benefit for them.
"Implants are a great option for many people, but they may not be suitable for some patients with a specific health condition," advises Shah. "It is important that they consult with their dentist and evaluate if they will be a good candidate for this treatment," he says. "Patients should be aware of what their options are and what are the advantages or disadvantages of a particular treatment option."
Cost is also something to keep in mind. "I had a sign in my waiting room back in 1975: 'Never shop for bargains in brain surgery, parachutes and dental care.' The same applies today," says Markus. "People don't realize their dental benefits only cover a limited menu of items. After two weeks or two years or sometimes a decade, if you want to have something redone, your benefits won't cover them. Make sure you seek out the best, not the least expensive."
"You get what you pay for," warns Dr. Gail Childers of Periodontal Health Professionals, with locations in Marlton and Turnersville. "The general public doesn't know that they are at risk from people who don't know what they're doing [when it comes to implants]. That's why I use only the top two implant systems. They give a 98- to 99-percent success rate. There's also much less chance for infection."
The future of implants
Where we are now with implants may be just the beginning for the technology. "There is no question that the advancements in technology have greatly enhanced the level of accuracy when it comes to reconstructive dentistry," says Piermatti. "At the same time, nothing can or should ever replace the personal touch and hands-on placement and refinement necessary to ensure the optimal result. This is what ultimately changes people's lives."
"The future of implants will develop with the implementation of CAD-CAM technology," says Greenberg. "We're already seeing dental prostheses created by computers from images taken right in the dental office. We are not far from custom-made implants and the necessary superstructure being made by a computer-controlled, chair-side milling device. The degree of customization will free us from many of the current restraints due to odd or unusual situations some patients present."
Childers, who has been doing implants for more than 20 years, delights at the new technology available. "I won't do implant surgery without taking a 3D scan image of the jaw. It shows the pathology and helps with the diagnosis, showing exactly where the implant should be placed. It also makes the process faster. Now we can do teeth in a day," he says.
"Implants already are a 'gold standard' in most of the situations, and they are going to continue to become more common in the future," says Shah. He believes the stumbling block of most insurance companies not covering implant treatments will change, "especially because it is actually more cost effective for insurance companies in the long term." If this happens, implants will become even much more widely accepted.
Markus sees yet another plus side. "Most adults today don't have the dental problems their parents had. As the children and grandchildren of baby boomers grow up, I think there will be fewer applications for implants because our children are getting better and more routine care than the generations that came before them."
Resources
Center Square Family Dental
120 Center Square Road, Suite 205
Woolwich
(856) 294-6767
CenterSquare-Dental.com
The Centre for Dentistry at Haddon
209 White Horse Pike
Haddon Heights
(856) 546-0665
Cent4Dent.com
Dental Arts of South Jersey
1001 Laurel Oak Road, Suite C1
Voorhees
(856) 783-5777
DentalArtsOfSouth-Jersey.com
Mary F. Farren DMD, LLC
1908 Springdale Road
Cherry Hill
(856) 751-6606
MaryFarrenDMD.com
Mt. Holly Family Dentistry Mount Holly
362 Ridgeway St.
Mount Holly
(609) 267-3230
MtHollyFamily-Dentistry.com
Periodontal Health Professionals
Locations in Marlton and Turnersville
(856) 983-5593; (856) 228-4141
DrGailChilders.com
Published (and copyrighted) in the Art of Living Well pull-out section of Suburban Family Magazine, Volume 4, Issue 8 (October, 2013).
For more info on Suburban Family Magazine, click here.
For information about advertising in Suburban Family Magazine, click here.
To find out where to pick up your copy of Suburban Family Magazine, click here.