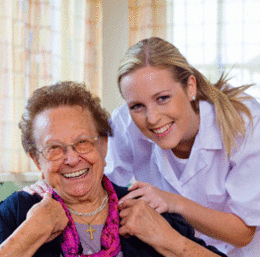 A Watchful Eye
A home-health aide can provide more than companionship; their assistance can delay the onset of further health problems down the road.
An elderly woman left the hospital with a host of lingering medical problems. Doctors had treated her most immediate health crisis, but as she returned to her home, where she had been living alone, they anticipated she might live no more than a few weeks.
But the woman signed on with LifeForce Eldercare Corp., a South Jersey provider of home care. Her aide, Patricia, began preparing healthy meals for her. She opened up long-shuttered windows. She cleaned the house, caught up on laundry, and helped the woman reconnect with relatives.
"She went through a transformation," says Jared Rodgers, a LifeForce director for New Jersey. "She was awake, she was alert, and she had a good quality of life for two more years."
As life expectancy has risen and medical care has increased the overall quality of life for many senior citizens, the home-health care industry has grown considerably.
Many seniors can live at home—and passionately want to—but they need help with certain tasks, from grocery shopping, to light cleaning to simple companionship. Some agencies offer round-the-clock care, which can be helpful if a client is prone to waking up in the middle of the night and roaming the house. Some have aides trained to work with patients suffering from Alzheimer's or Parkinson's disease.
Home-health care fills the gap between fully independent living and skilled nursing, or assisted living. Home-health aides may not handle hands-on medical needs, though they can supervise medication dispensation; still, thiring a home-health care carries a wealth of potential benefits.
The advantages of home care
It's rare that an elderly homeowner calls a home-health agency looking for assistance. Most often, it's the homeowner's adult children who ask for their parent to begin receiving help.
It's not always an easy step for the client to take.
"More often than not, they are fiercely holding on to their independence," says Barbra London, president and co-founder of Freedom Home Healthcare, with three offices in New Jersey. "Some believe that by accepting help, they are giving up their independence, and that does not need to be the case."
London, as well as others, says most agencies offer flexible plans designed to meet a client's specific needs. Some may only want help a few days a week with bathing or other personal-care tasks. Others move quickly to live-in, round-the-clock help.
With a little help, clients may avoid tripping or falling, which can start a series of health crises in elderly patients. They may benefit from better nutrition if their aide prepares healthy meals for them. And many thrive on the simple companionship an aide can provide.
In the long run, says Rodgers, accepting a small amount of help early on may keep clients healthy enough to remain in their homes for many years.
How do you know?
It's not always easy to make the call that a loved one is ready for home care. "Adult children want to see their parents as they were when they were younger," says Carole Rocco of Spring Hills Home Care, a division of Spring Hills Senior Communities in Cherry Hill. "They don't always see the changes that have taken place with mom or dad until a medical event occurs."
In modern times, with many families scattered across the country, it's especially easy to miss out on clues that an aging parent is struggling. Rocco, Spring Hills' director of home care for New Jersey, offers the following signs that a person may be struggling with independent living: unstable walking; a history of falls; burns, either to themselves or to the stove; increased forgetfulness; misplacing objects on a frequent basis; inattention to personal hygiene; and acting out of character, or not interacting as well with others.
Once a family contacts Spring Hills, a registered nurse visits the potential client at home to assess his or her needs.
"The RN is an impartial, neutral person who can evaluate them in their most comfortable, realistic environment," Rocco says. "We will ask them to go through their day, show us where and how they do laundry, how they prepare their lunch, and so on."
By the end of a visit, the nurse might realize the potential client can't easily clean up spills, creating a falling hazard. That type of note helps Spring Hills identify the needs that might be met by a home-health aide.
London says Freedom Home Healthcare also uses a nurse's assessment to determine the best level of care. Her agency uses detailed interviews with the client and any adult children, as well.
"I don't care how old someone is; they need to feel a part of this process," she says. "Sometimes the inclination of the adult child is to tell the parent that everything is taken care of, but participating in their care can really increase their comfort level."
Feeling safe
This past year has brought considerable change to the home-care industry. In New Jersey, lawmakers are debating a bill that would increase the oversight of home-care providers. Proponents of the bill say tighter regulation of the industry would help prevent faulty care and would make it less likely that the aides certified to provide companionship would overstep their bounds.
Rocco, of Spring Hills, says she would welcome a tighter lens on her profession. "I'm really proud of who we hire," she says. "Our aides are home-health certified. We do an extensive background search. And I don't send anyone into someone else's home that I wouldn't want in my own home." She says Spring Hills reassesses its clients every 60 days to make sure the patient is well cared for and pleased with the arrangement.
Freedom Home Healthcare's London agreed that hiring good people is a critical responsibility.
"The people that I'm responsible for are not in my line of sight on a daily basis, so a huge amount of training and trust is required," she says. Over the course of job interviews and training, London said she strives to identify aides' strengths and weaknesses so that she can match them well with clients.
"We have a deep enough roster that I can identify caregivers who are great with hospice patients and those who are not; those who do very well with couples and those who are better one-on-one," she says. London encourages families to let her know whether their aide is working out well, and she does not hesitate to change assignments when necessary, noting sometimes the best pairings simply depend on chemistry.
Home-health care is generally not covered by insurance, with one notable exception: long-term care insurance. London says with the aging of the population, she has seen more clients who carry long-term insurance, and anticipates even more in the future.
Resources
Freedom Home Healthcare
303 Fellowship Road, Suite 101
Mount Laurel
(856) 793-7436
FreedomHH.com
LifeForce Eldercare Corporation
816 N. Delsea Drive
Glassboro
(856) 218-8500
LifeForceEldercare.com
Spring Hills Home Health Care
1450 Marlton Pike E.
Cherry Hill
(800) 618-9973
Spring-Hills.com
Published (and copyrighted) in the Art of Living Well pull-out section of Suburban Family Magazine, Volume 4, Issue 8 (October, 2013).
For more info on Suburban Family Magazine, click here.
For information about advertising in Suburban Family Magazine, click here.
To find out where to pick up your copy of Suburban Family Magazine, click here.