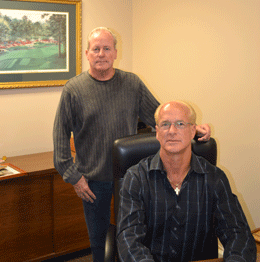 New Window Factory Sales, Inc.
Window of Opportunity: New Window Factory Sales, Inc. offers attractive and efficient options for your home.
With the weather outside about to turn frightful—especially here in the Northeast, where the Old Farmer's Almanac is predicting a cold and snowy winter—now is the perfect time to make sure your home is as warm and energy efficient as can be. If you're in the market for replacement windows, vinyl siding or gutters, look no further than a company that is brand new, yet has decades of experience in South Jersey.
New Window Factory Sales, Inc. recently opened in Mount Ephraim under the direction of co-owners Jack Merryfield Jr. and Charles Flick. The partners worked together for more than 30 years at a family-owned window business that is now closed, and customers from Trenton to Cape May can continue to benefit from their expertise thanks to this joint venture. "It's not a new field that we're getting into that we're unfamiliar with. We've been doing this for almost 40 years," Merryfield says.
"We brought over the same sales team from the other company, and we also have the same installers who do wonderful work."
For vinyl replacement windows, New Window Factory measures all openings and the windows are custom built for each space. They use Alliance windows—manufactured in South Jersey—that come in two different models, the Hawthorne and Belmont. The Hawthorne comes standard with Low-E (low emissivity) and double-strength glass for optimum energy efficiency, while the Belmont is a plain window in which specific features can be added. "The Belmont is basically a window that's more customized to your needs and your pocketbook," Flick says. "The Hawthorne is a little more expensive but it has all the bells and whistles."
All of the windows sold and installed by New Window Factory come with insulated glass, the tilt-in feature for easy cleaning and double locks for added security, and the frames and sashes are welded for extra strength. The styles include the always popular double-hung windows as well as sliders and casements, which are hinged on the side and open outward. They also do bay and bow windows and vinyl patio doors. "Depending on your needs and finances, we will find something that fits for you," Flick says.
For just as long as they've been installing windows, Merryfield and Flick have also done siding. Their team can help any homeowner find the right color, style and material that will make their house stand out in the neighborhood.
"We can get any type of siding that someone is interested in, but the most common is vinyl," Flick says. "We specialize in CertainTeed MainStreet vinyl siding, and it comes in a handful of colors and different designs. We do all the trim work, we cap all the windows and we can put new gutters on. A lot of times, folks just want new gutters because theirs have fallen off. We have a 5-inch gutter and a 6-inch gutter, and you can get different tops to cover them so leaves don't get in the gutter. You don't have to clean them at all, basically."
Dave Kunkel, the property manager at Kings Croft Condominiums in Cherry Hill, has turned to Merryfield and Flick for years, going back to their prior company. They have installed windows and siding at many of the buildings on the property and are currently doing the siding on three more large buildings.
"They're professional and they're fair," Kunkel says. "We do competitive bids, and they've come in at very good quotes as far as prices go. The products that they offer and the service are very good. The residents here are particular, and they were very satisfied with the service.
"Because of the work they've done here, I actually had them do the siding at my house. I was a victim of Hurricane Sandy and I had siding blown off at my house, so they came and helped me out."
Kunkel sees a big difference between the New Window Factory team and the previous crew that worked at Kings Croft, which often rushed through the job and had to come out for follow-up work. "These guys are much more meticulous and caring, almost like they're doing their own house," he says. "We get a lot of compliments on the demeanor of their crews, how polite they are. It's just been a good experience."
That kind of service can be expected when a team has been working together for so long. They might have a new name and a new location, but the results are the same.
"Between Jack and me, we've got close to 80 years of experience," Flick says. "Since we were young men, this is what we've done: windows, siding and gutters. We've kept rolling right along at the new company. We didn't miss a beat."
New Window Factory Sales, Inc.
613 N. Black Horse Pike, Mount Ephraim
(856) 546-1120
NewWindowFactory.com
Published (and copyrighted) in Suburban Family Magazine, Volume 4, Issue 8 (October, 2013).
For more info on Suburban Family Magazine, click here.
For information about advertising in Suburban Family Magazine, click here.
To find out where to pick up your copy of Suburban Family Magazine, click here.