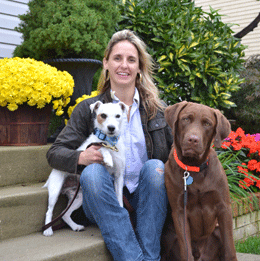 Kristin McCann, DVM
Versatile Veterinarian: Kristin McCann, DVM, takes integrative medicine mobile to treat pets across South Jersey.
When you have a sick pet, it can be a hassle to take it to the veterinarian. Cats have to be wrangled into carriers, dogs have to be on a leash for control, and many of them get easily agitated around other animals in the waiting area. For the animal that is already suffering symptoms, a trip to the vet can create more stress on their bodies.
But imagine if the vet came to you. Your pet would be able to be examined in the comfort of familiar surroundings without the stressful car ride or confrontations with other animals. That's the goal of Kristin McCann, DVM, who runs a mobile veterinarian service across New Jersey.
McCann has wanted to be a veterinarian her entire life. She grew up surrounded by animals in her family and today has 10 dogs in the family, plus one horse and one tortoise. A native of Upper Deerfield, McCann attended the School of Veterinary Medicine at St. George's University in Grenada in the West Indies. She completed vet rotations at the University of Florida, Gainesville, and then obtained state licenses in New York, Pennsylvania, New Jersey and Delaware, in 2010.
"I didn't go to veterinary school the traditional way," says McCann, adding the vet school programs in the U.S. are extremely competitive and difficult to get into. She knew she wanted to work with animals, so she found an alternate route to pursue it. This has carried through to McCann's methods for treating animals as well, namely in the fact that she doesn't work out of one central office.
"I always wanted to be the type of vet to make house calls because that's what I remember from growing up," she says. "We had so many animals but we never really took them to a doctor; they always came to us."
When McCann is examining an animal, she thinks about the various treatments available. "I don't just go with the traditional plan," she says. "I look at other methods that other veterinarians might not consider initially." Among these is the use of traditional Chinese veterinary medicine (TCVM), like acupuncture. The combination of Western veterinary medicine and TCVM is known as integrative medicine, and McCann says it is becoming more acceptable in today's veterinary world. McCann uses both methods equally to give her pet patients the best overall care.
"Western veterinary medicine relies on medical history and physical examination in order to make a diagnosis," she says, "while TCVM carefully examines the arterial pulses and the shu points located at various areas on the body." Treatment is handled through dietary modification, herbal therapy, acupuncture and Tui-na (Chinese massage therapy).
McCann says, ironically, these methods were created by the Chinese for their equine army, and not for humans, although it has become more common to hear about acupuncture on humans. "The Chinese discovered a series of meridians, like a road map, that follow to nerve paths. When there's a blockage of energy, these remedies sort of unclog that blockage and let the energy continue to flow up and down through the body. These methods are ideal for an animal suffering from sports injuries, which is common in horses," says McCann, who sits on the advisory board at the Dream Park Equestrian Center in Logan Township.
She says animals respond positively to these treatment methods, which are also an excellent alternative to surgery. "Some people can't afford surgery for their pets or they are reluctant to put older animals through something like that," McCann says.
"These Chinese methods show results like you'd see from the Western methods. They seem like new treatments to us, but the Chinese have been using them for 3,000 years."
In addition to her mobile vet service, McCann works with the Dutton Road Veterinary Clinic, which is part of the National Greyhound Adoption Program, located in North Philadelphia, and lends her services to PawsPlus, a series of affordable vaccine clinics in the tri-state area.
McCann invites pet owners to contact her at (856) 906-9201 or KristinMcCannDVM@gmail.com for more information about her services.
Published (and copyrighted) in Suburban Family Magazine, Volume 4, Issue 8 (October, 2013).
For more info on Suburban Family Magazine, click here.
For information about advertising in Suburban Family Magazine, click here.
To find out where to pick up your copy of Suburban Family Magazine, click here.